News > Spokane
Sans motors, hundreds turn street into footloose parkway
Mon., July 12, 2010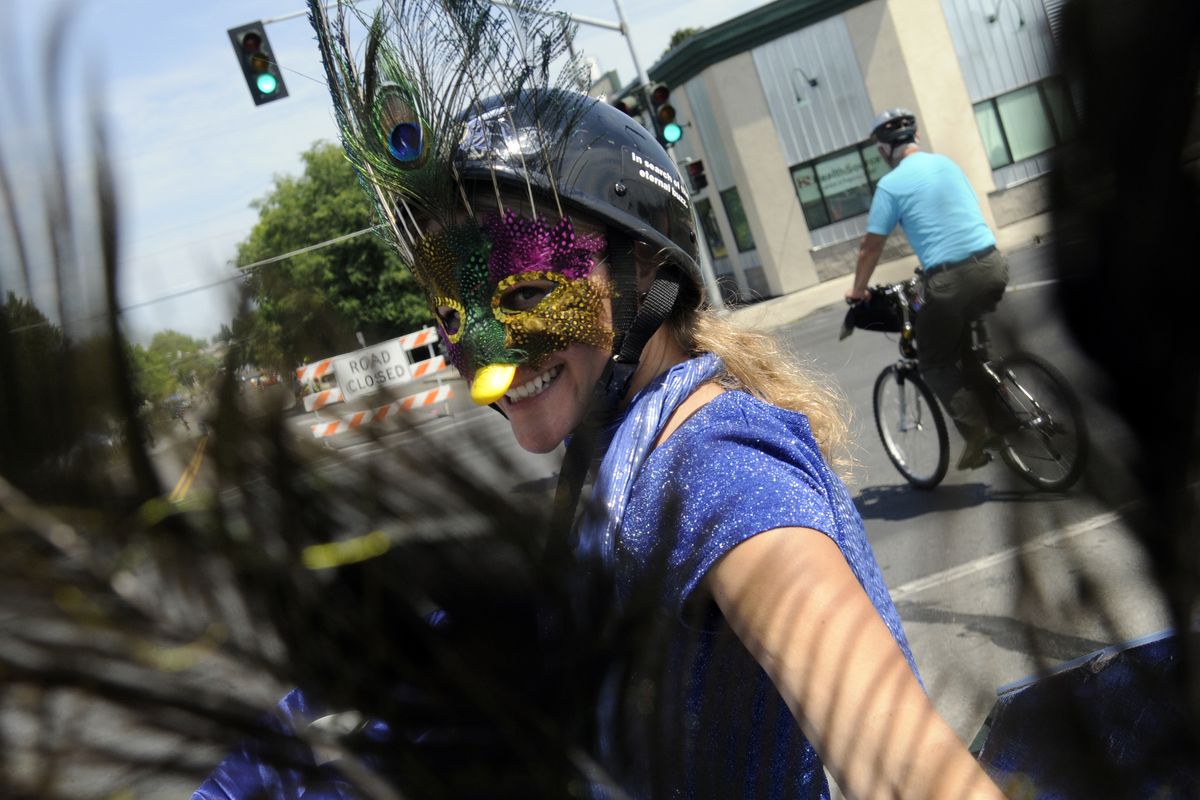 Liorah Wichser decorated her bicycle with peacock feathers for Sunday's Summer Parkways. About 40 people took part in a decorating contest. (J. BART RAYNIAK)
By foot or by nonmotorized wheel, hundreds turned out Sunday for Spokane's inaugural Summer Parkways event.
People on scooters, skateboards, rollerblades, Big Wheels, bicycles – single and tandem – or just hoofing it filled the vehicle-free three-mile stretch of North Howard Street between Riverfront and Corbin parks.
"We appreciated having access to the road between the parks," said Amy Mazur, whose 5- and 7-year-old daughters rode scooters while she and her husband biked.
Matthew Mazur added, "And no nasty cars."
Summer Parkways are popping up in cities all over the world as a way to promote human-powered forms of transportation, physical activity and familiarity with neighborhoods. The idea originated from an event in Bogota, Colombia, called Ciclovia (bike path in Spanish).
"It's just so easy to get in our cars," said Erika Henry, a co-organizer for Spokane Summer Parkways. "This is about getting people out and enjoying the streets of Spokane in a different way."
Between the parks, activities such as yoga, hula hoops, tai chi, fencing, dancing, self defense, jump-rope, Hacky Sack and martial arts took place along the street. There was also live and DJ music, fresh produce and ElliptiGO demonstrations – it's like an elliptical machine that moves.
About 40 people participated in a bike decorating contest. Costumes included a peacock, pheasant and a patriot, but bikes were also adorned with balloons and window boxes, recycling tips and campaign signs.
Sisters Mary and Maggie Smith took advantage of the four-hour event from more than one aspect.
The two, along with their mom and 2-year-old sister, spent the first half riding the route on their bikes, stopping to whirl hula hoops around near Riverfront Park and climb a rock wall in Corbin Park.
"It was fun for the whole family," said Mary, 12.
For the second half, it was about entrepreneurship.
"We are going to go sell lemonade," said Maggie, 10. The drink stand was in operation by 11:30 a.m., with 1  1/2 hours to go.
The Smiths were among an estimated 1,500 people who embraced Summer Parkways.
"Months and months of planning paid off," Henry said. "It went off without a hitch. It was awesome."
A few volunteers had hoped attendance would rival last May's inaugural event in Portland. But the Oregon city with a population of nearly 600,000 drew over 25,000 people to its first Summer Parkways, organizers say. Spokane Summer Parkways will be repeated on Aug. 22 from 9 a.m. to 1 p.m. at the same location.
Alana and Zach Inks, who rode cruising bikes, say they will probably be there. "It's a great idea," Alana Inks said. "I just wish there was more of it."
Henry called Sunday's event a "huge success, no doubt. It was fabulous."
Local journalism is essential.
Give directly to The Spokesman-Review's Northwest Passages community forums series -- which helps to offset the costs of several reporter and editor positions at the newspaper -- by using the easy options below. Gifts processed in this system are not tax deductible, but are predominately used to help meet the local financial requirements needed to receive national matching-grant funds.
Subscribe now to get breaking news alerts in your email inbox
Get breaking news delivered to your inbox as it happens.
---