Feds add 3 charges in murder plot case
New claims could add decades to sentence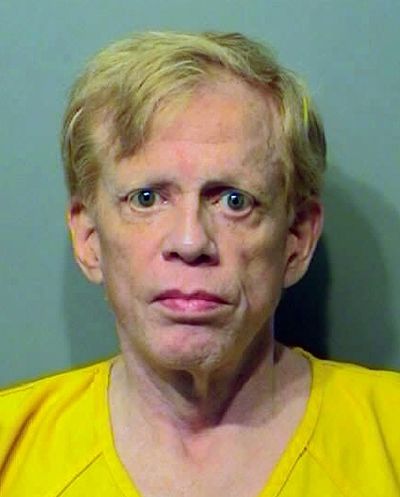 A former lawyer for the Aryan Nations jailed in an alleged murder-for-hire plot is to appear in federal court in Coeur d'Alene next week on three additional charges, including allegations of attempted victim tampering.
The new charges against Edgar J. Steele, 65, could put him in prison for at least 30 years.
Steele already faced a possible 10 years in prison for an alleged plot federal agents say began in December and targeted his wife, Cyndi Steele, and his mother-in-law.
The licensed attorney, well known for his defense of the Aryan Nations in a high-profile lawsuit in 2000, is being housed at the Spokane County Jail after a raid June 11 at his Sandpoint-area home on Talache Road, east of Shepherd Lake. That's where the FBI believes he plotted with Sagle resident Larry Fairfax to affix pipe bombs to the victims' vehicles. Fairfax went to the FBI and secretly recorded Steele talking about the plot, leading to Steele's arrest.
Steele pleaded not guilty to the murder-for-hire charge June 15, the same day Fairfax was arrested after Coeur d'Alene auto shop workers found a pipe bomb under Cyndi Steele's car. The FBI says Fairfax put it there but never told investigators; Fairfax's lawyer says the device was rigged not to explode.
Steele is to appear in U.S. District Court in Coeur d'Alene on the latest charges, the result of a grand jury indictment, next Wednesday, said Assistant U.S. Attorney Traci Whelan.
Along with use of interstate commerce to commission murder for hire, Steele is charged with tampering with a victim, use of explosive material to commit a federal felony and possession of a destructive device in relation to a crime of violence, according to federal court documents filed Tuesday. The murder and tampering charges carry a maximum of 10 years in prison each; using an explosive in a felony carries a maximum 20 years, and the final charge carries a minimum 30 years in prison.
Prosecutors allege he tried to "intimidate and corruptly persuade" his wife in phone calls he made from jail to lie to authorities about the identity of a voice on a tape recording in which Steele allegedly discusses the murder plot.
The two bomb charges against Steele are connected to the pipe bomb found on his wife's car. Fairfax also is charged in connection with the bomb; he waived his indictment earlier this month and remains in federal custody.
Steele's trial is scheduled to begin Aug. 9, but his public defenders recently filed a 60-day extension request as they try to stop federal investigators from searching items seized from Steele's home law office.
Steele is concerned government searches may compromise attorney-client privilege and wants the court to stop the searches "until the warrant can be received to determine if proper procedures are in place to protect the privacy of the information seized," according to documents filed last week.
In a response filed Monday, prosecutors said they already have a system in place to protect confidential information.
Investigators have not yet searched Steele's computers and are preparing a second search warrant to authorize a team to separate and redact sensitive data "so that investigatory agents will only obtain information relating to this case, and not unrelated attorney-client information from the computers."
The team will not discuss the confidential information segregated from investigators, prosecutors say.
---