News > Idaho
Idaho House to convene ethics panel on Hart
Thu., June 17, 2010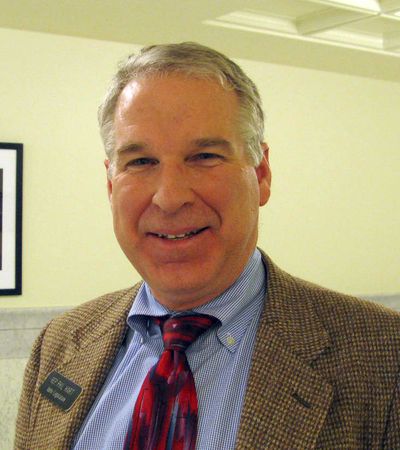 BOISE - Idaho's House of Representatives will convene a rare ethics committee to investigate the conduct of Rep. Phil Hart, R-Athol, who's been invoking legislative privilege in his own income tax disputes with the state Tax Commission and the IRS. House Speaker Lawerence Denney, who received a formal complaint Thursday from House Minority Leader John Rusche, said he'll likely appoint the committee by the end of next week. "Really, I think this is probably as good a way to handle this whole thing as anything," Denney said. Earlier, Denney, R-Midvale, had been sympathetic to Hart, who has invoked his status as a state legislator to argue that he should be able to appeal an order to pay $53,000 in back state income taxes, penalties and interest despite having missed a filing deadline that fell shortly before the start of this year's legislative session. Denney had even planned to go to the Attorney General and make a case for giving Hart more time; now, he said, he'll hold off on that. Rusche, D-Lewiston, cited two issues regarding Hart's conduct: Possible conflict of interest, and possible abuse of legislative privilege. "Does he have a conflict, if he's trying to set aside tax law through his personal suit while at the same time he's sitting on the committee making tax law for everybody?" Rusche asked. He also questioned whether "by invoking the privilege in the manner he has, is that abusing the privilege of a legislator." Hart serves on the House Revenue and Taxation Committee, the panel that considers all state tax legislation. Among bills he proposed this year were one to eliminate Idaho's income tax on all earned income while boosting the sales tax, and another to allow state taxes to be paid in silver medallions; neither passed. He's also contended in his dispute with the state Tax Commission that Idaho's state income tax is unconstitutional. Under House rules, Rusche's submission of the complaint requires the speaker of the House to appoint an ethics committee of seven senior House members, four from the majority party and three from the minority. The committee then will conduct a preliminary investigation, and if probable cause is found that an ethics violation has occurred, it can hold a hearing and make recommendations to the full House ranging from dismissal of the charges to expulsion from the House. Denney, who was attending a conference of speakers of the House in Maryland on Thursday, said, "I haven't officially received it yet, but when I do get the official one, I will immediately appoint an ethics committee." This year's legislative session began a few days after Hart's 91-day appeal period ran out on his back state income taxes; he argues that legislative privilege should stop the clock and give him until spring to appeal. The Spokesman-Review reported this week that this is the fourth time Hart has invoked legislative privilege in his tax disputes with both the state and the IRS, starting with his first year in office in 2006. The Idaho Constitution exempts lawmakers from arrest or "civil process" during sessions or 10 days prior to their start. Hart also is fighting the IRS, which has filed nearly $300,000 in tax liens against him in Kootenai County in the past year; he stopped filing state and federal income taxes in 1996 while he pressed an unsuccessful lawsuit charging the federal income tax was unconstitutional. He's since made partial payment. Hart couldn't immediately be reached for comment Thursday on the ethics complaint. The last time the House convened an ethics committee was in 2003, when then-Speaker Bruce Newcomb called for a committee to investigate himself for holding a closed meeting with a quorum of the House Revenue & Taxation Committee; the panel cleared Newcomb of any wrongdoing. In 2005, the Idaho Senate convened an ethics committee that censured then-Sen. Jack Noble after he introduced legislation that would have made his own convenience store eligible for a state liquor license without disclosing his personal stake in the issue, and then lied about it to the Ethics Committee. Noble resigned on the eve of a Senate vote on whether to expel him from office. The last ethics cases before those were back in 1990, then-Rep. Ray Infanger, R-Salmon, was reprimanded in the House for using his office to try to influence a state agency, the Department of Labor and Industrial Services, to benefit a family member. The same year, Sen. John Peavey, D-Carey, was cleared of an ethics complaint in a dispute over another senator's bulk mailing. Rusche said he discussed Hart's case with "many" members of his House minority caucus, and also heard lots of comment from the public about it. "I think there are significant questions among both legislators and the general public about the behaviors and whether they're ethically appropriate or not," Rusche said. "The Legislature has an ethical cloud hanging over it. It really is not a good deal for any of us, minority or majority legislators." He added, "I don't want it to be viewed as a political thing, but rather an ethical investigation to protect the process in the House of Representatives." Denney said this will be the first ethics committee he's appointed since he's served as speaker. "It is (rare), and that's really good," he said.
Local journalism is essential.
Give directly to The Spokesman-Review's Northwest Passages community forums series -- which helps to offset the costs of several reporter and editor positions at the newspaper -- by using the easy options below. Gifts processed in this system are not tax deductible, but are predominately used to help meet the local financial requirements needed to receive national matching-grant funds.
Subscribe now to get breaking news alerts in your email inbox
Get breaking news delivered to your inbox as it happens.
---