News > Spokane
Eagles find herons easy prey
More nest attacks reported, putting pressure on species
Sun., March 28, 2010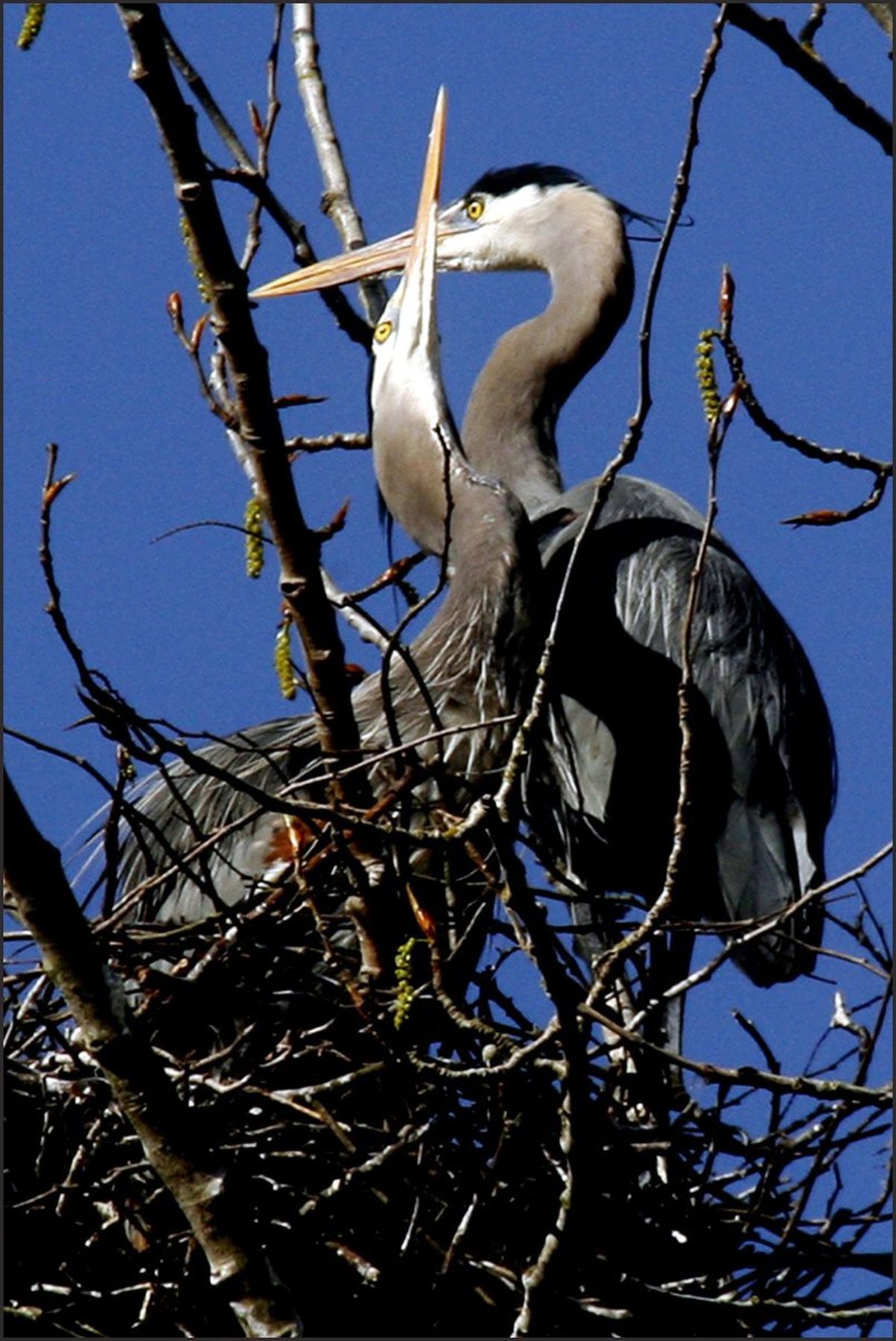 Two herons are seen Tuesday nesting at the Matthews Beach colony north of Magnuson Park in Seattle. With increasing frequency, this heron colony and others throughout Western Washington are being attacked by bald eagles. (Associated Press)
SEATTLE – Near a small pond on Renton's western edge, nests of great blue herons, perched up to 100 feet high in a stand of cottonwood trees, appear safe from any danger from below.
But not from above.
With increasing frequency, this heron colony and others throughout Western Washington are being attacked by bald eagles. It's gotten to the point that Suzanne Krom, founder of a group called Herons Forever, said eagles are treating heron nesting grounds as "all-you-can-eat, fast-food delis."
Bald eagles, roaring back from the brink of extinction, are now almost commonplace even in urban areas, searching for food in a shrinking habitat.
Their attacks against herons link two species, each of which has an emotional significance for humans: Bald eagles are proud, fierce symbols of the country. Great blue herons, named official bird of Seattle in 2003, have what bird-watcher Danny O'Keefe calls "a certain kind of meditative grace."
Particularly during the breeding season, now under way, heron watchers report seeing eagles chasing herons off their nests, then preying on the eggs and hatchlings left behind.
"They'll eat the young right there on the nest, or carry one off," said Pam Cahn, a volunteer with Heron Habitat Helpers, which monitors and helps maintain a nesting ground in Seattle's Kiwanis Ravine near Discovery Park.
Eagles also will sometimes attack an adult heron. O'Keefe saw an eagle with an adult heron in its talons near his Vashon Island home. "The eagle took it down to the ground and finished it off," he said.
At Renton's 93-acre Black River Riparian Forest and Wetland, Krom said, eagle attacks have contributed to a drastic drop in the number of young herons produced, from more than 360 in 2004 to between 35 and 50 last year.
"Herons have thin legs and sleek bodies. They're built for wading in shallow water and grabbing small marine animals," Krom said. "Eagles have big, hooded bills and enormous talons with tremendous strength. They're built for ripping and shredding. Herons have no chance against an eagle."
Wildlife officials say it's not clear what the attacks' long-term implications are for the region's heron population but acknowledge the eagle's recovery has put increased pressure on herons.
"Historically, between these two species there was some balance, and there's probably a balancing act that will be taking place over the next several years," said Jim Watson, raptor research scientist for the state Department of Fish and Wildlife. "But obviously, in the short term, it might not be a very pretty picture."
A 1972 ban on the pesticide DDT is frequently cited as the major factor in the bald eagle's resurgence.
The number of occupied bald-eagle nests observed in Washington grew from 105 in 1980 to 845 in 2005, the last year a count was taken, Watson said. The bird's recovery has been so robust that in 2007 it was taken off the endangered species list, although both it and the heron are protected by other laws, regulations and international agreements.
Herons are year-round residents of the Puget Sound area, easiest to view during the spring-summer nesting season.
The Renton colony has been harassed for the past half-dozen years by a pair of eagles that heron-watchers have dubbed Bonnie and Clyde. Despite the gangster names, Krom insists that Bonnie and Clyde aren't the real villains in this drama.
"It's not the eagles' fault that they're in this situation," she said. "We're the ones that have developed so much of their original habitat."
The eagles moved in, Krom said, only after the hillside forest where they previously nested was cut down for an apartment complex.
Ross Vennesland, a British Columbia biologist who has studied herons since the 1990s, said bird counts indicate the population of Pacific great blue herons is in a slow decline, and fewer than 10,000 remain around the "Salish Sea," a name applied to the inland waterways of Washington and B.C.
For reasons that aren't clear, Vennesland said, the average number of surviving young herons produced per nest each year has dropped from about two in the 1980s to about one now – a level that might be near the minimum needed to sustain the species.
It's not clear how much of the herons' decline is caused by eagles, just as it is impossible to know the comparative numbers the two birds might have had many decades ago, before DDT reduced the population of eagles.
"These two species have been interacting together since the ice left," Vennesland said. "But right now the eagles are having an impact on herons and that is worrisome, given that they have a vulnerable population."
If heron populations decline further, creative intervention efforts to be considered could include introducing osprey nests near heron colonies. Eagles, Vennesland said, avoid osprey, which are primarily fish eaters and are unlikely to bother the heron.
The fate of herons has implications beyond their own species. A 2007 report for the Puget Sound Nearshore Partnership, by biologist Ann Eissinger, called herons a "sentinel for nearshore function and health."
Local journalism is essential.
Give directly to The Spokesman-Review's Northwest Passages community forums series -- which helps to offset the costs of several reporter and editor positions at the newspaper -- by using the easy options below. Gifts processed in this system are not tax deductible, but are predominately used to help meet the local financial requirements needed to receive national matching-grant funds.
Subscribe now to get breaking news alerts in your email inbox
Get breaking news delivered to your inbox as it happens.
---