Sports
Clowe captures hammer for CCS
Former football star one of 7 Sasquatch winners
Tue., May 25, 2010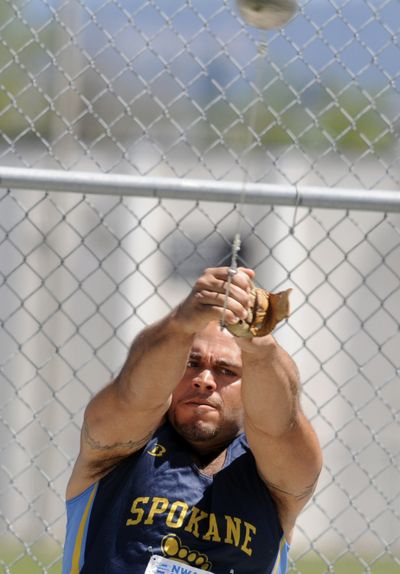 There was a time when Tyree Clowe regarded school as the old ball and chain – if he regarded it at all.
Now it's the ball and chain spinning him through school.
The latest athletic reclamation project on the Community Colleges of Spokane track team only happens to be the most prolific running back in Greater Spokane League football history. In high school, 180-yard games were routine. Now his grail is 180 feet.
He came up a few yards short of that Monday, yet still was an easy winner of the hammer throw at the NWAACC meet at Spokane Falls – one of seven CCS champions crowned the first day.
Ten years after his football career fizzled at the University of Idaho, Clowe is trying to hammer out a new path – after a hitch in the Army, a year's deployment in Iraq, a brief fling trying to play in the Arena Football League in Florida and, finally, a decision to move back home, where his mother Tess suggested it might be time to give school another try.
"Ryan Weidman, the throws coach here, tried to recruit me when I left Idaho," Clowe recalled. "So when I came back I figured I'd look him up. As soon as I saw him, he said, 'You're a hammer thrower,' and I said, 'Let's do it.' "
It sounded easier than it was.
"I'm one of those people who thinks if you're a good athlete, you can pick up anything athletic without much trouble," he said. "The first thing you want to do with this thing is muscle it – you figure if you can just yank hard enough on it, you can throw it out there pretty far.
"But that's when it yanks you around. The first few times doing that, it kind of broke me and then I realized, yeah, you do need technique."
In just his first spring of throwing, Clowe had reached 175 feet and was looking for more Monday. He settled for a best of 168-1 when a competition with the NWAACC's other 170-footer, Anthony Lantz, didn't materialize after the Clackamas thrower aggravated a back injury.
Now Clowe wants to see "how far I can go with this."
He plans on transferring in the fall ("I have Division III eligibility left, so Whitworth's on the list") in pursuit of a communications degree, and his re-entry into school has been less traumatic than expected.
"There's a big difference between being 29 and 19," he said. "The first time I had no direction. I was in school, but I was playing football."
He was always good at that, rushing for nearly 4,000 yards and winning a state title at Central Valley High School, where he also moonlighted on the track team – but as a sprinter and jumper.
"The workouts are way better for this," he laughed. "The first day we finished and I said, 'I'm not even tired.' Normally, you want to throw up."
It was actually a big day for GSL alums – all five of the Sasquatch men's champions did time in the city league, including Mt. Spokane's Trevin Goodrick and U-Hi's Anthony Brown, who paced mega-sweeps in the steeplechase and 10,000 meters that accounted for most of the home team's 118-63 lead over Clackamas.
Clutch efforts by Cody Peterson (Rogers) and Evander Cobbs (CV) produced another 1-2 finish in the long jump – Peterson flying 22-113/4 in the fifth round to take the lead and Cobbs besting early leader Ethan Moore of Clackmas by a centimeter on his last jump.
And 6-foot-7 Griffon Jones – a sophomore during Cheney's last year in the GSL – began his adieu to track by horsing the discus out a lifetime best 158-5. Next year, he'll attend Dixie State in Utah – and play basketball, in which his self-proclaimed "chicken legs" won't stand out quite as much as they do among the burly weight men.
"I would have been happy doing either one," said Jones, the NWAACC's East Region MVP in hoops, "and it was a hard choice but it's a really good fit for me."
The CCS women have spotted Lane 241/2 points in their quest for a seventh straight team title. The Sasquatch will try to get that back in the sprints behind standout Chanel James, who won the long jump Monday with a leap of 18-8. Shot putter Anna George was the other CCS winner, topping 44 feet for the first time.
Local journalism is essential.
Give directly to The Spokesman-Review's Northwest Passages community forums series -- which helps to offset the costs of several reporter and editor positions at the newspaper -- by using the easy options below. Gifts processed in this system are not tax deductible, but are predominately used to help meet the local financial requirements needed to receive national matching-grant funds.
Subscribe to the sports newsletter
Get the day's top sports headlines and breaking news delivered to your inbox by subscribing here.
---