Sports
Idaho tired of losing to rival Boise State
Wed., Nov. 10, 2010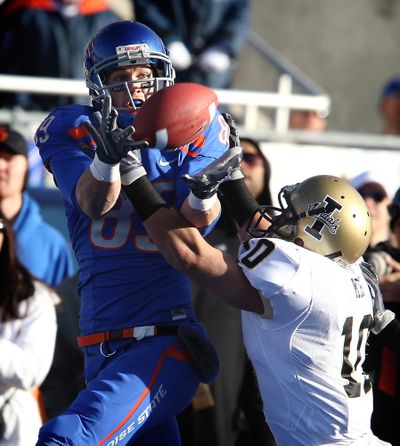 Deonte Jackson sifted through all the possibilities of Idaho's biggest game of the season – a stunning Vandals upset, another Boise State laugher, somewhere in between – and he settled on the only option he could stomach.
"(A win) would bring so much joy to me as a player," the UI running back said, "and to see the pride return to this town and school, it would just be amazing."
Toppling No. 4 Boise State on Friday wouldn't just restore the team's shaken confidence and revive a rivalry that's been dulled by BSU's recent dominance. It would also be a memorable close to the topsy-turvy career of Jackson and the rest of Idaho's senior class.
Jackson is one of five fifth-year seniors, along with quarterback Nate Enderle and safety Shiloh Keo, who have been in Moscow since 2006.
During that time they've witnessed one of the lowest ebbs in the program's history – Dennis Erickson's sudden departure after 10 months in return as coach and the three wins in the next two years under Robb Akey. And they were key parts of one of the Vandals' brightest moments – last year's Humanitarian Bowl comeback victory.
Yet the Vandals (4-5, 1-3) are winless in 15 attempts against the Western Athletic Conference's three most consistent programs – BSU, Nevada and Fresno State – since joining the conference in 2005.
Keo, on the verge of tears after last week's blowout loss to Nevada, said he was heartbroken that he would leave UI without a victory against the Wolf Pack. Those emotions will no doubt be stronger if the Vandals lose for the 12th straight time to the Broncos.
"This is my fifth year and there's lot of other guys on the team that haven't beat Boise," Keo said. "And that's going to mean something to them this week and it's going to push people that extra step, that extra inch, to make sure that they're doing everything (to prepare)."
Keo labeled Friday night's clash with BSU in the Kibbie Dome as the biggest game of his career. And it also might be the finest team the Vandals have played in his five years.
BSU, gunning for a spot in the Bowl Championship Series title game, has won 22 consecutive games and is ranked second in scoring offense and scoring defense among 120 FBS teams.
"(This week) has a little extra spice to it, I think, because they've dominated the series so long," Idaho defensive end Aaron Lavarias said. "I think the guys are really motivated to get them at home. Probably the last time we'll get to play them at home (and) the last time the seniors will get to play them forever."
The Vandals are 34 1/2-point underdogs to BSU. But that's nothing new to Idaho players, particularly the fifth-year seniors.
"We've been underdogs for a while, so you get used to that," Enderle said. "So here, more than ever, it's about respect. It's about a little bit of bragging rights, I guess. But at the same time, if you're only fighting for respect, you're not fighting for much."
Jackson causes stir
Jackson made waves Monday when he told Boise reporters that BSU president Bob Kustra was a "blue and orange snot" after Kustra described Idaho fans as "nasty, inebriated."
In a separate interview, the tailback used similar terms when talking about the Idaho-Boise State series going on hiatus after Friday.
"It's going to be a big letdown because this rivalry, it means the world," he said. "Whether you bleed the black and gold or you're sneezing out the blue and orange, when you just think about this, you get chills. I'm getting chills down my spine just thinking about what I'm able to do come Friday night."
Injury update
Idaho linebacker Tre'Shawn Robinson, after a 16-tackle performance against Nevada, spent Saturday night in Moscow's Gritman Medical Center for dehydration and exhaustion.
Coaches initially feared a much more significant injury, but Robinson should be able to play Friday, Akey said. He has started the past two weeks after JoJo Dickson went down for the season.
Jackson, the Vandals' starting tailback, said he'll be able to play despite an ankle injury that has forced him to wear a boot since Saturday.
Local journalism is essential.
Give directly to The Spokesman-Review's Northwest Passages community forums series -- which helps to offset the costs of several reporter and editor positions at the newspaper -- by using the easy options below. Gifts processed in this system are not tax deductible, but are predominately used to help meet the local financial requirements needed to receive national matching-grant funds.
Subscribe to the sports newsletter
Get the day's top sports headlines and breaking news delivered to your inbox by subscribing here.
---