Sports > Seattle Seahawks
Catching on?
It might be coming together for Hawks offense
Sat., Nov. 20, 2010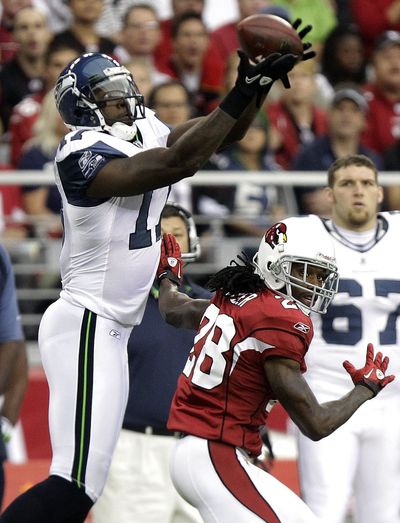 RENTON, Wash. – More evidence is needed before anyone can declare that the Seahawks' offense has turned a corner, but the simple fact that an offensive turnaround could be a topic of conversation this week is a sign of considerable progress.
 Prior to last weekend's win in Arizona, it would have been a compliment to call Seattle's offense inconsistent, but after Matt Hasselbeck and the offense had their best day of the season in a 36-18 victory, it's worth pondering if maybe, just maybe, the Seahawks have found a formula for moving the ball and scoring points.
 "I don't know that, we'll have to wait and see," Seahawks coach Pete Carroll said. "I'd like to think that. We're going to try to come right back out and go with the things that we can do – we got to protect the quarterback, we got to catch it well, and see if we can hang on to the football. If we do those things then those things start to add up and it makes you hard to knock down. So we'd like to see if we can get some consistency here. We'll see what happens."
 Even with a 490-yard outing in Arizona last week, Seattle ranks 30th in the league in total offense, averaging 286.7 yards per game, and 28th in scoring with 18.4 points per game. But after scoring just 10 points and gaining 326 yards in their previous two games combined, a breakout performance in the desert could certainly be construed as a positive sign, and perhaps a harbinger of better times to come.
 "When you have a couple bad games and you can go out there and have a good one, it always feels good," said receiver Mike Williams, who himself broke out of a two-game funk with 11 catches for 145 yards. "We just couldn't get anything going the last couple weeks, but this past week everyone knew the game plan inside and out. There was a 'want to' to execute, there was a 'want to' to do extra with the opportunities. And I think we did a good job." 
Sunday's game in New Orleans certainly won't be easy for the offense – the Saints feature one of the league's stingiest defenses – but in theory things should get better as the season goes on. Hasselbeck and the rest of the offense are playing for their third offensive coordinator in as many years, and the constantly changing offensive line has been without rookie left tackle Russell Okung, the No. 6 pick in April's draft, for almost the entire season.
 Okung has played the equivalent of six quarters this season thanks to a pair of high ankle sprains, but even in that limited sample size, it is clear that the offense – and the run game in particular – function better with him in the game. After missing the past three games, Okung has practiced all week, and will likely return to action against the Saints on Sunday.
 "I think all of us that have been watching closely thought we saw a little bit different effect when Russell was playing," Carroll said. "It's what a really good player should do – he should help guys do well around him."
 It hasn't helped the offense that the parts seem to constantly be changing. Injuries have forced an almost weekly shuffle on the offensive line, and significant roster turnover has resulted in Hasselbeck working with a number of players he is still learning about as the season goes on.
 On the line, Seattle has started six different combinations of players in nine games because of injuries, and of the nine linemen to start for Seattle this year, five – Tyler Polumbus, Okung, Chester Pitts, Ben Hamilton, Stacy Andrews – weren't on the roster last season.
 At the skill positions, Seattle's major roster overhaul has Hasselbeck staring at some new faces in the huddle. The team's No. 1 receiver, Williams, was an offseason addition, while starting running back Marshawn Lynch and fullback Michael Robinson joined the team after the season had started.
The top three pass catchers from last season were all gone by the time Deion Branch was traded to New England.
 So while a roster overhaul was necessary for a team that won just nine games in the past two years, it hasn't been easy on the offense.
 "Yeah, you think?" Hasselbeck said with a laugh. "I mean, it's not defense. It's not like you're just chasing the ball. It's all about communication; it's all about all those things. So that is a challenge and we try not to talk about it or whatever, but what's real is real. I think that's one of the things that makes me feel excited that, 'Hey, we're just going to get better as we go.' " 
Local journalism is essential.
Give directly to The Spokesman-Review's Northwest Passages community forums series -- which helps to offset the costs of several reporter and editor positions at the newspaper -- by using the easy options below. Gifts processed in this system are not tax deductible, but are predominately used to help meet the local financial requirements needed to receive national matching-grant funds.
Subscribe to the sports newsletter
Get the day's top sports headlines and breaking news delivered to your inbox by subscribing here.
---
Subscribe and log in to the Spokesman-Review to read and comment on this story