Sports
Seahawks struggle in red zone in loss to Saints
Mon., Nov. 22, 2010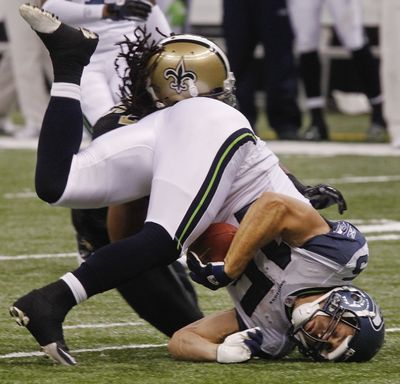 NEW ORLEANS — The Seahawks needed a nearly flawless performance to come away with a win over the defending Super Bowl champions.
Facing the New Orleans Saints at the Superdome on Sunday, the Seahawks knew their margin for error was slim but instead had a number of flaws exposed as the Saints rolled to a 34-19 victory in front of 70,015.
"This team was just too good today for us to give them stuff," Seahawks coach Pete Carroll said.
It wasn't that the Seahawks played a terrible game – heck, Sunday's effort probably would have been good enough for a victory over every other team in the NFC West. It was simply a case of not doing enough to beat one of the NFC's best teams in a hostile environment. Some of the issues that have haunted the Seahawks on and off this season crept up again in this game – the defense allowed too many big plays in the passing game, while the offense couldn't establish a run game and didn't convert in the red zone.
"They do everything good, that's why they're the defending champions," safety Lawyer Milloy said. "So when you know that, you've got to play flawless football, and we didn't do that."
The Seahawks took an early lead in the game, but in doing so also set the tone for what would be part of their downfall. After the two teams traded punts, the Seahawks got to the Saints' 10-yard line thanks to a 68-yard pass from Matt Hasselbeck to Mike Williams. Seattle got to the 2-yard line two plays later, but had to settle for a field goal. It was the first of four field goals for the Seahawks, two of which came on drives that stalled out inside the 5-yard line.
The Saints, on the other hand, answered Seattle's field goal with a touchdown to make it 7-3. After Seattle used a big pass play to set up another field goal, the Saints answered with another touchdown. By the end of the game, both teams had scored five times, but while the Seahawks had field goals account for four of those scores, the Saints scored touchdowns on five straight possessions.
That, along with two fumbles by running back Marshawn Lynch in the third quarter, allowed the Saints to win big despite the Seahawks gaining 424 yards.
Aside from their red zone deficiencies, the Seahawks offense – or at least the passing game – was impressive. Hasselbeck passed for 366 yards, his second straight 300-yard game, but it wasn't enough against Drew Brees, who passed for 382 and four touchdowns. Brees was also complemented by the 99 rushing yards of former Washington State running back Chris Ivory, while Seattle was held to 58 rushing yards on 17 attempts.
"It's tough," Hasselbeck said. "There were some good things, but not good enough when he's on and their offense was on. They had better stuff than we did today."
Seattle had a chance to keep the game close heading into halftime, but the Saints picked up a late touchdown after a controversial roughing the passer penalty kept the drive alive. After a Hasselbeck touchdown pass to Ben Obomanu made it 21-13 with 1:54 left, the defense appeared to finally come up with a stop, but a third-down incompletion was negated because of a flag thrown on Raheem Brock's hit on Brees. Three plays later the Saints were in the end zone with a 27-13 lead. Seattle did get a field goal on the final play of the half, but was unable to ever get within striking distance again.
"That was a huge exchange," Carroll said. "We were off the field, we'd stopped them and the game was close at that time, then we gave Drew another chance at us and he went right down the field on us."
The news wasn't all bad for the Seahawks, however. The entire NFC West lost on Sunday, which means Seattle sits alone in first place with a pedestrian 5-5 record.
• The Seahawks lost a pair of starters, though the significance of both injuries was not immediately known.
Cornerback Marcus Trufant suffered a concussion in the first quarter trying to tackle Saints running back Chris Ivory. Receiver Mike Williams, who had another big game with six catches for 109 yards, left the game in the third quarter with a foot sprain.
"It was a concussion for (Trufant)," Carroll said. "To what degree, we don't know. Mike has a sprained foot of some sort."
Saints 34, Seahawks 19
| | | | | | | |
| --- | --- | --- | --- | --- | --- | --- |
| Seattle | 3 | 13 | 0 | 3 | — | 19 |
| New Orleans | 7 | 20 | 7 | 0 | — | 34 |
 Sea—FG Mare 20, 7:07.
NO—Ivory 1 run (Hartley kick), 1:30.
Sea—FG Mare 43, 14:55.
NO—Colston 23 pass from Brees (Hartley kick), 10:17.
NO—Meachem 3 pass from Brees (Hartley kick), 5:48.
Sea—Obomanu 2 pass from Hasselbeck (Mare kick), 1:54.
NO—Colston 22 pass from Brees (run failed), 1:00.
Sea—FG Mare 43, :00.
NO—Meachem 32 pass from Brees (Hartley kick), 12:18.
Sea—FG Mare 20, 5:26.
A—70,015.
| | | |
| --- | --- | --- |
| | Sea | NO |
| First downs | 21 | 26 |
| Total Net Yards | 424 | 494 |
| Rushes-yards | 17-58 | 29-112 |
| Passing | 366 | 382 |
| Punt Returns | 0-0 | 0-0 |
| Kickoff Returns | 4-87 | 1-25 |
| Interceptions Ret. | 2-5 | 0-0 |
| Comp-Att-Int | 32-44-0 | 29-43-2 |
| Sacked-Yds Lost | 0-0 | 0-0 |
| Punts | 2-39.0 | 1-40.0 |
| Fumbles-Lost | 2-2 | 0-0 |
| Penalties-Yards | 8-79 | 3-24 |
| Time of Poss. | 26:15 | 33:45 |
INDIVIDUAL STATISTICS
 RUSHING—Seattle, Lynch 7-36, Hasselbeck 1-12, Forsett 8-10, Washington 1-0. New Orleans, Ivory 23-99, Meachem 1-8, Jones 4-4, Henderson 1-1.
PASSING—Seattle, Hasselbeck 32-44-0-366. New Orleans, Brees 29-43-2-382.
RECEIVING—Seattle, Williams 6-109, Stokley 6-76, Obomanu 5-87, Forsett 5-33, Lynch 4-19, Carlson 3-14, Butler 2-19, Washington 1-9. New Orleans, Colston 8-113, Graham 5-72, Meachem 3-50, Moore 3-43, Betts 3-37, D.Thomas 2-26, Jones 2-8, Henderson 1-17, Humphrey 1-12, H.Evans 1-4.
MISSED FIELD GOALS—New Orleans, Hartley 27 (WL).
Local journalism is essential.
Give directly to The Spokesman-Review's Northwest Passages community forums series -- which helps to offset the costs of several reporter and editor positions at the newspaper -- by using the easy options below. Gifts processed in this system are not tax deductible, but are predominately used to help meet the local financial requirements needed to receive national matching-grant funds.
Subscribe to the sports newsletter
Get the day's top sports headlines and breaking news delivered to your inbox by subscribing here.
---
Subscribe and log in to the Spokesman-Review to read and comment on this story