Sports
Seahawks WRs understated, underestimated
Sun., Nov. 28, 2010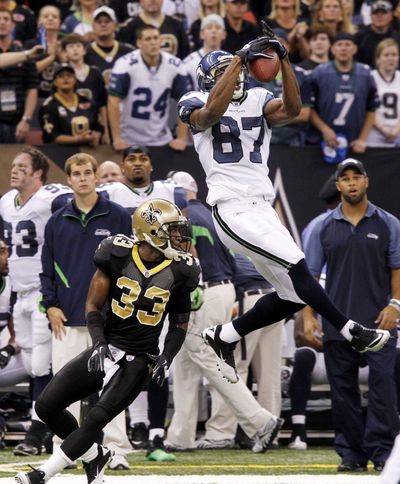 RENTON, Wash. – Ben Obomanu plays a position known for personality, yet he's a wide receiver so quiet you might not know he's in the room.
He was his high school's valedictorian in Alabama with an ego sufficiently in check that he laughs at how broadcasters have mispronounced his name. He even has a favorite: U-boo-moo-noo.
"They added a whole bunch of O's and U's," Obomanu said.
That makes him the perfect spokesman for the receivers on Seattle's roster, a group as understated as it is underestimated and full of men looking to make a name for themselves.
"We hit stride with the throwing game," coach Pete Carroll said. "I think the guys look really good."
Things are quieter among Seattle's wide receivers these days. T.J. Houshmandzadeh is in Baltimore, and Deion Branch was traded to New England. It was just part of a purge at a position where Seattle used to not only spend millions, but was willing to fork over draft picks for the privilege of cutting the check.
Now, the Seahawks don't have a receiver making more than $1.1 million in base salary this year and with six games left this season it's clear Seattle's collection of wide receivers has been the team's biggest surprise.
"All of them came here for looking for an opportunity, and it's funny how things change," said Kippy Brown, Seattle's wide receivers coach. "To their credit, I think they're just taking advantage of their opportunity."
No one more so than Mike Williams. Out of the league the past two years, he has caught 52 passes this season – 17 in the past two games alone.
But it's not just Williams – who didn't practice Wednesday – held out by a foot strain that knocked him out of last Sunday's game.
Quarterback Matt Hasselbeck said the Seahawks are preparing as if Williams won't be able to play against Kansas City.
That could mean an opportunity for someone else to be featured. It could be rookie Golden Tate, who missed the past three games with a sprained ankle and whose playing time has fluctuated this season because of his route-running.
Or maybe it's Obomanu, who is in his fifth year with the team after being drafted in the seventh round in 2006. He didn't catch a single touchdown in his first four seasons with the Seahawks. He has two in the past three weeks.
Then there's Brandon Stokley, who was signed two weeks after the season began but hasn't so much as practiced in two weeks – yet he caught all six balls thrown to him last weekend in New Orleans.
Seattle spent years making big-budget additions at receiver under former president Tim Ruskell. But now it's a mix of the overlooked and the undervalued who have helped Seattle's offense hum for the first time all season.
Seattle has passed for 746 yards in the past two games, its highest two-week total since 2002. It's an aerial renaissance for Hasselbeck. For Seattle's receivers, this has been nothing short of a revelation.
"They're getting better," Carroll said.
"They're growing with the offense and with the quarterback."
The group isn't as loud as it used to be, not as flashy. It's not just the results that are speaking for themselves, though. Obomanu remains one of the quietest players on the team, but Seattle is hearing from him.
"I've even started talking more in meetings," he said.
Local journalism is essential.
Give directly to The Spokesman-Review's Northwest Passages community forums series -- which helps to offset the costs of several reporter and editor positions at the newspaper -- by using the easy options below. Gifts processed in this system are not tax deductible, but are predominately used to help meet the local financial requirements needed to receive national matching-grant funds.
Subscribe to the sports newsletter
Get the day's top sports headlines and breaking news delivered to your inbox by subscribing here.
---
Subscribe and log in to the Spokesman-Review to read and comment on this story