News > Spokane
Protest of play gets eager pushback
NIC production addresses gay man's beating death
Sat., Oct. 23, 2010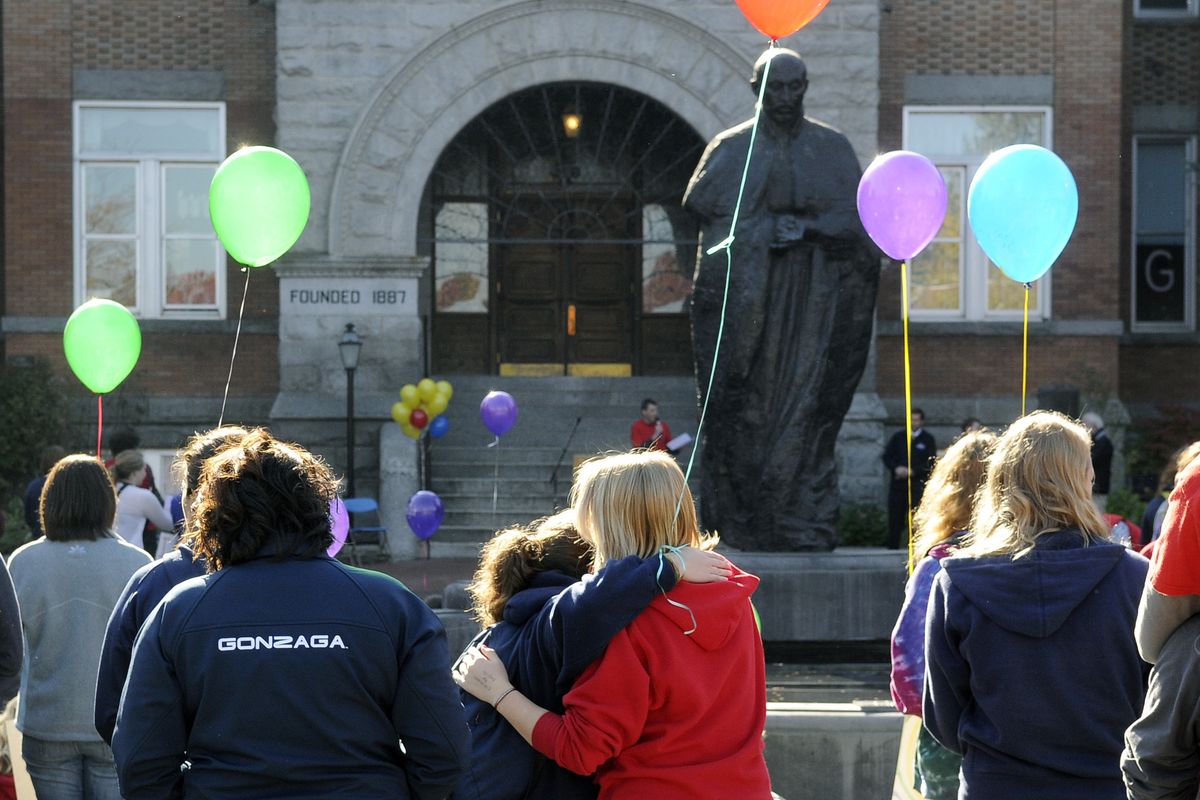 Gonzaga students share an embrace during a witness for justice gathering near the reflecting pool of St. Ignatius outside of College Hall October 21, 2010. Hundreds of students, staff and faculty assembled while the Westboro Baptist Church members picketed across campus. (Dan Pelle / The Spokesman-Review)
A play dealing with the aftermath of a young gay man's beating death that's being staged at North Idaho College has attracted more attention and donations since an extremist Kansas hate group cited it as their reason for protesting in Spokane and Coeur d'Alene.
The NIC theater group performed its opening night of "The Laramie Project" on Thursday before an audience of 109 people, said theater instructor Joe Jacoby. The play is free and depicts a series of monologues by people from Laramie, Wyo., following the 1998 beating death of Matthew Shepard.
When word spread that the anti-gay, anti-Semitic Westboro Baptist Church was coming to the Inland Northwest, three people called the NIC foundation offering to cover the $450 royalty fees for securing the play. Another woman offered to help distribute posters. And when the student cast walked into a human rights rally in Coeur d'Alene on Friday, holding high their play posters, the 200-plus people in attendance greeted them with a deafening cheer.
"It's greatly increased the awareness and interest in the play," Jacoby said. However, he added, "It's a double-edged sword. As much as it's benefiting us, you just don't want people with that kind of hatred in your community. But this community has responded so wonderfully. It's turned into a very constructive, positive event. I am really proud today to be a resident of Coeur d'Alene and a part of North Idaho College."
The human rights rally capped a series of protests beginning at 6 a.m. Friday with Westboro demonstrations at Coeur d'Alene's two public high schools and at NIC. Each demonstration was met by between 50 and 200 protesters.
The Westboro group demonstrated Thursday at various locations in Spokane, and hundreds of local residents turned out to counter the group there as well.
Westboro pickets have gained national attention through their hate speech and for carrying insulting signs at funerals.
"I don't like the way they treat veterans at the funerals," said Greg Prado, of Hayden, a Marine who served in operations Desert Shield and Desert Storm. Prado attended all the North Idaho protests with his son Cade, 6, and wife, Amy. "We can't let people come into our town and bully us without saying that's not right. They're hiding behind the First Amendment."
Darby Lopp, 12, a Woodland Middle School seventh-grader, displayed a rainbow-colored sign she made to show support for gay people. The sign said, "This is our community" and also included the Star of David.
"I don't think this is right," Lopp said. "I think we need to stand up for what we believe in."
At Lake City High School, school administrators held an indoor assembly to try to keep students inside. About 100 people demonstrated against Westboro outside and passing cars and trucks honked in support, drawing cheers from the crowd.
"Speaking hate to children is wrong," said Michelle Hoagland, of Coeur d'Alene, who attended the counterprotests with her husband, Scott, and friend Shaleena Ralston. Michelle Hoagland was among several counterprotesters who expressed concern about the recent suicides of young people, attributed to gay-bashing and bullying. "What if this puts one kid over the edge?"
The next stop was North Idaho College, where the Westboro group set up in the middle of campus with a significantly increased police presence. An estimated 200 protesters yelled and chanted from across the street, in front of the student union building. They included carloads of students who drove north at 4 a.m. Friday from the University of Idaho in Moscow.
At NIC, Alisha Nowoj, of Coeur d'Alene, whose boyfriend is in the military, ran up to the police fencing surrounding the Westboro group waving her sign and yelling "I love my soldier!"
Shaun Winkler, of Spirit Lake, a former member of the Aryan Nations under the late Richard Butler, appeared with a sign that read: "May there be plenty more Matt Shepards," and tried to join the Westboro group but was kept away by police. He attended with his sister, Christine Newman, who carried a sign that said "Keep fags from our schools."
But the message of love and acceptance appeared to win in the end. The rally at the Human Rights Education Institute was packed with more than 200 people including representatives from the Coeur d'Alene Tribe, veterans groups, local politicians, high school and college students, a Catholic priest and officials from Idaho's colleges.
Racine Balough, president of NIC's Gay Straight Alliance, said she wanted to thank Westboro for visiting the Inland Northwest.
"It gave us a chance to think about what values are important to us," she said. "They tried to hurt us today. As a community, we didn't let them do it. With the dignity and poise with which we handled this, ladies and gentlemen, we won."
Local journalism is essential.
Give directly to The Spokesman-Review's Northwest Passages community forums series -- which helps to offset the costs of several reporter and editor positions at the newspaper -- by using the easy options below. Gifts processed in this system are not tax deductible, but are predominately used to help meet the local financial requirements needed to receive national matching-grant funds.
Subscribe now to get breaking news alerts in your email inbox
Get breaking news delivered to your inbox as it happens.
---