Informant to plead guilty in Steele case
Sagle man told FBI that lawyer hired him to kill wife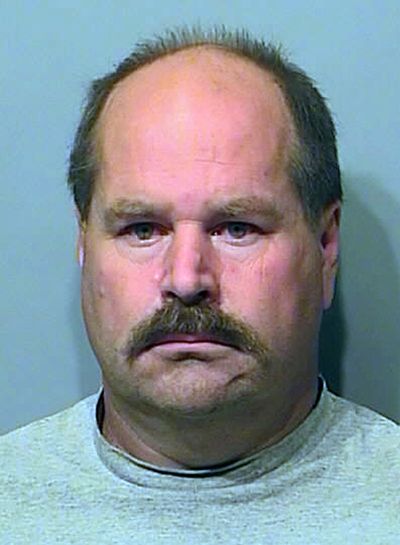 A Sagle man who investigators say was hired by Edgar Steele to kill Steele's wife and mother-in-law is expected to plead guilty to federal weapons charges next week.
Larry A. Fairfax, 49, faces a maximum 10 years in prison but federal sentencing guidelines show he could receive as little as 18 months.
A plea hearing is scheduled for 4 p.m. Tuesday in U.S. District Court in Coeur d'Alene, said Traci Whelan, assistant U.S. attorney.
Sentencing has not been scheduled. Fairfax has agreed to cooperate fully with investigators, but a plea agreement filed Aug. 20 said the deal "is not contingent upon the conviction of any person."
"The defendant's duty under the terms of this Agreement is to tell the truth whether or not it bolsters the Goverment's case against any particular individual," according to the agreement, signed by Fairfax and his lawyer, John Miller, on Aug. 18.
Fairfax was arrested June 15 after employees at a Coeur d'Alene auto shop found a pipe bomb under a car belonging to Cyndi Steele, wife of former Aryan Nations lawyer Edgar Steele. Cyndi Steele had brought the car in for an oil change before her husband's first court appearance on charges that he hired Fairfax to kill her and her mother.
Fairfax acted as an informant for federal agents and recorded Steele talking about the plot, but agents say he never told them he'd already rigged explosives to the intended victim's car. Fairfax later told them he'd rigged the explosive so it couldn't explode.
Fairfax was charged with possession of an unregistered firearm and making a firearm in violation of the National Firearms Act. He remains in federal custody.
Under federal sentencing guidelines, Fairfax could face a sentence between 18 to 24 months and 84 to 105 months, depending on his criminal history and whether the court rules he possessed the device with knowledge it would be used in another felony offense.
Whelan declined to comment on Fairfax's expected role in Steele's trial, which is scheduled to begin in November, except to say that the entire agreement is detailed in court documents.
"There's no side deals or hidden deals or anything like that," Whelan said.
Miller, Fairfax's lawyer, also declined comment.
According to court documents, Fairfax approached FBI agents June 9 and said he'd been talking with Edgar Steele since November 2009 about a plan to kill his wife and her mother.
Fairfax told investigators he planted the bomb under the car to convince Steele the plan was moving forward. Steele planned to detonate a bomb under his own car after his wife's death to try to make it look like both had been targeted, according to court testimony.
The FBI covertly monitored two meetings between Fairfax and Steele, then raided Steele's home on Talache Road, about 10 miles southeast of Sandpoint, on June 11.
Edgar Steele, 65, has pleaded not guilty to use of interstate commerce for the commission of murder for hire, use of explosive material to commit a federal felony and possession of a destructive device in relation to a crime of violence and tampering with a victim.
The tampering charge alleges he called his wife while in jail and asked her to tell authorities it wasn't his voice on the FBI's recordings.
Prosecutors also alleged last week that Steele violated a court order prohibiting from contacting his wife when he mailed a birthday card they say was addressed to his daughter but written to his wife, who is supporting her husband.
---