News > Spokane
Foreign refugees flood into Spokane with 3 months of U.S. aid
But as local agencies well know, it takes much longer to rebuild a life
Sun., Sept. 12, 2010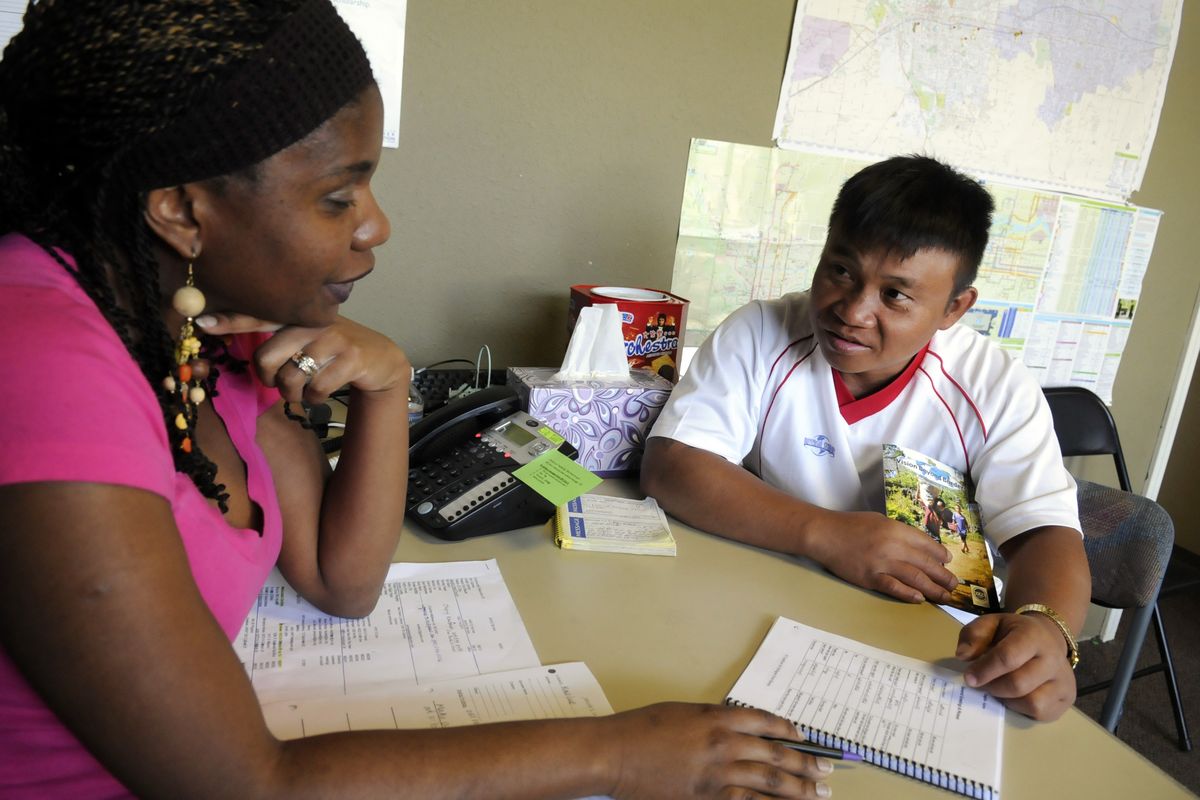 Sony Beck, left, a volunteer case manager, gets help in learning some Karen phrases from Tee Tu, a refugee from Burma, on Aug. 17 at Jacob's Well church in Spokane. The church helps find social services for refugees after their placement in the Spokane area. (Jesse Tinsley)
In the fall of 2006, a young Spokane pastor and his wife welcomed an extended family of 12 ethnic Burmese refugees into their East Central neighborhood church called Jacob's Well and prayed that more would come.
Nearly four years later, that family has been joined by more than 600 Burmese, and the Rev. Eric Blauer wonders how many more refugees from around the world his church, the city and the nation can handle in these tough economic times.
"From our standpoint it's hard to figure out how we can keep receiving refugees who are unprepared for the realities they find when they get here," Blauer said. But World Relief, the resettlement agency responsible for bringing thousands of refugees to Spokane over the past 24 years, says it would like to bring more – not fewer.
World Relief contracts with the U.S. State Department to place refugees in communities throughout the nation and provides technical support for the families for three months. The agency has succeeded in Spokane by forming partnerships with five churches that have developed more lasting relationships with the refugee families.
But even ardent refugee advocates such as Blauer believe there are limits to the education, health care and social service resources available to support large, low-income populations of people whose attempts to find employment are impeded by culture and language.
World Relief and other voluntary refugee resettlement agencies must draw the line somewhere or have it drawn for them, they say.
A study released this summer by the office of U.S. Sen. Richard Lugar, R-Ind., concludes that the policies put into place by the federal Refugee Act of 1980 "are out-dated and fail to address the needs of the culturally and linguistically diverse populations now being admitted into the United States."
The report to the Senate Foreign Affairs Committee was prompted in part by a racial backlash against a large influx of Burmese refugees into Fort Wayne in Lugar's home state. Among Lugar's concerns is that local governments have no say in how many refugees are brought into a community or how often. Nor are cities and counties informed in advance of the refugees' arrival.
"In the future, the administration may determine that an increase in federal funding or decrease in refugee admissions is warranted. But the practice of passing the costs of resettling refugees on to local communities should not continue," Lugar wrote in a letter accompanying the report.
Among the problems identified in the Lugar report to the Senate Foreign Relations Committee:
• Inadequate resources for language instruction.
• Inadequate information regarding the health, education and psychological backgrounds of refugees, many of whom arrive in the United States from crowded refugee camps.
• Inadequate and inflexible federal funding sources.
"All of these accurately reflect the situation in Spokane as well," said Brent Hendricks, director of Global Neighborhood, a Christian-based nonprofit organization in Spokane that trains volunteers to connect refugees with resources and education.
Although Spokane may not have reached the point Fort Wayne has, Hendricks said, the issues are similar.
"Like a square peg in a round hole, (refugees) are placed in the same welfare system as Americans, and the system doesn't take into consideration the culture, language and trauma refugees have been through."
Charitable organizations like Blauer's and Hendricks' are trying to catch refugees as they fall through the cracks of the U.S. public-private resettlement system.
At Jacob's Well, volunteers like Sue Beck help Burmese refugees navigate a labyrinth of health, education, employment and social services.
One day, Beck spends hours leading a non-English-speaking head of household through an application for permanent residency. The next day she drives a pregnant woman to a doctor's appointment.
In most cases, the work of caring for refugees continues for years after their three months of initial resettlement assistance expires.
Since the mid-1970s, the United States has accepted about 3 million refugees from some of the most repressive nations on Earth.
Last year, Washington state received 2,588 refugees. Of the 80,000 refugees authorized to be admitted into the United States this year, Washington is expected to get as many as 2,900, including 500 in Spokane. World Relief expected to bring even more to Spokane next year.
The Baltimore-based agency has no intention of slowing the flow of refugees, says Mark Kadel, World Relief's director in Spokane.
"Absolutely not. If anything, we need to move forward," Kadel said in a recent interview.
Kadel said the United States provides a safe haven for less than 1 percent of the 13 million people suffering in refugee camps, and "we are not doing our share."
World Relief, the humanitarian arm of the National Association of Evangelicals, is the largest of 10 voluntary refugee resettlement agencies that contract with the State Department. With offices in 23 cities, World Relief has been resettling refugees in Spokane since 1986.
Kadel said his office has an annual budget of $1.3 million and a staff of 25 employees and more than 60 volunteers. The national director of World Relief, Sammy Mah, resigned this month after 5  1/2 years of leading the $54 million organization.
World Relief in Spokane has kept electronic records only since 1993. They show the agency has brought 6,712 refugees to the community, nearly 60 percent from the former Soviet republics.
Once placed in a community, refugees are free to relocate anywhere in the United States. As a result of "second migration," it is estimated that more than 25,000 Russian-speaking people call Spokane their home.
Kadel said the Lugar report is taking a look at the nation as a whole and that the racial and economic problems that occurred in Fort Wayne have not developed in Spokane.
He also said that refugee resettlement is much easier in areas of the country where the cost of living is lower and that Spokane is "an ideal location" because of its relatively low housing costs.
As of Jan. 1, the federal three-month assistance grant allocated directly to each refugee was increased from $425 to about $1,100. In addition, Kadel said, World Relief receives $700 per refugee for administrative costs.
In the first 90 days after refugees arrive in the United States, World Relief helps them find housing and provides food, clothing, household items and transportation. It makes sure refugees receive health screenings and vaccinations and helps enroll children in schools and adults in English language classes. It connects families with Social Security, Medicaid and social services.
To accomplish its mission, World Relief relies in large part on churches such as Jacob's Well, whose work is financed only through the contributions of its 100 or so congregants.
"We don't provide financial help to churches. We provide an opportunity for churches to put in practice what they hear across the pulpit every Sunday," Kadel said.
Hendricks, of Global Neighborhood, says three months of financial support for refugees is inadequate.
"I couldn't move to New York and be functional in 90 days," Hendricks said. "Expecting people coming from war zones to be functional and self-sustaining in 90 days is just ridiculous."
After the first three months, the welfare of refugees is the responsibility of the state Office of Refugee and Immigrant Assistance.
Although resettlement agencies like World Relief are not required to notify municipalities about the number of refugees they may be bringing in, they are required under the federal Refugee Act to show that they have at least consulted with someone in state government.
Tom Medina, chief of Washington's Office of Refugee and Immigrant Assistance, looked at the state budget and advised the six resettlement agencies operating in the state to slow the flow of refugees this year.
Two other agencies – the U.S. Committee for Refugees and Immigrants and Catholic Charities of Spokane – attempted this year to begin new resettlement programs in Spokane. Medina convinced them that given the economic situation, this was not the time to initiate new refugee streams.
Services provided by the state's Office of Refugee and Immigrant Assistance include naturalization and employment help, job-skills training and foster care. Last year, the office disbursed more than $10 million in refugee and immigrant assistance – half state funds and half federal.
The office contracts with the Spokane Regional Health District to provide health screening and inoculations for refugees through a $600,000 federal grant.
Spokane's Institute for Extended Learning receives about $428,000 a year to provide English lessons. More than 61 percent of IEL's English-as-a-second-language students this year were refugees.
Medina's office also uses a federal grant to pay about a third of the $3 million cost of Spokane Public Schools' English-as-a-second-language program – an amount one district administrator said is inadequate.
"We feel the state should be fully funding the program," said Mark Anderson, associate superintendent for school support services.
Refugees with families receive Temporary Assistance for Needy Families, a program designed to help Americans who have fallen on hard times get back on their feet. With its rigid work-participation rules, TANF presents often insurmountable obstacles to refugees who may not have marketable skills or even be literate in their own language, let alone in English.
Single refugees, who are not eligible for TANF, receive a maximum of eight months of federal Refugee Resettlement Assistance administered through local nonprofit agencies.
While many refugees have found jobs to support families, others have become homeless after their initial assistance expires, said Hendricks, of Global Neighborhood.
Some refugees are working minimum-wage jobs while simultaneously trying to support their families here and their extended families back in a refugee camp, Hendricks said.
Hendricks and other refugee advocates are not saying the United States should stop granting asylum to refugees but that the country must invest much more in their successful resettlement."Everyone is doing really great work," Hendricks said. "It's that there is so much work to be done."
Local journalism is essential.
Give directly to The Spokesman-Review's Northwest Passages community forums series -- which helps to offset the costs of several reporter and editor positions at the newspaper -- by using the easy options below. Gifts processed in this system are not tax deductible, but are predominately used to help meet the local financial requirements needed to receive national matching-grant funds.
Subscribe now to get breaking news alerts in your email inbox
Get breaking news delivered to your inbox as it happens.
---