Sports
Seattle's defense paves way to dominating win
Tue., Sept. 14, 2010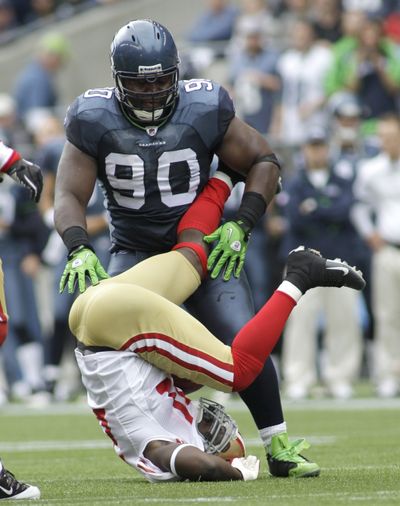 The play came in the opening moments of the first quarter and spoke to the determination of Seattle's defense.
On a third down inside the Seattle 10, 49ers running back Frank Gore caught a short swing pass out of the backfield. Gore, a longtime battering ram nemesis of the Seahawks, had only slender, 180-pound cornerback Kelly Jennings to beat for a first down or potential touchdown.
Jennings wouldn't let that happen. He chopped down Gore for just a 1-yard gain.
For all the hype around Pete Carroll's successful debut in his return to professional football, one aspect got overshadowed on Sunday: Seattle's defense played pretty well.
Seattle's run defense, and specifically its defensive line, was a major question entering the season. The Seahawks had shifted Red Bryant from tackle to defensive end in the hopes of being more stout at the line of scrimmage with Bryant, and defensive tackles Brandon Mebane and Colin Cole plugging the run lanes.
Carroll raved about Cole's effort on Sunday and had almost as much praise for newcomer Junior Siavii. Signed only a week ago, Siavii played extensively and finished with two stops and a tackle for loss.
Seattle's defense might only get better this week heading into Denver with the expected return of linebacker Leroy Hill. Carroll said Hill will rejoin the team after serving a one-game suspension handed down by the league for his arrest on a marijuana-possession charge in Georgia.
• Starting right guard Max Unger is likely out for the Seahawks game Sunday at Denver after suffering a toe injury in the season opener.
Man in crash worsens
A lawyer for the family of a man hurt in a two-vehicle crash with New England Patriots quarterback Tom Brady's car says his condition has worsened.
Attorney Samuel Reef tells the Boston Globe newspaper the family of Rogerio Rodrigues is concerned for his well-being as it awaits more medical tests.
The 49-year-old Fall River, Mass., resident was a passenger in a minivan driven by his adult son when it collided with a car driven by Brady last Thursday in Boston. He underwent emergency surgery and had been listed in serious condition.
Minnesota Vikings wide receiver Percy Harvin says he believes doctors have helped him find a solution for his migraine headaches.
Harvin confirmed he was recently diagnosed with sleep apnea, a condition that causes temporary breathing stoppages during sleep. Doctors believe it has contributed to his migraine attacks. Harvin has been set up with a special breathing machine, and he says he hasn't had a migraine since his scary collapse on the practice field last month sent him to the hospital.
Deion Sanders, Curtis Martin, Marshall Faulk and Jerome Bettis are among the first-year eligible candidates for the Pro Football Hall of Fame's class of 2011.
In all, there are 113 modern-era nominees, the hall announced. From that list, Hall of Fame selectors will choose 25 as semifinalists; that group will be announced in November.
The semifinalists will be reduced to 15 finalists and will be announced in early January. Election for the hall takes place the day before the Super Bowl.
Quick kicks
Detroit Lions quarterback Matthew Stafford doesn't appear to need surgery on his throwing shoulder after being injured in Sunday's game. … Green Bay Packers defensive lineman Justin Harrell will miss the rest of the season with a knee injury and running back Ryan Grant will miss at least one game with an ankle injury.
Local journalism is essential.
Give directly to The Spokesman-Review's Northwest Passages community forums series -- which helps to offset the costs of several reporter and editor positions at the newspaper -- by using the easy options below. Gifts processed in this system are not tax deductible, but are predominately used to help meet the local financial requirements needed to receive national matching-grant funds.
Subscribe to the sports newsletter
Get the day's top sports headlines and breaking news delivered to your inbox by subscribing here.
---
Subscribe and log in to the Spokesman-Review to read and comment on this story