Sports
USC shows large gap between Cougs, Pac-10
Sun., Sept. 26, 2010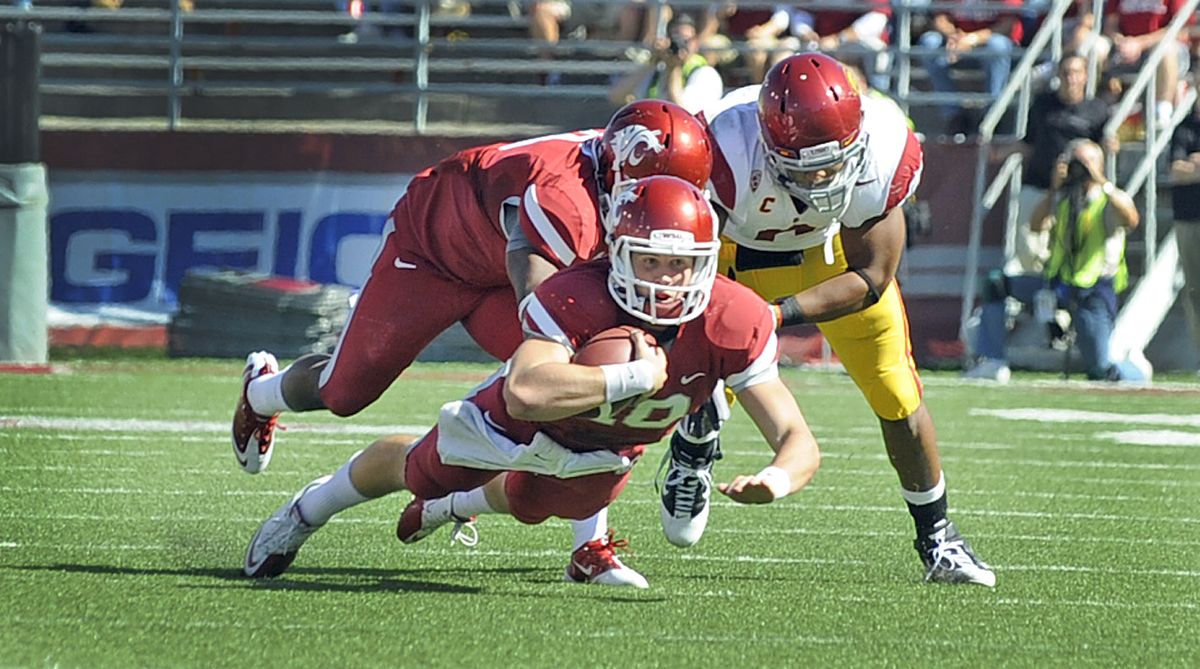 WSU quarterback Jeff Tuel dives for yardage aftr having to scramble out of the pocket against USC in Martin Stadium in Pullman Saturady September 25, 2010. (Christopher Anderson / Spokesman-Review)
PULLMAN – If Saturday's Pac-10 opener with the University of Southern California was to be a measuring stick of Washington State's progress, the answer is obvious.
The Cougars don't measure up yet.
Despite one of their better offensive showings of the season, despite forcing three Trojans turnovers, despite leading 7-0 less than 4 minutes in, WSU went down to its 12th consecutive defeat at the hands of a FBS foe, this one 50-16 to No. 20 USC.
The 24,310 at Martin Stadium on a perfect Palouse fall day witnessed the stark difference between the Cougars and the rest of the conference.
USC, mixing in three tailbacks and fullback Stanley Havili, pushed the WSU front around, running for 285 yards on 39 carries, a 7.3 yards per rush average.
When the Trojans did pass, quarterback Matt Barkley had all the time he needed and he finished 16 of 25 for 290 yards with three touchdowns. With backup Mitch Mustain hitting on 4 of his 5 attempts in mop-up time, USC threw for 328 yards.
The Trojans (4-0, 1-0 Pac-10) had 20 plays of 10 or more yards and 613 yards of total offense against a WSU defense that seemed almost allergic to tackling.
"We just couldn't stop them, force them to punt," Cougars coach Paul Wulff said. "We just couldn't handle it."
The Trojans took the field at their 41 – a WSU pooch kickoff went awry, leading to the good field position – trailing 7-0. WSU had scored on its initial drive for the first time in more than two years, the last time coming against Portland State in 2008.
The Cougars (1-3, 0-1) came out with four wide receivers and running a no-huddle offense. With the Trojans spread out, WSU moved 80 yards on nine plays, all but two passes.
WSU ran nearly every play from the spread formation, and threw 41 times, with starting quarterback Jeff Tuel finishing 24 of 37 for 222 yards.
But the final pass of the first drive was by receiver Jeffrey Solomon, a former high school quarterback. He took a reverse pitch and lofted a 29-yard toss to Jared Karstetter. The 6-foot-4 Karstetter walled off the 5-8 Nickell Robey and, for the first time since 2007 against Arizona State, WSU led 7-0 against a ranked team.
That is, for about 13 seconds, or the time it took Havili, who finished with 187 all-purpose yards, to weave his way 59 yards – breaking at least four tackles – into the end zone.
"We told our defense all week, they're a big-play team," Wulff said.
On WSU's next offensive play, Tuel misread the Trojans' defense and Robey earned a measure of revenge. He stepped in front of Marquess Wilson at the WSU 25, took Tuel's toss in stride and scored. Twenty-six seconds after the Cougars had scored first, USC led 14-7.
The Cougars couldn't turn around the game right away. A short drive ended in a punt to the USC 24 and Havili struck again. He took a short pass from Barkley, made Alex Hoffman-Ellis miss and rumbled 58 yards to the WSU 18. Two plays later USC led 21-7.
The lead should have been more because Reid Forrest's next punt was blocked, giving USC the ball at the Cougars' 10. But freshman safety Deone Bucannon came up with the first of two WSU interceptions, juggling but catching Barkley's throw at the 1.
The next USC drive ended the same way, with this pick by Hoffman-Ellis. A six-play drive ended with Tuel finding Karstetter on a fade in the left-corner of the end zone and, after Nico Grasu's point after was deflected by Tyrone Smith, WSU trailed 21-13.
For the third consecutive – and final – time, USC turned over the ball, with C.J. Mizell wrestling a fumble away from Allen Bradford. But Robey ran under Tuel's long throw aimed for Daniel Blackledge to break back, and the Trojans took advantage.
A 13-play, 62-yard drive ensued over the next 6 minutes, breaking the Cougars' back. When Marc Tyler scored from the 2, it was 28-13. There was another Tuel interception and a Joe Houston missed field goal in the last 1:50 of the half, but USC had survived the Cougars' best shots.
Local journalism is essential.
Give directly to The Spokesman-Review's Northwest Passages community forums series -- which helps to offset the costs of several reporter and editor positions at the newspaper -- by using the easy options below. Gifts processed in this system are not tax deductible, but are predominately used to help meet the local financial requirements needed to receive national matching-grant funds.
Subscribe to the sports newsletter
Get the day's top sports headlines and breaking news delivered to your inbox by subscribing here.
---