Sports
Seahawks' win glosses over missed chances
Mon., Sept. 27, 2010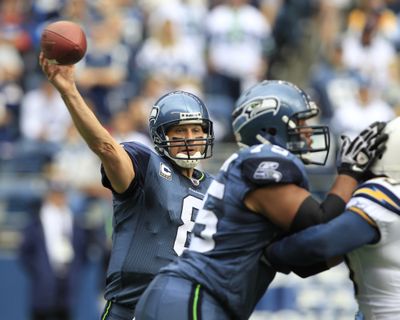 SEATTLE – On a day when the special teams were explosive and the defense was good when it needed to be, the Seattle Seahawks' offense was adequate – but just barely.
Had the Seahawks lost to the San Diego Chargers, the storyline would've been the team's missed scoring chances. But in the wake of Sunday's 27-20 victory, thanks largely to two touchdown kickoff returns by Leon Washington, Seattle's offensive mishaps and miscues were merely a subplot. But a disturbing subplot nonetheless.
In the first half, Seattle had the ball three times inside the San Diego 3-yard line and scored just three points. And in the second half, the Seahawks managed just 26 yards of net offense and just one first down.
"I know we're better than what we put out on the field (Sunday)," Seattle wide receiver Deion Branch said. "Right now, the defense and special teams are doing their jobs. And the offense is scoring, but I think there's more out there for us."
The Seahawks lost one touchdown late in the second quarter when Branch fumbled at the goal line. Branch had the ball poked away by San Diego's Paul Oliver inside the 1-yard line and the ball bounced through the end zone for a touchback.
Moments later Seattle recovered a Chargers fumble and again drove near the goal line. But Seattle failed to get off a field goal try before time expired. Earlier in the second quarter, the Seahawks had a second-and-goal at the San Diego 2, but lost 3 yards on two plays and had to settle for a field goal.
Seattle's defense did its part, coming up with three fumbles and two interceptions. But the Seahawks managed just one field goal as a result of the five turnovers, and that was after an interception return to the Chargers 11.
Local journalism is essential.
Give directly to The Spokesman-Review's Northwest Passages community forums series -- which helps to offset the costs of several reporter and editor positions at the newspaper -- by using the easy options below. Gifts processed in this system are not tax deductible, but are predominately used to help meet the local financial requirements needed to receive national matching-grant funds.
Subscribe to the sports newsletter
Get the day's top sports headlines and breaking news delivered to your inbox by subscribing here.
---
Subscribe and log in to the Spokesman-Review to read and comment on this story