News > Washington Voices
Love Story: Formal invitation blossomed into 65-year union
Thu., Aug. 25, 2011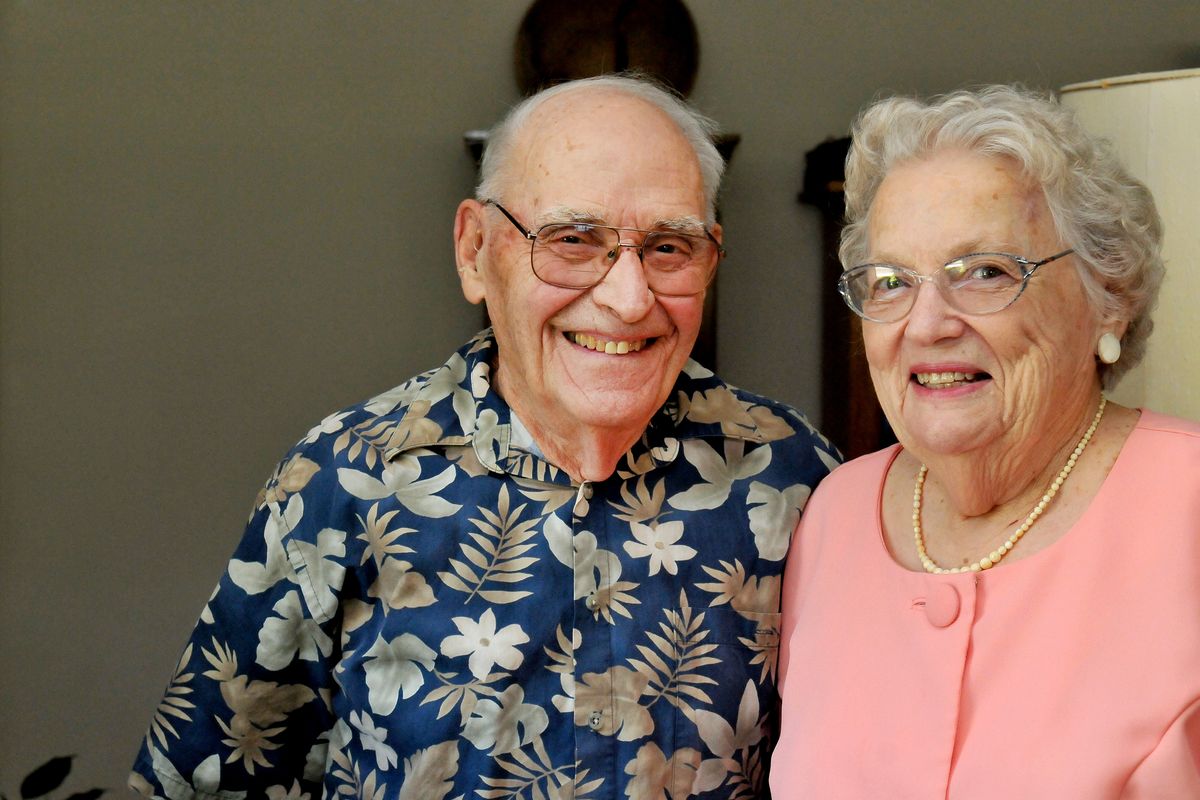 Lynn and Martha Jackson are shown at their Spokane home Aug. 5. The couple have been married for 65 years. (Jesse Tinsley)
Lynn Jackson came up with a unique way of asking a girl out while attending high school near Lansing, Mich., He had an old hand rotary press that he used to print up "date cards." From his South Hill living room, he smiled at the memory.
The cards said, "Will you go out with me?" he recalled.
"I was somewhat known as a Casanova."
When a friend introduced him to a pretty girl named Martha who was visiting the school, Lynn promptly handed her his card. It worked. She agreed to accompany him to the school roller-skating party.
"I didn't know much about skating," Martha said. "The poor guy had to hold me up the whole time."
The two grew up on farms approximately four miles apart but attended different schools. Martha didn't see Lynn again until their schools played a baseball game. The night was memorable because Lynn sprained his ankle during the game. He offered her a ride home but didn't talk much. Martha understood. "He was in a lot of pain."
Still, Lynn didn't miss the chance to ask her out – this time without the use of a card. They arranged to go to a movie. When the big day arrived, Lynn was a little rattled at the thought of spending time with Martha and left his house without his wallet.
"It was 1944," he said. "Gas rationing was in effect and I didn't want to waste my gas by going back home." He decided to wing it with just the change in his pocket.
They watched a movie and had flavored Cokes afterward. The cost of the date? Eighty-three cents. Martha shook her head. "I married the cheapskate anyway."
Indeed she did, but not right away. Martha left for college and Lynn was drafted in June 1945. He was sent to Fort Campbell, Ky., and while he was there the war ended. "By that time, I figured she was the one I wanted," said Lynn.
When he knew he wouldn't be sent overseas, he asked her to marry him. Meanwhile, Martha had already begun teaching, though she had completed only one year of college. She said, "There was a shortage of teachers because all the women went to work in the factories."
The 19-year-old taught 23 students in first through eighth grades. "I had a 16-year-old eighth-grade boy!" she said. "I had knots in my stomach the whole first week."
They chose to marry on June 2, 1946, which was Martha's parents' anniversary. Lynn had a short leave but had to return to Fort Campbell after a brief honeymoon.
They spent the first year of their marriage living apart. Lynn visited her every time he got leave. When he was discharged in April 1947, the couple moved to Warden, Wash., where Martha's parents had relocated.
Lynn went to work constructing the O'Sullivan Dam. In 1948, they welcomed their first daughter, Kathleen. Martha said, "My mom had lost three babies, I was so scared."
The safe arrival of Kathleen prompted the pair to add to their family quickly. Daughter Marilyn arrived in 1949.
By that time, the couple had given serious thought to their future and decided to move to Cheney so they both could attend Eastern Washington University. They rented an apartment at the old Cheney Hotel.
While Martha finished her degree, Lynn pursued his own education. He'd decided to become a shop teacher. "I'd been doing that kind of work most of my life," he said.
Martha pointed to a lamp in their living room. "He made that when he was 12."
A campus day care made it possible for them both to attend school. The initial adjustment was rough on their daughters. "One cried every time we dropped her off, and the other one cried every time we took her home," said Martha. However, they had lunch together as a family every day and that helped ease the transition.
In 1952, Martha graduated and taught at a nearby school. Lynn graduated the following year and they moved to Clarkston, where they both taught school.
Teaching didn't prove to be a good fit for Lynn. He stuck it out for two years, but discipline issues with high school boys wore him out. He was much happier when he took a job with the U.S. Bureau of Reclamation at Grand Coulee Dam. He ended up working there for 28 years.
The family grew with the birth of Brian in 1957 and Jolene in 1958.
All too quickly, their nest emptied. Upon retirement, they enjoyed the home they'd built in Grand Coulee and took frequent road trips to visit their scattered brood. When the house got to be too much for them, they moved to Spokane and bought a home in the Rockwood South Retirement Community.
Martha creates beautiful quilts and Lynn brought his woodworking tools with him. He's a member of the Rockwood Elves, a group that makes wooden toys for area charities.
They've had their share of health concerns. Lynn has had heart valve replacement surgery and battled lung cancer. "I'm a bunch of scars," he said.
Martha smiled. "He's still my husband even if he is part artificial."
In June their four children and 11 grandchildren gathered to surprise them with a 65th wedding anniversary celebration.
The former "Casanova" who printed up cards to get dates with pretty girls has never regretted settling down with Martha. He smiled at his bride. "When I said I loved her, I knew it was forever."
Local journalism is essential.
Give directly to The Spokesman-Review's Northwest Passages community forums series -- which helps to offset the costs of several reporter and editor positions at the newspaper -- by using the easy options below. Gifts processed in this system are not tax deductible, but are predominately used to help meet the local financial requirements needed to receive national matching-grant funds.
Subscribe now to get breaking news alerts in your email inbox
Get breaking news delivered to your inbox as it happens.
---