News > Spokane
Detectives probe cop's ties to bounty hunter
Veteran officer entering 8th month of paid leave
Wed., Aug. 31, 2011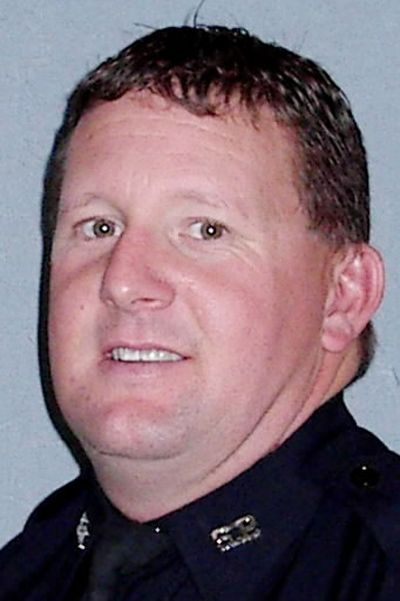 A senior Spokane police officer has been on paid leave for seven months as detectives probe his ties to a self-styled bounty hunter and convicted felon who's facing kidnapping and burglary charges related to his apprehension techniques.
Senior Officer Alan D. Edwards is not facing criminal charges, his attorney says, and police Chief Anne Kirkpatrick said the case should be resolved shortly, while declining to discuss details.
Kirkpatrick suspended Edwards from the police force on Jan. 23 amid what she said were possible criminal charges and an internal investigation, which Officer Jennifer DeRuwe said is ongoing. The 21-year police employee continues to receive his $76,886 annual pay as the criminal probe continues.
Few details are known outside law enforcement circles about the nature of the allegations against Edwards, but his lawyer, Chris Bugbee, said his client was a witness in a larger investigation into unlicensed bounty hunter Dennis J. Kariores Jr., 40.
Bugbee said he expects Edwards to be exonerated.
"I've never seen a police officer who loved and respected his job as much as Alan Edwards, and he'd love to get back out there," Bugbee said.
Kariores was charged Monday with first-degree burglary, unlawful imprisonment and second-degree kidnapping in connection with two incidents in which he allegedly detained fugitives while acting as an unlicensed bail bond agent. He's being sought on a $150,000 warrant for his arrest. Three employees of All City Bail Bonds in Spokane are facing similar charges.
In at least one case, a fugitive was located by Kariores in Spokane Valley and taken to Spokane city limits, where Edwards met him and formally placed the suspect under arrest on a warrant out of Coeur d'Alene, according to court documents.
Spokane County Deputy Prosecutor Tony Hazel declined to comment Tuesday on Edwards' involvement in the case, citing an ongoing investigation.
Bugbee said Edwards sometimes got location tips and other information about fugitives from Kariores, as did other officers, which he said is "very common."
"Bonding agents commonly work with officers in surrendering their clients, and oftentimes those same bonding agents are sources of information," Bugbee said.
But Kariores is not a state-licensed bail bondsman or recovery agent. Licensed bail bond agents are prohibited from having criminal convictions that "hinder public safety or interfere with the job," said Tony Sermonti, spokesman for the Washington Department of Licensing.
Kariores has misdemeanor convictions in Kootenai County for carrying a concealed weapon without a license and exhibiting a deadly weapon in 2005. He's prohibited from possessing weapons because of three felony convictions for forgery, theft, and unlawful issuance of bank checks in 1992 and 1993. Still, he said in an interview earlier this month that he's worked with local bond companies to find fugitives for the past eight years.
"Everybody knows me, from the tweakers to the police," Kariores said before the charges were filed against him. "Unfortunately for (the police) they've burned a great source of information, because I'll never tell them (stuff) again."
Kariores did not respond to emails seeking additional comment this week. Detectives believe he may be in Colorado.
According to court documents, Kariores and licensed bond agents John P. McCormick, 43, and Eric W. Houchin, 40, went to a home in the 1100 block of North Nelson Street in February 2010 to contact suspect Clint Steenhard for failing to uphold his bond agreement with All City Bail Bonds. Steenhard's wife, Sandra Steenhard, allowed the three inside to look for her husband.
When they didn't find him, Kariores demanded to see Sandra Steenhard's phone and refused to let her leave her house, prosecution documents allege. Though none had the legal authority to detain the woman, who was neither wanted by police nor in violation of a bail agreement, Kariores and Houchin wrestled Sandra Steenhard to the bed while trying to grab the phone, authorities allege. Houchin pressed a Taser to the woman's neck but did not deploy it, according to court documents.
Kariores and Houchin handcuffed Sandra Steenhard "and threatened to have her arrested for assaulting them," according to court documents. Prosecutors charged Kariores, Houchin and McCormick this week with first-degree burglary and unlawful imprisonment for the incident.
On Aug. 26, 2010, Kariores and licensed bond agent Charles E. Dasenbrock, 26, contacted a fugitive from Coeur d'Alene, Bryan Hamblen, at a home in the 12200 block of East Fourth Avenue in Spokane Valley. The men physically restrained Hamblen inside his apartment and transported him to Hamilton Street and Sharp Avenue, where Edwards met them and placed Hamblen under arrest.
Dasenbrock and Kariores have been charged with second-degree kidnapping for the incident; prosecutors say neither had the authority to apprehend and transport Hamblen against his will.
A man who answered the phone at All City Bail Bonds' office on North Adams Street said Houchin, McCormick and Dasenbrock were not available.
The bond company was fined $500 last month for allowing Kariores and another unlicensed recovery agent to help Houchin force their way into a Moses Lake home last December to look for a fugitive.
Kariores said last week he's confident he and Edwards did nothing illegal when hunting fugitives.
Although authorities have remained tight-lipped over why Edwards has spent seven months on paid leave from the police force, other details emerged recently in U.S. District Court, where a lawyer representing a drug dealer sought leniency during a sentencing hearing by advising the judge of his client's cooperation with a police misconduct probe.
David B. Hill, a large-scale methamphetamine dealer arrested by Edwards last summer with the help of Kariores, had knowledge of the misconduct allegations and cooperated with investigators, according to court documents.
Hill's lawyer, John McEntire, asked for him to receive a lighter sentence because of his cooperation, but a federal judge in June sentenced Hill, 43, to 15 years in prison as prosecutors recommended. McEntire did not return calls seeking comment; Hill has not yet responded to a letter sent to him in federal prison in Sheridan, Ore.
Kariores denied earlier this month working as a police informant as described in court documents; rather, he said, he stays in close contact with law enforcement because of his work as a bounty hunter. He said he has cellphone numbers for most members of the fugitive recovery task force, a federal coalition of local law enforcement, and said he often called Edwards with tips on fugitive locations because Edwards "spends hours and hours seeking people out who are on Crime Stoppers, etc."
"When he goes out looking for people he looks for them, he doesn't just drive around in a patrol car killing time," Kariores said. "Edwards is a great guy. Whatever he's done it was in a good frame of mind. He's out there protecting the community."
Local journalism is essential.
Give directly to The Spokesman-Review's Northwest Passages community forums series -- which helps to offset the costs of several reporter and editor positions at the newspaper -- by using the easy options below. Gifts processed in this system are not tax deductible, but are predominately used to help meet the local financial requirements needed to receive national matching-grant funds.
Subscribe to the Coronavirus newsletter
Get the day's latest Coronavirus news delivered to your inbox by subscribing to our newsletter.
---