News > Idaho
Idaho Gov. Otter says he'll seek 3rd term
Thu., Dec. 15, 2011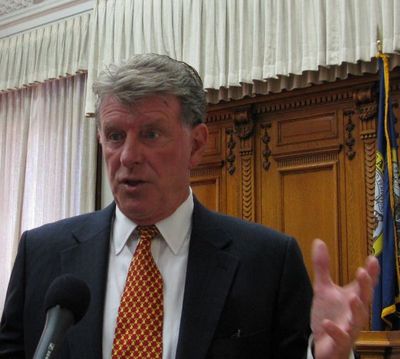 Idaho Gov. Butch Otter dropped something of a bombshell at a campaign fundraiser last night in Coeur d'Alene: He said he'll run for a third term as governor in 2014. "He was pretty emphatic about it," said Otter's press secretary, Jon Hanian. Otter, 69, will be 72 in 2014, and if he served out a third term, would be 76 by the time it ends in 2018. He's only one year into his second four-year term now. "Who knows whether it's for real or not," said longtime Idaho political observer and Boise State University political scientist emeritus Jim Weatherby. "I suspect part of this is in reaction to the speculation that he would not even finish his current term, and no governor wants to be considered a lame duck prematurely. Whether he actually runs three years from now may still be subject to question, but at least he's asserting that he's going to be around for a while, that he's not done." Otter has garnered some criticism over the past month for being gone from the state, including a junket to Maui as Idaho approached its first execution in 17 years; a trip to a Republican governors meeting in Florida that left Lt. Gov. Brad Little to replace him for an annual speech to a taxpayers conference; and a decision to skip a state trade mission to Latin America in favor of a trip to the National Finals Rodeo in Las Vegas. Weatherby said Otter's announcement comes remarkably early and was "an odd way to do it." "Typically people make formal announcements and try to maximize the public attention by making the announcement in several parts of the state, rather than just to a select few," he said. Otter made his announcement at an annual campaign fundraiser dubbed the "North Idaho Governors Ball" to about 200 paying supporters. He made no public announcement; was on a plane back from North Idaho today and was unavailable for comment; and his staff had no additional information beyond confirming that Otter had announced last night. Otter does have a history of announcing early. When he ran for his first term as governor in 2006, he announced his candidacy two years ahead of time - before he'd even taken the oath of office for the congressional term to which he'd just been elected. That move was widely perceived as a pre-emptive strike that succeeded in pushing potential rival Jim Risch, now a U.S. senator, out of the race. This time, Otter has a campaign debt to settle from his last race. According to his last campaign finance report, filed July 29, Otter had $206,000 in campaign debt - to himself - and just $10,044 cash in his campaign fund. "It's more effective to raise money if indeed people think they are giving to a politician who's going to be around for a while," Weatherby said. Speculation has been increasing over who might run for Idaho governor in 2014, with names including Lt. Gov. Little, state schools Superintendent Tom Luna, freshman state Rep. Raul Labrador and more being bandied about. "It may cool down a lot of the speculation," Weatherby said. "It's better, I guess, to announce that you're going to run early than announce prematurely that you're not going to run, and become an immediate lame duck." He also suggested Otter could be trying to strengthen his hand as he heads into a legislative session that's likely to see a big fight among majority Republicans over Otter's proposal to start a state health insurance exchange. The move is backed by business groups and mainstream Republicans, but opposed by an increasingly vocal ideological wing of the party. Otter has served in elected office since 1973, as a state lawmaker, longtime lieutenant governor, three-term congressman and two-term governor.
Local journalism is essential.
Give directly to The Spokesman-Review's Northwest Passages community forums series -- which helps to offset the costs of several reporter and editor positions at the newspaper -- by using the easy options below. Gifts processed in this system are not tax deductible, but are predominately used to help meet the local financial requirements needed to receive national matching-grant funds.
Subscribe to the Coronavirus newsletter
Get the day's latest Coronavirus news delivered to your inbox by subscribing to our newsletter.
---
Subscribe and log in to the Spokesman-Review to read and comment on this story