Aerial silks classes teach suspended poses
Lessons help performers develop strength, flexibility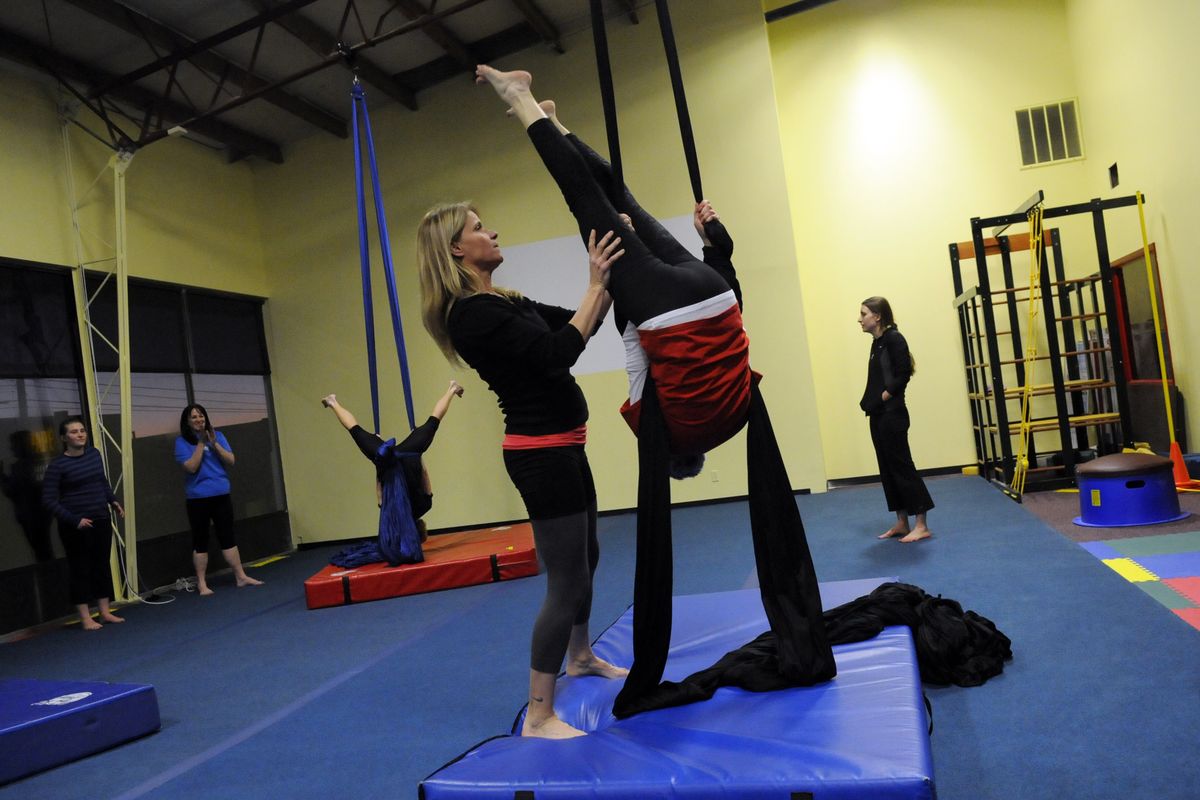 There's a new fitness class in Spokane Valley that's taking exercise to new heights.
In September, lifelong gymnast Sherrie Martin launched Spokane Aerial Performance Arts and began offering classes at Spokane Gymnastics. Aerial silks is a type of performance in which one or more artists execute acrobatics and tricks while hanging from two long pieces of soft fabric that are suspended from a single point.
Thanks to Martin, aerial silk performance is no longer limited to those who want to join the circus. Martin said not only are the classes fun, they're also a great way to tone muscles and build upper body strength.
At a recent class, Mindy O'Brien, 38, slowly pulled herself up one of two swaths of fabric that hung from the ceiling. Halfway up, she wrapped her feet securely in the fabric, inverted her body and hung suspended, upside down. "Oh, perfect arrow!" shouted one of her classmates. The arrow is just one pose O'Brien is working to master.
When her feet were firmly planted on the mats below, O'Brien said, "I've never done gymnastics – this is challenging. Just climbing to the top is a real workout."
But she's also never been one to shy away from a challenge. She shrugged and smiled. "I'm a little bit of an overachiever."
Martin said her business was born from her passion for fitness and gymnastics. She's coached gymnastics and is currently a long-distance track coach at Lewis and Clark High School. "I've been a gymnast all my life," she said. "When we lived in Arizona, I had my own set of uneven bars in our backyard."
When she saw an aerial performance in San Francisco, she was hooked. And her passion is proving to be contagious. Forty-one students turned out for her first class in September.
Even more surprising was the demographic. "Fifty percent of my class is women over age 45," Martin said. "They're interested in osteoporosis-prevention, upper body strength and fitness."
She also offers a men's class but said men use a rope, not the silks. "It's a hardcore workout."
Classes start with basic conditioning to develop the strength needed to climb the silk. As students gain strength they can progress to the beginning and intermediate aerial silks class where they learn climbing, posing and performance tricks.
The movements embody strength, grace and flexibility. Martin said, "As you advance the only thing that changes is the risk element."
She pointed to Carolyn Kinghorn, 58, who inched her way up the silk and hung upside down. Kinghorn's classmates spurred her on with warm applause and words of encouragement. When she reached the floor once again, she said, "I'm surprised I can climb that high. Every week my husband asks if I climbed higher."
Martin smiled. "Lots of people haven't gone upside down since they were kids."
The all-ages class has spurred a fun camaraderie. Sixty-year-old Connie Bischoff watched another student achieve a star pose on the silks. "I had cervical spinal fusion surgery last year – I'm not able to climb yet, but I want to so badly. This isn't boring and it's a great workout."
Heather Stiles, 32, is fairly new to the class. "I went to a Halloween bash in Portland and saw a guy doing this. When I got home I looked it up right away and couldn't believe they had a class in Spokane!" She winced. "My arms have been sore for four weeks!"
Nearby, Peggy Sue Moran, 53, wrapped the fabric around her wrists and struggled to master a new move. "I'm very happy to be able to climb to the top," she said. "It's addictive!"
Martin is building a performance troupe out of her classes, so residents can enjoy watching these unique gymnastic presentations. Several professional aerialists perform with them at local venues. "This is my vocation," Martin said. "If I could wake up in a gym every morning, I'd be happy."
---