Sports > Gonzaga basketball
Gonzaga coach Few continues to tinker with different combinations
Playing time sporadic for Gonzaga reserves
Wed., Feb. 2, 2011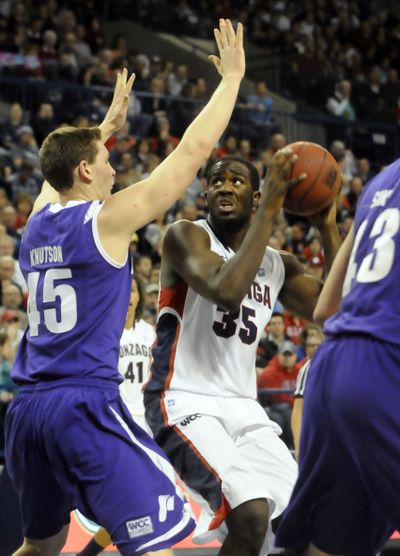 In a Gonzaga basketball season that has left the Zags constituency in various states of stupor, grief, incomprehension, grousing, worry, relief, humility and flummery – among the wild spikes of hope and despair – there have been two specific bafflements:
• The standings. Fourth place? In the West Coast Conference? Really? We are talking about Gonzaga, right?
• The rotation, or the deployment of personnel, which even coach Mark Few might concede hasn't been a rotation as much as a grab bag. Or a dice cup. Or a scratch ticket.
The ping-pong swings in individual playing time – outside of regular starters Steven Gray, Robert Sacre, Elias Harris and Demtri Goodson – have been severe. Mathis Moenninghoff, in the starting lineup before injury knocked him out for two games, saw just 25 minutes over the course of four games. Marquise Carter, after a seemingly breakout performance in 26 minutes against Baylor, played 8 minutes in three games around New Year's. David Stockton couldn't get into games against the likes of Notre Dame and Baylor; last weekend, you almost couldn't get him out.
And Mangisto Arop and Mathis Keita, who had shared a starting spot for a month, never got off the bench in last weekend's loss to Saint Mary's.
This has made for an unprecedented development. At a point in the season when teams' rotations tend to shrink, GU has 11 players averaging 10 or more minutes a game. In the previous 30 years at Gonzaga, that number has never topped nine.
And yet each of the players other than the regular four has, at one time or another, been championed by different blocs of the Zags' many registered voters for more minutes.
Their latest cause, of course, is sudden Sam Dower, who went from 0 to a 42-point weekend seemingly overnight.
Well, relax. It's coming.
"The whole team is energized by how he's playing," Few acknowledged. "He's grown during this time. He's been a good guy for sticking with it and now he's being rewarded."
The reward isn't for strafing San Diego for 27 points. It's for a level of court consistency and contribution that Few and his staff have searched for up and down the roster, and simply haven't found. And if the hook sometimes seems quick – even too quick – there's a reason for it.
"Guys who come in off the bench, it's a shorter leash," assistant coach Ray Giacoletti said. "You're right in the crux of the game. You don't get the luxury of playing yourself into it. Mark's good – he doesn't take people out for one mistake. But if you go down and miss a box out and then foul for an and-one the next trip, with the schedule we play it doesn't take long for these games to get away from you."
It isn't that Few didn't know Dower was capable of point production, but that lapses in rebounding and defense could be just as telling. The sermon: Don't accept block outs, be more assertive, and less reactive.
"And he's done a much better job," Few said.
Dower's case has been compromised, too, by GU's needs being more pronounced out high than down low. Sacre is having, for the most part, a terrific year. Harris hasn't consistently shown the same aggression and explosiveness that made him a revelation last season, but he's a proven all-conference player. There aren't many leftover minutes for the bigs unless you have three of them on the floor at once, and whatever matchup problems that might create for opponents will also be a risk at the other end.
And Few has been playing risk/reward with his rotation all season.
"It's just how they are," Few said. "It's the same way in practice. We knew (consistency) was going to be a challenge and we tried to address that and we're still trying. And there are so many things that go into it – who you're playing, their style of play, what do we need to do offensively and defensively, how'd you play last week, what kind of week of practice are you having."
He admitted that having Keita and Arop not play against the Gaels "probably seems crazy."
"It wasn't punitive," he said. "We needed some guys who could spread the floor and shoot the ball. (Keita) had played poor defensively against USF and that's supposed to be his strength, and if you're not bringing your strength, it's tough to play. And for him and Manny, it's about how you respond (in practice). You can either fight or put your dobber down, and if it's the latter, then in fairness you have to give some other guys a chance."
Said Keita, "It makes sense. It's not hard. I'm a freshman – I could play zero minutes every game. You have to earn it."
And that's ongoing – even for the "new" find.
"We've told Sam – guys are going to notice him now," Giacoletti said. "The next step is to sustain something. It doesn't have to be at the level he had last weekend – that's probably not feasible. But people will know who he is and plan for him and he has to rise to that."
Minute by minute.
Local journalism is essential.
Give directly to The Spokesman-Review's Northwest Passages community forums series -- which helps to offset the costs of several reporter and editor positions at the newspaper -- by using the easy options below. Gifts processed in this system are not tax deductible, but are predominately used to help meet the local financial requirements needed to receive national matching-grant funds.
Follow along with the Zags
Subscribe to our Gonzaga Basketball newsletter to stay up with the latest news.
---
Subscribe and log in to the Spokesman-Review to read and comment on this story