News > Nation/World
Winter storm hammers heartland
Major airports cancel nearly 6,000 flights
Wed., Feb. 2, 2011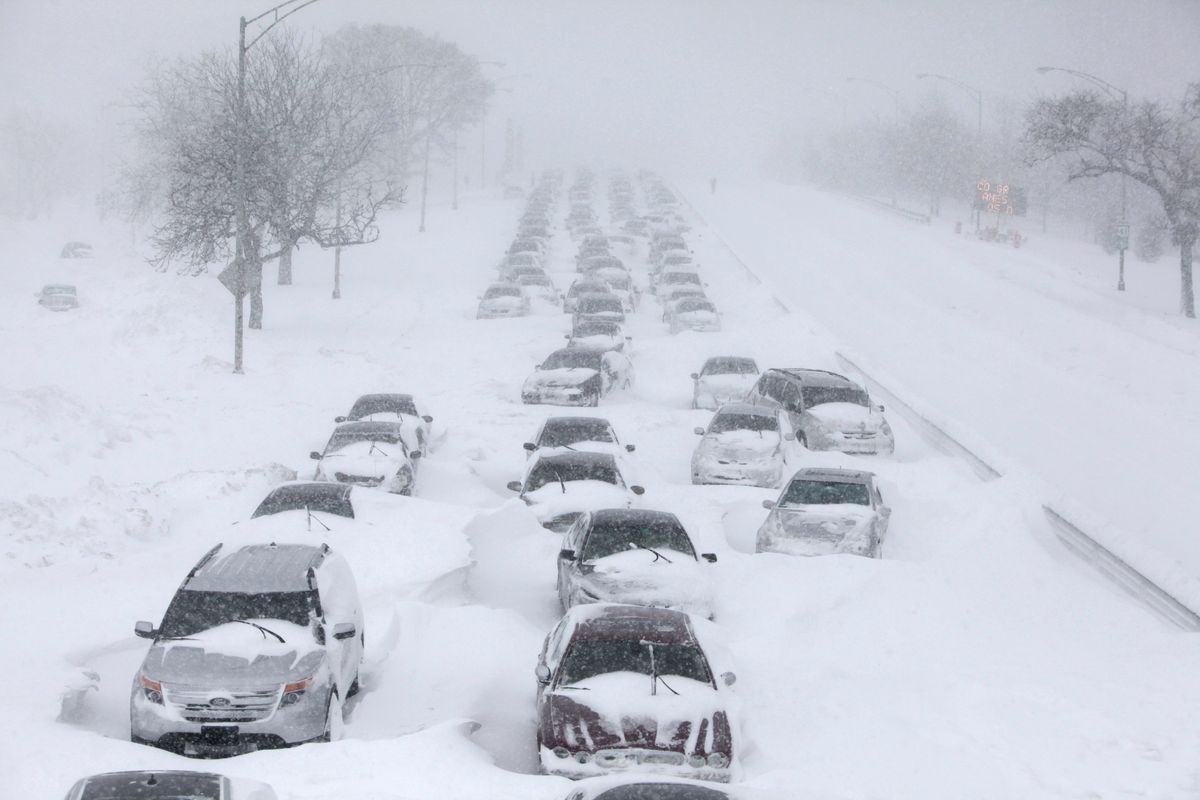 Hundreds of cars are seen stranded on lake Shore drive Wednesday, Feb. 2, 2011 in Chicago. A winter blizzard of historic proportions wobbled an otherwise snow-tough Chicago, stranding hundreds of drivers for up to 12 hours overnight on the city's showcase lakeshore thoroughfare and giving many city schoolchildren their first ever snow day. (Kiichiro Sato / Associated Press)
MIAMI, Okla. – A ferocious winter storm pounded the nation's heartland with howling winds and up to 2 feet of snow Tuesday, crippling airports, closing interstate highways and schools, and disrupting life in ice-glazed areas from the Gulf Coast to the Great Lakes and from Colorado to Maine.
More than a third of the nation shivered, with some states lashed by freezing rain rather than snow. What one official called a "once in a lifetime" storm promised to dump more snow and sleet on the winter-weary region today.
Gale-force winds created blinding white-outs in parts of Oklahoma, Texas, Ohio and elsewhere. Cars and trucks were abandoned in towering snowdrifts, and thick ice brought down trees and power lines in scores of communities. Major outages were reported in Texas, Ohio and elsewhere.
Even seasoned winter veterans took cover. John Doyle, 49, a truck driver from Chicago, spent Tuesday afternoon biding his time and watching the weather reports at the Holiday Inn Express in Miami, Okla.
"I went out to my truck about 4:30 this morning and just turned around and came back in," he said.
Nearly 6,000 flights were canceled in Chicago, Boston, New York, Des Moines, Iowa and elsewhere, causing delays and disruptions in air service across the United States. Several thousand more cancellations were expected nationwide today.
Among the airports forced to close temporarily was Dallas-Fort Worth, the destination for football fans hoping to attend Sunday's Super Bowl in nearby Arlington, Texas. Officials said snow had never closed the airport before. With ice coating its streets, Dallas looked poised to host an ice bowl.
In Chicago, the National Weather Service warned that high winds could churn waves up to 25 feet high on Lake Michigan, leading to coastal flooding and freezing spray, particularly along busy Lake Shore Drive. With up to 20 inches of snow forecast, Chicago could see its third biggest snowstorm ever.
Farther west, the Iowa Department of Transportation said most roadways in the state were partially or completely covered with a combination of ice and snow. Parts of Interstate 80 were closed.
Deadly wrecks were reported in Minnesota and Kansas, according to the Associated Press.
"If you don't have to travel, don't do it. If you can stay home, do it," Kansas Gov. Sam Brownback told reporters before heading to the state's emergency operations center. "You might get in. You won't get back."
Missouri transportation officials closed Interstate 70 along its entire length from Kansas City to St. Louis amid heavy snow and whiteout conditions.
The storm slammed first into Texas and Oklahoma after emerging from the Rockies. White-outs paralyzed Oklahoma City and Tulsa, where a snow-covered roof partially collapsed at the Hard Rock Casino but no injuries were reported.
The daily newspaper Tulsa World announced it would not publish a print edition today for the first time since its founding in 1905. Snow-clogged roads meant delivery trucks could not reach customers.
After burying the Midwest, the storm was expected to roar into the Northeast, where heavy snow this year already has shattered some records.
New York City posted a winter storm warning, with forecasters predicting a mix of snow, sleet and ice. In Washington, non-emergency federal employees were allowed to work from home or take unscheduled leave because roads were icy from freezing rain.
A barrage of blizzards already has battered much of the country this season, with weeks of winter ahead. Tuesday's mega-storm will add vast new cleanup costs, overtime, missed work and other expenses to already stressed local and state budgets, officials said.
Local journalism is essential.
Give directly to The Spokesman-Review's Northwest Passages community forums series -- which helps to offset the costs of several reporter and editor positions at the newspaper -- by using the easy options below. Gifts processed in this system are not tax deductible, but are predominately used to help meet the local financial requirements needed to receive national matching-grant funds.
Subscribe now to get breaking news alerts in your email inbox
Get breaking news delivered to your inbox as it happens.
---