News > Spokane
Strangling suspect got mixed reports
State struggled to assess Scherf's threat to others
Sat., Feb. 5, 2011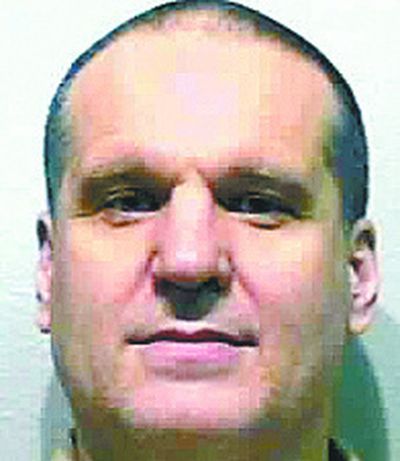 Eleven years before Byron Scherf became the chief suspect in the strangling of a Monroe, Wash., corrections officer, a psychologist had concluded Scherf was "unlikely to act out within the institution."
Summarizing the psychologist's report, a state board that reviews inmate sentences described Scherf, a serial rapist, this way: "He is in fact much more likely to behave as a good, trouble-free, helpful inmate than a violent inmate."
The board added: "Albeit, if he were to act out he clearly has potential for horrific behaviors."
The report from the Indeterminate Sentence Review Board, dated Aug. 22, 2000, reflected the state's ongoing struggles to determine the level of danger posed by Scherf, a three-strikes offender serving a life sentence without chance of parole.
The state also struggled to get Scherf sex-offender treatment that both Scherf and prison officials acknowledged he needed. It was considered an inefficient use of resources since the state was unsure when, if ever, Scherf would be released from prison.
And while Scherf acknowledged his continuing threat as a rapist should he ever be released, the Department of Corrections in 2009 downgraded Scherf from maximum-security status to medium security. Had that status not changed, he likely would have been transferred to a different prison.
Last Saturday night, Jayme Biendl, a 34-year-old corrections officer, was found dead in Monroe's prison chapel, a microphone cord wrapped around her neck. Biendl worked alone in the chapel, where inmates were allowed to visit and worship.
Scherf, 52, became the primary suspect from the investigation's outset and was found with blood droplets on his hands and clothes, and bite marks on his fingers. Detectives suspect Scherf's pants were down during the attack and are investigating whether Biendl was killed while fighting off a sexual assault, according to court records.
Documents obtained by the Seattle Times this week show that Scherf repeatedly attempted to get sex-offender treatment while in prison, to no avail. In 1991 he was transferred to a prison unit because it offered such treatment. But he wasn't able to enter the program because he was then serving an indeterminate sentence – meaning it was uncertain when he would be released.
After Scherf raped a Spokane real-estate agent in 1995 – and was convicted of felony charges that amounted to his third strike – he was unable to get such treatment because he was no longer eligible to be released. In a 2000 report, the Indeterminate Sentence Review Board wrote: "The Board highly encourages Mr. Scherf to engage in self study by reading and obtaining any information regarding sex offenders and treatment."
Scherf has been in prison for most of his adult life, beginning with his first penitentiary sentence in the late 1970s. He managed to get paroled twice but quickly reoffended, each time committing a rape that he had planned out and calculated well in advance, according to state records.
But from the outset, Scherf convinced many prison officials that he was a model inmate, determined to better himself.
While a psychologist's report in 2000 downplayed the risks posed by Scherf within prison, the Indeterminate Sentence Review Board said in a report that the opposite held true outside prison.
"Mr. Scherf acknowledges himself that he does do very well in the institution, but gets in trouble when he is out in the community," the board's report said. "He further acknowledges that he is an untreated sex offender and will more than likely re-offend if he were to be released."
Scherf got married in the late 1980s, while in prison. His wife's involvement with him "first began with mail correspondence through a Christian Outreach Program she was affiliated with in San Diego," state records say. When the two married, she moved from California to Spokane. They have remained married for more than 20 years.
Local journalism is essential.
Give directly to The Spokesman-Review's Northwest Passages community forums series -- which helps to offset the costs of several reporter and editor positions at the newspaper -- by using the easy options below. Gifts processed in this system are not tax deductible, but are predominately used to help meet the local financial requirements needed to receive national matching-grant funds.
Subscribe to the Coronavirus newsletter
Get the day's latest Coronavirus news delivered to your inbox by subscribing to our newsletter.
---
Subscribe and log in to the Spokesman-Review to read and comment on this story