Sports
Cavs beat Clippers, end record losing streak
Sat., Feb. 12, 2011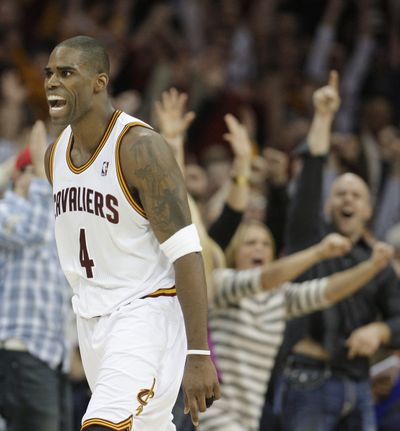 NBA: Nearly two months after it started innocently, the Cleveland Cavaliers stopped their NBA-record losing streak at 26 games Friday night with a 126-119 win in overtime against the visiting Los Angeles Clippers, who did all they could to extend the Cavs' misery.
Cleveland won for the first time since Dec. 18, and had to go an extra five minutes to ensure it didn't set a record for the longest skid in pro sports history. The Cavs will gladly settle with tying the NFL's Tampa Bay Buccaneers for the worst streak among the four major sports.
Antawn Jamison scored 35 points and made the game's biggest basket, a 3-pointer with 22 seconds left in OT for the Cavs. Daniel Gibson scored 10 in overtime and J.J. Hickson, playing like a man possessed all night in a matchup with Blake Griffin, added 27 points and 14 rebounds.
• Hornets snap 4-game skid with win over Magic: Willie Green had 24 points and David West added 17 points and 17 rebounds as the New Orleans Hornets rallied to beat the Orlando Magic 99-93 in Orlando, Fla.
The Magic erased a nine-point halftime deficit, but came up short down the stretch thanks to a slew of late turnovers. Dwight Howard led the way for Orlando with 20 points and 17 rebounds.
• Holiday leads 76ers past Spurs: Jrue Holiday scored 27 points to lead the host Philadelphia 76ers to a 77-71 victory over the league-best San Antonio Spurs.
Despite poor shooting, the Sixers were able to fend off the Spurs and remain in the seventh spot in the Eastern Conference playoff race. The Sixers have won eight of their last 11.
Tim Duncan had 16 points and 13 rebounds for the Spurs.
• Aldridge scores 37 as Blazers beat Raptors: LaMarcus Aldridge scored 14 of his 37 points in the fourth quarter, Rudy Fernandez had 23 and the Portland Trail Blazers won their third straight game, beating the host Toronto Raptors 102-96.
Andre Miller had 13 points and eight assists for the Trail Blazers, who have won 10 of their last 13.
• Bryant scores 33 as Lakers rout Knicks: Kobe Bryant scored 33 points in another effortless night at Madison Square Garden, and the visiting Los Angeles Lakers cruised to a 113-96 victory over the struggling New York Knicks.
Stars come back, beat Hawks in SO
NHL: Brenden Morrow, Brad Richards and Mike Ribeiro converted in the shootout against former Dallas goaltender Marty Turco, and the Stars rallied from a three-goal first-period deficit for a 4-3 victory over the visiting Chicago Blackhawks.
Jonathan Toews beat Stars goaltender Kari Lehtonen in the first round to match Morrow's goal, but Richards scored in the second round and Lehtonen denied Patrick Sharp's second-round bid.
• Wild outlast Blues in shootout: Cal Clutterbuck scored twice in regulation and John Madden scored in the ninth round of a shootout to give the Minnesota Wild a 5-4 victory over the host St. Louis Blues. Minnesota is 8-2 in its last 10 games.
• Rookie Fowler scores in OT as Ducks top Flames: At Calgary, Alberta, Saku Koivu had two goals and an assist and rookie defenseman Cam Fowler scored in overtime to lead the Anaheim Ducks to a 5-4 victory over the Calgary Flames.
• Kane's third-period goals lift Atlanta past Rangers: Evander Kane scored two third-period goals, Anthony Stewart had a goal and an assist and the Atlanta Thrashers stopped a four-game losing streak with a 3-2 victory over the visiting New York Rangers.
• Kovalchuk scores winner against Sharks: Ilya Kovalchuk scored with 3:59 to play for his second winning goal in as many nights and the New Jersey Devils won the matchup of the NHL's hottest teams with a 2-1 victory over the San Jose Sharks in Newark, N.J.
Donor agrees to let UConn keep money
Miscellany: A donor who demanded the return of $3 million from the University of Connecticut because he was unhappy with the hiring of its new football coach has agreed to let the school keep the money, university officials said.
Robert Burton and the university agreed to move past their differences after UConn Board of Trustees chairman Larry McHugh met with him and his family, McHugh said in a news release.
• Bonds to enter plea for a third time: Barry Bonds' perjury trial is fast approaching and the lawyers and judge are still scrambling to set limits and rules for the month-long proceedings scheduled to start March 21 in San Francisco.
U.S. District Judge Susan Illston ordered Bonds to enter a plea for the third time since he was initially charged in 2007 with lying to a grand jury about his steroids use, cutting the number of charges Bonds faces from 11 to five.
• Clemens subpoenas House records on drug testimony: Roger Clemens has issued a subpoena to the House committee that he's accused of lying to about using performance-enhancing drugs during his pitching career.
The former baseball star wants all interview summaries, notes and memoranda related to the hearing on steroid use in Major League Baseball held three years ago by the House Oversight and Government Reform Committee.
• Clijsters is No. 1 again in women's tennis: Kim Clijsters took another step in her return to tennis by defeating Jelena Dokic of Australia 6-3, 6-0 to reach the semifinals of the Open Gaz de France in Paris.
With the win, Clijsters will take the No. 1 ranking from Caroline Wozniacki of Denmark when the new rankings are released Monday.
• Cal reinstates 3 sports, still cuts baseball: California reinstated three teams that were slated to be eliminated while going ahead with plans to get rid of the baseball and men's gymnastics teams.
Chancellor Robert Birgeneau said that enough money has been raised to keep the men's rugby, women's lacrosse and women's gymnastics teams.
Marino opens big lead at Pebble Beach
Golf: Steve Marino made seven birdies for the second straight day and shot a 6-under-par 66 to build a four-shot lead in the Pebble Beach (Calif.) National Pro-Am. He was at 13-under 131.
D.A. Points recovered from a slow start at Spyglass Hill and posted a 2-under 70 to reach 9-under 131 after two rounds.
Alex Prugh (Ferris, UW) shot a 1-over 73 at Spyglass for a two-day total of 141.
• McIlroy's keeps lead; Woods shoots 66 in Dubai: Rory McIlroy maintained the lead going into the weekend at the Dubai Desert Classic, shooting a 4-under 68 for a one-shot lead over Sergio Garcia and Thomas Aiken in Dubai, United Arab Emirates.
Tiger Woods shot a 66 to trail by four shots.
McIlroy started slowly with a bogey on the second but made five birdies in the last 12 holes. He birdied the final hole to take the lead.
• Blake leads Lehman at Allianz Championship: Jay Don Blake shot an 8-under 64 to take a one-stroke lead over Tom Lehman after the first day of the Allianz Championship in Boca Raton, Fla.
Scott Simpson, Peter Senior, Tom Jenkins and Jeff Sluman were tied for third at 6 under.
Local journalism is essential.
Give directly to The Spokesman-Review's Northwest Passages community forums series -- which helps to offset the costs of several reporter and editor positions at the newspaper -- by using the easy options below. Gifts processed in this system are not tax deductible, but are predominately used to help meet the local financial requirements needed to receive national matching-grant funds.
Subscribe to the sports newsletter
Get the day's top sports headlines and breaking news delivered to your inbox by subscribing here.
---