United in purpose
Unity March a highlight of King Day events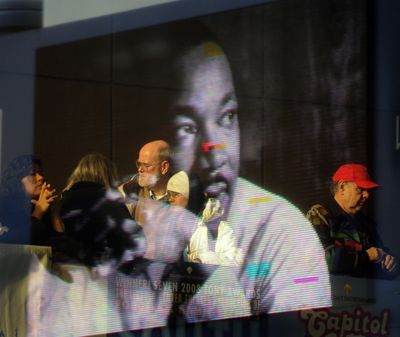 When Alexis Richmond's 8-year-old daughter came home from school one day, she said, "Mom, I want to be white so I can be pretty."
"Honestly, it crushed me," Richmond said. "She thinks white is what's beautiful." Which is why Richmond took her children to the 2011 Unity March downtown Monday – to show them that "differences in people are beautiful."
"It's really important to support our culture and diversity so the kids can see the world is made up of different colors and creeds," Richmond said. And there was no lack of diversity in the march, which started at 10 a.m. at the INB Performing Arts Center and ended at River Park Square. The audience of about 1,500 crammed into the performing arts center before the march was composed of different ages, races, religions, ethnicities, political persuasions, and income and education levels. They united to do one thing: keep Martin Luther King Jr.'s dream alive.
Event speakers included Mayor Mary Verner, the Rev. Leslie Braxton, the Rev. Percy "Happy" Watkins and Spokane County Commissioner Mark Richard. Ivan Bush, an equal opportunity officer with Spokane Public Schools, helped organize and emcee the celebration.
In her speech, Verner called for an end to violence in the community and said she plans to hold a forum on violence.
"We are all here to bring the community together," she said. "The violence seems to be escalating. It's baseless violence. … We're going to face it head on. We're not going to ignore that we have violence in Spokane.
"We must deal with it," she said. "We can do this. We can pursue the dream."
The sign for a new street that will be constructed in Spokane was unveiled at the celebration. The street will be called Martin Luther King Jr. Way. The $3.7 million project was approved by the Spokane City Council last week after nearly a quarter-century of attempts. Eventually, the street will connect Riverside and Trent avenues near the Union Gospel Mission.
Before the march, Watkins recited King's famous "I have a dream" speech. As he began, the sun burst through the clouds and shone on the captivated audience. And it continued to shine as the group marched through Riverfront Park.
The march was rerouted slightly by police after a suspicious package was found downtown on the northeast corner of Main Avenue and Washington Street. Most marchers did not seem to notice, though, and the package was eventually rendered safe.
The march, led by Rogers High School's Drumline, ended at River Park Square, where a Community Resource Fair offered marchers a chance to gather information from the political, civic and church groups on hand.
The Children's Learning Resource Fair was held nearby at the STA Plaza.
The fair, in its first year, gave Spokane's smallest citizens the chance to learn about King's message; it included live music and kids' crafts.
Sam Burger, 9, who attended the fair, said she learned that King "was a nice person."
"He tried to make everything be fair," she said. "That's why we're trying to celebrate – because it's special. Because he wanted us to be the same."
Samantha Warren, 7, learned that a reality in King's time was that "white people get fancy drinking fountains and black people don't. They get dirty, rusty ones."
Warren said that is unfair because everybody is equal, no matter how they look.
Of King she said, "He made the world a better place."
---