News > Spokane
Veteran recalls the fallen
Former POW Lynch speaks at Nez Perce event
Tue., July 5, 2011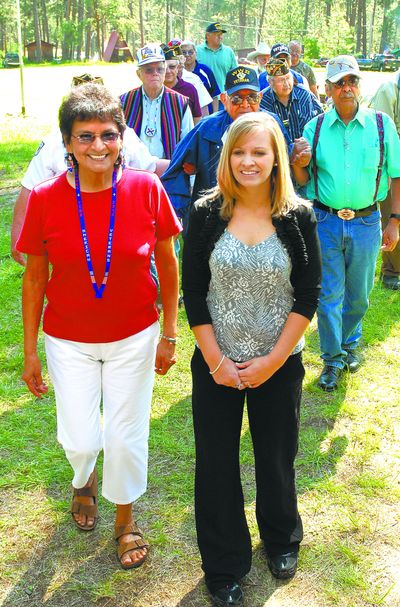 WINCHESTER, Idaho – It's been more than eight years since Jessica Lynch was taken prisoner in the early days of the Iraq War, but the former Army supply clerk still has nightmares of being chased by soldiers.
You'd never know it to look at her, though.
As she was introduced on Monday to the various veterans and civilians at the Talmaks Presbyterian Camp near Winchester, Idaho, about 30 miles southeast of Lewiston, Lynch was all smiles and friendly greetings. She still hobbles slightly from injuries sustained in the war, but her outlook is sunny and bright.
"Going through what I did made me so appreciative of life," said Lynch, now 28. "I'm so thankful for what I have today."
Talmaks is an annual social gathering for members of the Nez Perce Tribe and other Christian worshippers. Lynch was invited to speak because of her friendship with Lori Piestewa, a Hopi woman and American soldier who was killed in the Battle of Nasiriyah, where Lynch was captured.
"Lori was an amazing, unique individual," always ready for mischief or to show off her pet python, Lynch said.
Thinking about her friend helped her get through her captivity, Lynch said.
The two met in Texas, where they were stationed with the 507th Maintenance Company. On March 20, 2003, three days into the war, the unit somehow became separated from the rest of the convoy. Their handheld GPS units didn't work, and they didn't have any guides. They came to a hardtop road to Nasiriyah, thinking that was the way back.
"We knew we were in trouble as soon as we crossed into town," Lynch said. "We tried to turn around and get out, but we were spotted by the Iraqis. We were the target of the whole town."
Of the 33 American soldiers who were with the unit, 11 were killed that day, 16 made it to safety and six were captured. Lynch was knocked unconscious. She suffered a head laceration, broken arm, cracked ribs and internal injuries. Her back was broken, her left leg was broken in two places and her right foot was crushed.
"I knew I had to keep faith that I would see Lori and my family again," she said. "I kept thinking happy thoughts – about home, about Mom's cooking … . I thought about Lori. That's what got me through."
After a week of captivity, American special forces rescued her and five others from the hospital where they were being held.
The military initially portrayed Lynch as a hero, saying she fought back until she ran out of ammunition. But the West Virginia native refused to go along with that story. She never claimed to have fired any weapons, and has consistently maintained that Piestewa and her fallen comrades were the real heroes of the battle.
In the eight years since her rescue, Lynch has undergone more than 20 surgeries. She also became a mother and she's a semester away from earning a degree in education.
"I hope to encourage Americans about the importance of education and the importance of never giving up," she said. "Never give up on your goals, your dreams, your ambitions. I say dream big; it's better than not dreaming at all."
Local journalism is essential.
Give directly to The Spokesman-Review's Northwest Passages community forums series -- which helps to offset the costs of several reporter and editor positions at the newspaper -- by using the easy options below. Gifts processed in this system are not tax deductible, but are predominately used to help meet the local financial requirements needed to receive national matching-grant funds.
Subscribe now to get breaking news alerts in your email inbox
Get breaking news delivered to your inbox as it happens.
---