News > Spokane
'People have got to stop doing these things'
Unknown driver leaves injuries, questions
Wed., July 6, 2011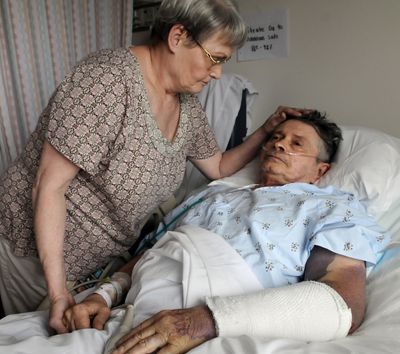 Dennis Widener lay in a hospital bed last week recovering from serious injuries suffered in a hit-and-run accident in late June, wondering who was responsible.
He was riding his bicycle in north Spokane, at Division Street and Garland Avenue, when he was struck down by a brown sedan, possibly a Toyota Avalon, whose driver kept going.
Spokane police said they have little to go on to investigate the hit-and-run felony.
Now Widener and his wife, Helen, are hoping someone might have information about who struck him at 5:45 a.m. June 23 a short distance from their home.
"Where did the humanity stop?" said Helen Widener during a visit to her husband's room at Providence Sacred Heart Medical Center. "People have got to stop doing these things."
"I looked both ways. I am always careful," Widener said.
He saw the car at the last second, and the next thing he knew, "Boom. I was down on the ground," he said.
Pedestrians at a nearby parking lot ran to his aid.
Widener, 66, suffered multiple broken ribs. Skin was ripped from an arm, and he has black-and-blue marks across his body. An ambulance took him to the hospital.
He was wearing a helmet, which apparently prevented a head injury, he said.
On Tuesday, he was continuing treatment at St. Luke's Rehabilitation Institute and was expected to return home later this week.
Widener's case, while extreme, is hardly unusual in the Spokane area.
The Spokane Regional Health District says about 20 pedestrians and bicyclists are struck each month in the Spokane area.
Of the 997 pedestrian and bicyclist collisions occurring from 2006 through 2009, the health district said that 3 percent were fatalities while 11 percent resulted in serious injuries.
In 2009 alone, more than 1,000 hit-and-run accidents of all types, including non-injury accidents, were reported in Spokane County, according to the Washington Department of Transportation.
Spokane Police Officer Teresa Fuller said the city has two traffic investigators who try to follow up on collisions and traffic crimes. They are not able to investigate all cases.
Typically, hit-and-run accidents go unsolved because there is little evidence to point police to a suspect, Fuller said. Sometimes, police get tips from a body shop where a vehicle is taken for repair. Other times, neighbors or associates learn about an accident and report a suspect, she said.
"Those are the kinds of leads we look for to solve a case like this," she said.
A hit-and-run involving an unattended car is a misdemeanor, while striking an occupied car and leaving the scene is a gross misdemeanor.
But when the accident involves an injury, a hit-and-run turns into a felony, punishable with a prison term.
Drivers might flee because they are afraid of being caught for something else, such as lack of insurance, impaired driving or having an outstanding arrest warrant, she said.
"None of those are justifications to leave," Fuller said.
Widener, 66, a former Army paratrooper, was out riding early in the day to avoid traffic, he said.
He suffers from emphysema and, on his doctor's advice, exercises with a portable oxygen unit to help his breathing.
The broken ribs caused him to go into a panic because it hurt to breathe deeply, Helen Widener said.
"It is the worst thing that could happen to him," she said.
Local journalism is essential.
Give directly to The Spokesman-Review's Northwest Passages community forums series -- which helps to offset the costs of several reporter and editor positions at the newspaper -- by using the easy options below. Gifts processed in this system are not tax deductible, but are predominately used to help meet the local financial requirements needed to receive national matching-grant funds.
Subscribe now to get breaking news alerts in your email inbox
Get breaking news delivered to your inbox as it happens.
---