News > Spokane
Prosecutors: Harpham photographed self at MLK march
July 21, 2011 Updated Thu., July 21, 2011 at 7:08 p.m.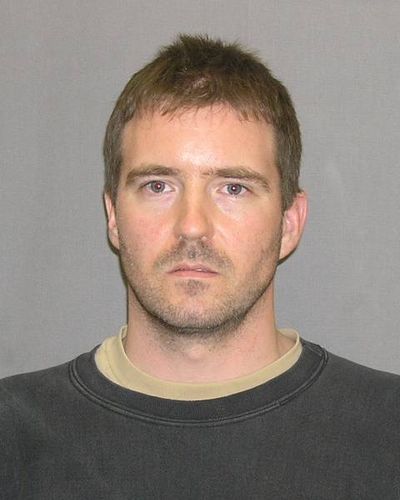 Federal prosecutors for the first time today revealed that domestic terrorism suspect Kevin W. Harpham took pictures of himself at the Martin Luther King Jr. Unity March, where he is charged with leaving a bomb along its route. Assistant U.S. Attorney Thomas Rice said in court that Harpham, 37, also photographed young black children gathering for the march and a Jewish man who was wearing a yarmulke. "Whether rightfully or wrongfully, how the defendant sees the world," Rice said of Harpham, "he intended to target those individuals." Rice also indicated that federal agents located a second bomb in a gravel pit near Harpham's rural Stevens County home. However, that device used potassium nitrate as the explosive versus black powder found in the device discovered Jan. 17 just moments before the march was to begin. The hearing provided the first public discussion of evidence prosecutors obtained after U.S. District Judge Justin Quackenbush ruled in April that documents supporting the indictment and all evidence should remain secret until the trial, which is scheduled for Aug. 22. Later Thursday, Quackenbush heard from two FBI agents who interviewed Harpham after his arrest on March 9. However, Quackenbush closed the courtroom and did not publicly indicate how he ruled on those statements obtained from Harpham. "If I rule it's not admissible, it should not be disclosed until after … this case is over," Quackenbush said before the closed hearing. Harpham was arrested at 8:45 a.m. on March 9 as he was leaving his home near Addy, Wash. But federal agents apparently did not provide Harpham his Miranda warnings until he was taken to the Stevens County Sheriff's Office at about 11 a.m. that same day. Quackenbush indicated that he's not likely to allow any statements Harpham made before he received his Miranda warning. Earlier Thursday, Quackenbush indicated that he will allow the government to present evidence from blog posts they say Harpham made on the racist website Vanguard News Network. Attorneys went through 47 pages of postings under the pseudonym "Joe Snuffy" and Quackenbush allowed any racial statements to remain, but ordered federal prosecutors to delete any references to anti-Christian or anti-Semitic views. "I don't think there is any evidence that this device was placed based on religious prejudice," Quackenbush said. "I just think the specific references to people of the Jewish faith … generates more heat than it does light." Rice said federal agents obtained evidence from Harpham's personal computer that confirmed his use of "Joe Snuffy" and argued in vain that the government should be able to show that Harpham's postings against persons of certain religions. It's then Rice said that Harpham had taken the picture of himself at the march, along with a photo focusing on a group of black children and a Jewish man wearing the yarmulke. Agents found the camera in his home and were able to retrieve some images that had been deleted. Kailey Moran, of Federal Defenders of Eastern Washington, did not dispute the images from the camera, but she argued that the indictment includes nothing about allegations of targeting anyone of a certain religion. "So evidence about religion would be a variance that would have to go back to the grand jury and delay this case," she said. Harpham faces up to life in prison if convicted. He was indicted in March on the felony charges of attempting to use a weapon of mass destruction and possession of an unregistered destructive device. Federal prosecutors then obtained a second indictment, charging Harpham in April with committing a hate crime and using a firearm in relation to a crime of violence. The charges followed an intense investigation of which no details have yet been released about how federal investigators focused on Harpham. The bomb found in the backpack had a welded blast plate and shrapnel laced with rat poison, apparently designed to prevent wounds from clotting. Rice said federal investigators found a copy of the "The Anarchist Cookbook," which includes instructions on how to build explosive devices. Quackenbush said he would allow prosecutors to show jurors a handful of pages that Rice said were relevant to the case. "The defendant having a book about how to make bombs seems to me to be relevant," the judge said. In a search of Harpham's father's home, in Kettle Falls, federal agents found a copy of "The Turner Diaries," the book reportedly used by Timothy McVeigh as the motivation for the 1995 Oklahoma City bombing. In one of the "Joe Snuffy" posts, Harpham "contends that it does not contain instructions for a bomb and he was disappointed," Rice said. "It shows he intended on seeking bomb-making information." Quackenbush allowed the inclusion of "The Turner Diaries" but refused to allow prosecutors to introduce a biography of McVeigh found in Harpham's home. The judge did, however, say prosecutors could introduce a book titled: "Improvised Munitions Black Book Vol. 3." Moran argued that allowing just the title of the munitions book would prejudice her client. Quackenbush said he would allow it because it shows Harpham's "state of mind." At no time today did attorneys make mention of the potential alibi defense provided by Harpham's father, Cecil Harpham, who claimed in a previous interview with The Spokesman-Review and other news outlets that Harpham was home with him on the day of the march. KHQ-TV reported on June 30 that Cecil Harpham had recanted his alibi for his son. Rice said three of Harpham's family members will be called to testify about previous racist comments Harpham made, but he did not identify them in court. Efforts to reach Cecil Harpham Thursday were unsuccessful.
Local journalism is essential.
Give directly to The Spokesman-Review's Northwest Passages community forums series -- which helps to offset the costs of several reporter and editor positions at the newspaper -- by using the easy options below. Gifts processed in this system are not tax deductible, but are predominately used to help meet the local financial requirements needed to receive national matching-grant funds.
Subscribe now to get breaking news alerts in your email inbox
Get breaking news delivered to your inbox as it happens.
---