News > Spokane
Gregoire: Two's enough
Governor says she'll focus on state recovery
Tue., June 14, 2011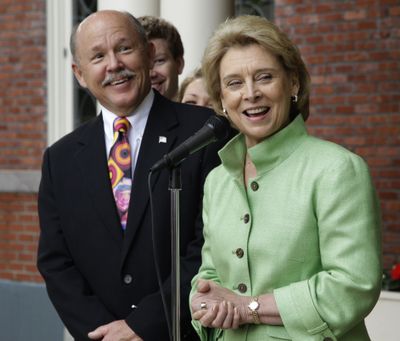 OLYMPIA – Chris Gregoire, who became governor of Washington in the midst of controversy and managed the state during some of its greatest economic adversity, said Monday she won't seek a third term.
Instead, she said she'll spend the next 18 months working to improve the economy, then take some time off.
"The worst thing that I can think of for the state of Washington is for me to be preoccupied with a campaign right now," she said at a morning press conference in front of the Governor's Mansion, where she was flanked by members of her family and had members of her Cabinet and senior advisers gathered on the driveway nearby. "We are going to make sure we pull this state out of this recession."
She said she wanted to leave "on my terms, in my time" and go on to do something else after taking "a little break" and spending time with her family.
She said she'll campaign for President Barack Obama in 2012. "That doesn't mean I'm looking for a job," she added. Several times in the last two years she was reported to be on the short list for different jobs in the Obama administration.
Her announcement – not a surprise but a confirmation of conventional wisdom – sets up the prospect of a race for governor next year between Republican Attorney General Rob McKenna and Democratic U.S. Rep. Jay Inslee of the Puget Sound area's 1st Congressional District.
McKenna, the GOP's favorite choice to break a 28-year hold on the office by Democrats, formally announced his campaign last week. Inslee, who has been positioning himself to run if Gregoire didn't, is expected to announce his candidacy in the coming days.
Gregoire said she called Inslee on Sunday after making her decision and urged him to run. "I don't know who all's going to get in the field," she added.
Before becoming governor, she spent 12 years as the state's attorney general, three years as head of the Department of Ecology, and time before that as a deputy attorney general.
Gregoire became governor in 2005 after the closest, and arguably the most controversial, statewide race in history. Former state Sen. Dino Rossi was ahead by 261 votes after the first ballot count, but Democrats demanded a machine recount, which lowered Rossi's margin to 42. They called for a hand-recount, which put Gregoire ahead by 129 votes. She was declared the winner and inaugurated. Republicans sued, but lost in a trial in Chelan County Superior Court, and Rossi dropped the appeal. They had a rematch in 2008, and Gregoire won by nearly 200,000 votes.
Her first term was marked by an increase in state revenues from a booming construction market, and increases in state spending. That was starting to slide by 2008, and while Rossi was warning of an unsustainable budget and looming deficits, Gregoire was pointing to a rainy day fund as a bulwark against a downturn.
The recession hit with a vengeance, and the last three legislative sessions were marked by wrenching cuts. Last year she supported a series of tax increases, some of which were overturned by voters in November.
Republicans said Gregoire will be remembered most for mishandling the recession. She allowed state spending and state employment to grow even when the recession "was known to be on the horizon," said Alex Hays of the Mainstream Republicans, which has endorsed McKenna.
State GOP Chairman Kirby Wilbur said that while Gregoire can't be blamed for a recession that was national in scope, she and Democrats who control the Legislature were responsible for state budgets "put together with baling wire, spit and duct tape" rather than necessary cuts, and requiring a special session this year to write a budget, he said.
That biennial budget for 2011-'13, which Gregoire is scheduled to sign Wednesday, was a bipartisan effort crafted in part by Senate Republicans. "It's not a total disaster. But it's not what it could be," Wilbur said.
Democrats agreed that her tenure has been driven by difficult budget decisions, but argued that all states, and all governors, are struggling with the same problems. Blair Butterworth, a political adviser to Gregoire's predecessor Gary Locke, said Republicans who claim they saw the recession clearly years ago were warning about deficits for so long it was the political equivalent of crying wolf.
"Nobody faced it soon enough. Nobody thought the downturn was going to be as bad," Butterworth said. "By nature, elected officials want to see the good side of things … and we want them to represent the better side."
Local journalism is essential.
Give directly to The Spokesman-Review's Northwest Passages community forums series -- which helps to offset the costs of several reporter and editor positions at the newspaper -- by using the easy options below. Gifts processed in this system are not tax deductible, but are predominately used to help meet the local financial requirements needed to receive national matching-grant funds.
Subscribe to the Coronavirus newsletter
Get the day's latest Coronavirus news delivered to your inbox by subscribing to our newsletter.
---
Subscribe and log in to the Spokesman-Review to read and comment on this story