News > Spokane
Officer's text message ruled a factor in pedestrian fatality
Wed., June 29, 2011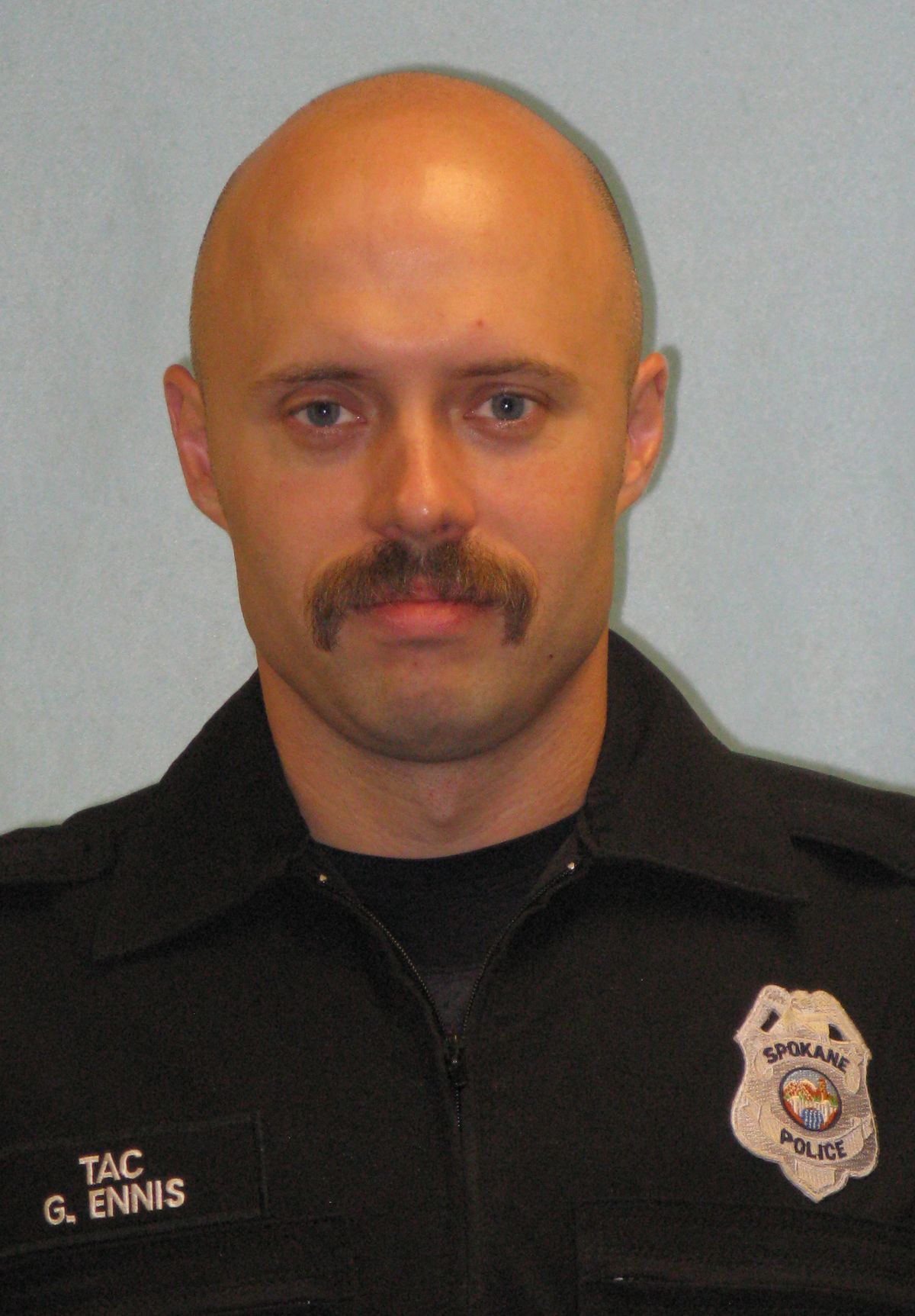 Spokane police Officer Gordon Ennis (Spokane Police Department)
A Spokane police officer who hit and killed an intoxicated pedestrian in his patrol car in January was typing a message into his onboard computer just before the crash.
Officer Gordon Ennis told investigators he sent the message to another officer just before he struck John A. Van Curler at West Montgomery Avenue while southbound on North Monroe Street on Jan. 30.
That detail was released publicly for the first time in a report this month from Spokane police Ombudsman Tim Burns, who concluded that inattentive driving was a factor in the tragedy but agreed with prosecutors that no charges against Ennis were warranted. Prosecutors were aware of the text message when evaluating the case.
Burns called the crash "just one of those regrettable situations."
"This officer's going to have to live with that the rest of his life as well, and that's a hard thing to live with, I suspect," Burns said.
Van Curler, 52, was pronounced dead at a hospital after the crash. His blood-alcohol level was .371, nearly five times what is considered legally drunk.
Ennis' inattention contributed to the crash, Burns said, but "the sad truth is the guy who was hit had an extremely high blood-alcohol level and that was clearly a contributing factor as well."
Ennis returned to work the week of the crash and was exonerated of wrongdoing in an internal investigation by the Spokane Police Department. Burns reviewed the investigation and deemed it timely, thorough and objective in a report submitted at a recent meeting of the Spokane Public Safety Committee.
Ennis, an eight-year veteran, was driving between 34 mph and 39 mph in a 30 mph zone when he struck Van Curler about 10 p.m. Ennis did not have his emergency lights and siren on – the call to which he was responding was not an emergency, it was to back up another officer for "trouble unknown."
He voluntarily submitted a blood sample the night of the crash. Results showed no signs of drugs or alcohol.
"He chose to do it and I think it speaks again to his character and … truthfulness and forthrightness," Burns said.
Ennis told police he didn't see Van Curler before the crash but said he had typed a quick message to another officer regarding the call for service he was responding to. Investigators found no record of the message in Ennis' computer, and the other officer never received it. Investigators aren't sure if the crash prevented the message from transmitting, but Ennis is adamant he typed it, said Spokane County sheriff's Cpl. Dave Thornburg, who investigated the crash.
Law enforcement officers are allowed to use mobile devices for work-related purposes while they are driving. Spokane police policy allows the use of the "mobile digital devices" as long as officers remain attentive drivers.
But the very presence of the device requires multitasking, Burns said.
"Our officers are expected to multitask. In this case, that's exactly what he was doing," Burns said. "It cannot not be a contributing factor. The primary cause? No. But certainly a contributing factor."
Investigators say Van Curler was wearing a dark blue jacket and jeans and was either walking westbound in the crosswalk or near the crosswalk when he was struck. But they believe Ennis had the green light, Thornburg said.
Van Curler was struck by two cars while walking in 2006, and in one case was cited for being in the roadway.
His family described him as an alcoholic who had been living with his stepmother and collecting aluminum cans for money.
Local journalism is essential.
Give directly to The Spokesman-Review's Northwest Passages community forums series -- which helps to offset the costs of several reporter and editor positions at the newspaper -- by using the easy options below. Gifts processed in this system are not tax deductible, but are predominately used to help meet the local financial requirements needed to receive national matching-grant funds.
Subscribe now to get breaking news alerts in your email inbox
Get breaking news delivered to your inbox as it happens.
---