Sports
West Valley boys count on Bagby's evolved game, personality
Wed., March 2, 2011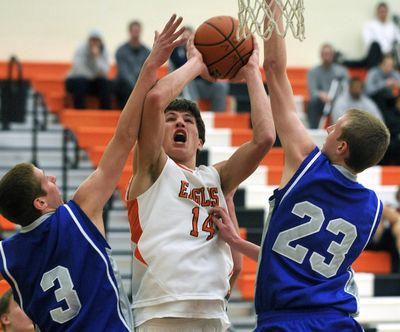 On and away from the basketball court, West Valley basketball player Brady Bagby was two different people early in his career.
"Off the court," said coach Jay Humphrey, "he was very hesitant to talk, real shy and withdrawn."
But in a game, such reticence was never evident.
Bagby worked his way into the Eagles' starting lineup as a sophomore and has stayed there. He has scored 924 points during his career, this year averaging nearly 20 points per game (with a game high of 41), and helping West Valley to its second straight State 2A tournament.
The Eagles (22-3) open state in Yakima on Thursday against Kingston in what, for West Valley, seems to be an annual rite of March.
This is the ninth state trip in 13 years for the school and 16th since 1978. Humphrey, coaching his second state team in as many years, is the fifth head coach during that time.
He previously had stints at North Central and University and assisted at Shadle Park.
He said coaching at a smaller school is more in line with his background.
"I'm a Ritzville guy and sometimes a smaller school is nicer, because there are fewer kids and a community feel," he said. "I grew up with that. I grew up traveling (on buses to other cities) and enjoy that challenge."
The drawback is that Humphrey is still teaching at U-Hi while coaching at WV, which is not the most ideal situation, he said.
Two state trips in two years, however, is nothing to sneeze at.
"I'd be lying if I said it wasn't a big deal," Humphrey said. "And I know you have to have the kids to do that."
Bagby is one of those kids.
Bagby's father Mark was an Eagles wrestler, yet it is his dad who influenced him and has worked with him to make him the basketball player he has become.
"I tried all sports, but as I kept playing basketball more and more I started liking it," Bagby said.
As for talk about his off-court introversion and on-court confidence, "My on-court personality is different than off-court. My dad said if I wanted to be a good teammate, on the court I have to be a leader and not shy. It has helped me become more of an outgoing guy off the court."
Jamie Nilles was Bagby's first varsity coach at West Valley. At the time he stood about 6 foot. He has since grown to 6-3.
"We liked him up there (as a sophomore), because even at a young age he was very athletic and could guard taller guards," said Nilles, an activities administrator who teaches Bagby in his leadership class.
Bagby proved he could get to the basket, averaging six points per game his initial season, although the Eagles missed the state tournament. Last year his scoring jumped to 12 points per game under his new coach and West Valley won one of three games at state.
"With Jamie I gained being a team player and working hard," Bagby said. "Jay really helped me on my individual game and shot and taught me to be a leader."
This year his average has jumped again, to 20.8 points per game during the regular season (19.4 overall including the playoffs) and the Eagles return to what is now an eight-team state final weekend.
During his career Bagby has scored in double figures 44 times and had more than 20 points a game 18 times (14 of those this year).
He hopes to play in college and knows there is still much to work on to become a complete player.
"My outside shooting definitely needs to improve," he said.
Humphrey said that as West Valley's best player, "Brady has let things come to him and the thing I'm so proud of he has become a much better well-rounded player on the court and has grown off the court. He loves the game."
Bagby has one more weekend to savor it at state in the Yakima Valley SunDome.
Local journalism is essential.
Give directly to The Spokesman-Review's Northwest Passages community forums series -- which helps to offset the costs of several reporter and editor positions at the newspaper -- by using the easy options below. Gifts processed in this system are not tax deductible, but are predominately used to help meet the local financial requirements needed to receive national matching-grant funds.
Subscribe to the sports newsletter
Get the day's top sports headlines and breaking news delivered to your inbox by subscribing here.
---