News > Spokane
Spokane headquarters of Hells Angels raided by police
Thu., March 3, 2011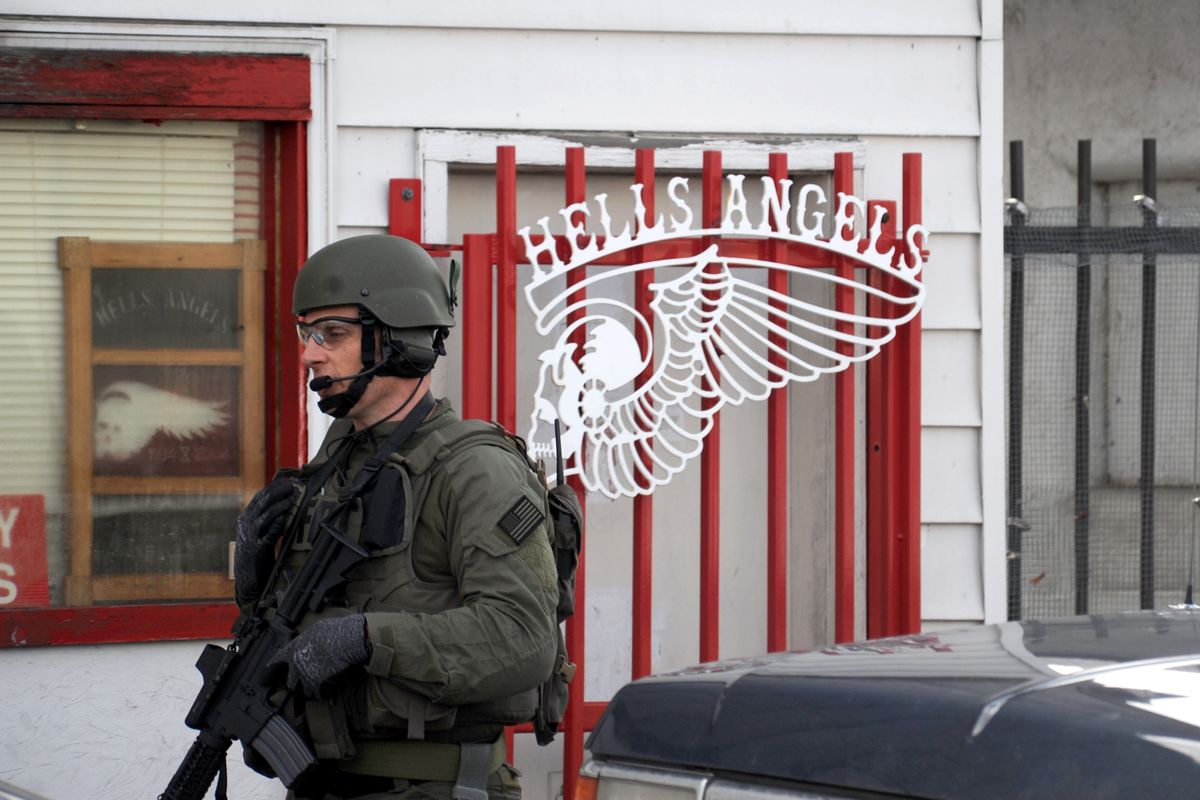 A federal agent walks past the front of the Hells Angels clubhouse on the 1300 block of East Sprague Thursday, March 3, 2011. The Federal Bureau of Investigation raided the motorcycle club's building, but released few details about their investigation. (Jesse Tinsley / The Spokesman-Review)
A leader of the Washington state chapter of the Hells Angels was arrested Thursday during a raid at the outlaw motorcycle gang's Spokane headquarters. Ricky Warren Jenks, who was among those indicted in 2006 with now imprisoned chapter president Richard "Smilin' Rick" Fabel, is being held without bail at the Spokane County Jail on a federal charge of being a felon in possession of a firearm. The charge relates to six firearms found in the clubhouse when federal agents and Spokane police executed a search warrant there about 10:30 a.m. Heavily armed federal, state and local law enforcement officers detained Jenks and five others who were in the club, but only Jenks, the club's sergeant of arms, has been arrested, said Assistant U.S. Attorney Tom Rice. Authorities would not say why they were authorized to search the clubhouse, located at 1308 E. Sprague Ave. Armored support vehicles were stationed nearby. Raids also took place at least two other locations in Spokane, the FBI confirmed. In addition to loaded guns, investigators say they found two bags of marijuana in the clubhouse. Frank Harrill, supervisory agent for the FBI in Spokane, said the regional gang task force is leading the investigation. Jenks, 33, appeared in U.S. District Court this afternoon wearing jeans and a black-t-shirt commemorating the "Hells Angels 1st Regina Anniversary." He was booked into jail afterward. A hearing to determine if he can be released on bail is scheduled Tuesday. In recent years, the motorcycle club had been linked by authorities in Washington state to extortion schemes and murder. Three members of the Spokane chapter were convicted in 2007 of using the club as an organized crime ring, and some of its members have been tied to shootings and other violence throughout the western United States. In 2001, Jenks and a man considered a club associate were arrested in the shooting death of a man making methamphetamine in a Spokane Valley home. Jenks later pleaded guilty to second-degree manslaughter and was sentenced to 21 months in prison. Shortly after his release, Jenks was arrested under a federal racketeering indictment that led to Fabel's conviction in Seattle. Fabel is scheduled to be released in July 2012. Jenks was tried on racketeering charges in 2007 but a jury couldn't reach a verdict. Jenks later pleaded guilty to interference with commerce by threats or violence and was sentenced to 16 months in prison with credit for time served in jail awaiting trial. He'd already been out of custody on bail since July 2007. In the plea agreement, Jenks admitted to forcing a man to make regular cash and drug payments, then threatening him when he stopped paying. The man paid Jenks $5,000 out of fear, according to the plea deal. Letters of support from Jenks' family and friends in 2007 describe Jenks as a hard-working construction worker who devoted himself to his 1-year-old son after his release from prison. "It's amazing how much a child can change your life and in Rickys (sic) case it has been for the best," one letter read. His probation requirements prohibited him from associating with Hells Angels and other members of gangs or outlaw motorcycle clubs. Investigators say Jenks was at the Hells Angels Spokane headquarters when they arrived with a search warrant this morning. The convicted felon's coat was "within 15 feet" of the six firearms at the clubhouse when agents arrived, according to court documents. Seized were a Kel-Tec 9 mm semi-automatic pistol, a Ruger 10-22 Rifle, a Riot 18-7 12 gauge shotgun, a Glock .45 caliber semi-automatic pistol, a Taurus .38 caliber revolver and a Smith and Wesson 9 mm semi-automatic pistol. All were loaded.
Local journalism is essential.
Give directly to The Spokesman-Review's Northwest Passages community forums series -- which helps to offset the costs of several reporter and editor positions at the newspaper -- by using the easy options below. Gifts processed in this system are not tax deductible, but are predominately used to help meet the local financial requirements needed to receive national matching-grant funds.
Subscribe now to get breaking news alerts in your email inbox
Get breaking news delivered to your inbox as it happens.
---