Sports
Casto suspended for NIT quarterfinal
Tue., March 22, 2011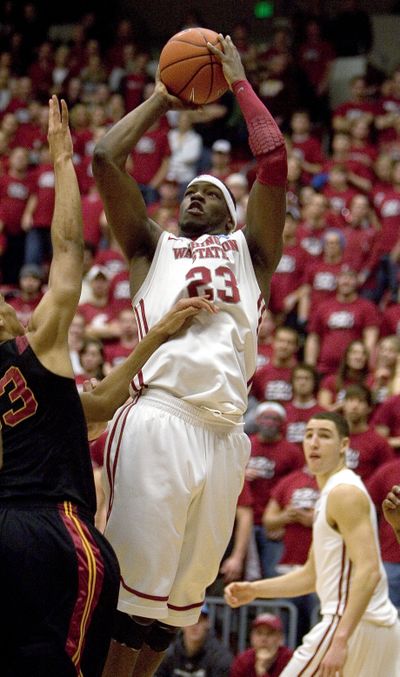 PULLMAN – Washington State University starting power forward DeAngelo Casto will not play in Wednesday's National Invitation Tournament quarterfinal game vs. Northwestern. WSU coach Ken Bone announced this afternoon Casto had been suspended for a violation of team rules, though that violation was not specified. A source with knowledge of the situation said Casto's off-campus apartment was searched by police at about 1:20 Tuesday morning and a small amount of marijuana was allegedly found. The Cougars had defeated Oklahoma State, 74-64, a few hours earlier to move into the NIT's third round. Pullman police spokesman, Commander Chris Tennant, said Tuesday he could not speak to an on-going police investigation and would also not say whether Casto was the subject of an investigation. Another source not authorized to speak publicly said a citation could be issued as early as Wednesday morning. "I am disappointed in DeAngelo as he let himself and his teammates down," said WSU coach Ken Bone in a statement released by the school. Neither Bone nor Casto were available for comment Tuesday afternoon. Earlier this season sophomore point guard Reggie Moore was cited for two misdemeanor charges, possession of marijuana, less than 40 grams and possession of drug paraphernalia after a search of his then-dorm room. Just two weeks ago, scoring leader Klay Thompson was pulled over while driving home and cited for possession of marijuana, less than 40 grams, following a win over USC. Both players were suspended for a game. "It is important that our student-athletes realize that they are held to a high standard and that lack of good judgment can be costly," athletic director Bill Moos was quoted as saying in the same press release, "especially in the postseason when so much is at stake." Casto leads the Cougars (21-12) in rebounding at 6.8 a game and is third in scoring, averaging 12.1 points. At 6-foot-8 and 255 pounds, the junior is WSU's main force around the basket.
Local journalism is essential.
Give directly to The Spokesman-Review's Northwest Passages community forums series -- which helps to offset the costs of several reporter and editor positions at the newspaper -- by using the easy options below. Gifts processed in this system are not tax deductible, but are predominately used to help meet the local financial requirements needed to receive national matching-grant funds.
Subscribe to the sports newsletter
Get the day's top sports headlines and breaking news delivered to your inbox by subscribing here.
---