News > Spokane
Prison staff wants safety now
Proposed changes take time, officials say
Thu., March 31, 2011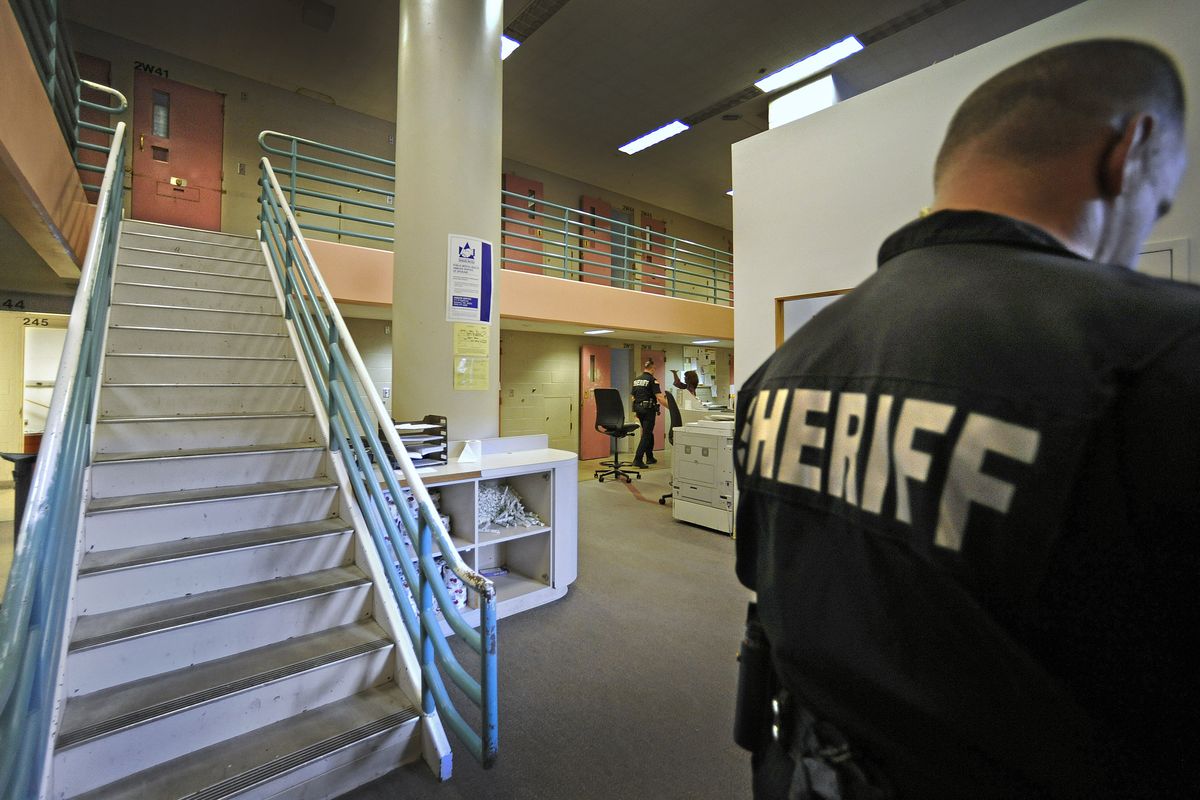 The inmate population at the Spokane County jail changes constantly. Layoffs of prosecutors, offenders from other agencies and things as simple as the weather will determine how many of the cells are filled at any given time. (photos by CHRISTOPHER ANDERSON)
State prison guards who were promised safer working conditions following the Jan. 29 slaying of a corrections officer in Western Washington are still waiting.
At Airway Heights Corrections Center near Spokane, for example, self-defense pepper spray that experts recommend all officers carry while on duty remains locked up in an armory that only certain employees can open. Other changes recommended by a panel whose report has been embraced by Gov. Chris Gregoire are still potentially months away from being implemented.
"We're waiting to see if anything is going to come of this," said Darren Kelly, president of the Washington Staff Assault Task Force and a corrections officer at Airway Heights. But he is skeptical the recommended changes will be made promptly enough. He added that the lack of staff and proper safety gear create ongoing workplace hazards.
The strangling of Officer Jayme Biendl by a convicted sex offender in the chapel of the Monroe Correctional Complex has prompted a re-evaluation of staff safety inside state prisons and county jails across Washington.
State officials say they're moving as quickly as possible, but changes take time and money.
"It will take some policy decisions," said Airway Heights spokeswoman Risa Klemme. "You have to have your policies in place as to how these items are used. We're not there yet."
Law enforcement employees hope recommendations in the 27-page report by the National Institute of Corrections are implemented at correctional facilities sooner rather than later, but they fear budget concerns and bureaucracy will come before safety.
The report recommends changes in five areas: offender capacity, staffing levels, training, technology, and policy and procedure. It specifically mentions that correctional officers should begin wearing a body alarm and carrying pepper spray.
City and county jails are evaluating safety measures as well and trying to identify weaknesses.
The Spokane County Sheriff's Office has identified overcrowding and low staffing levels as key concerns at its two facilities: the county jail adjacent to the Public Safety Building, and the minimum-security Geiger Corrections Center.
"Having more inmates than an area is designed for creates tension," said Capt. John McGrath, adding that the jail was designed for about 462 inmates but regularly houses 600-plus each day. "Tension can lead to assault."
Because of overcrowding, inmates at Spokane County Jail spend just one hour a day outside their cells and are locked up for the entire weekend, which can also cause tension, officials said.
In the last two years, there have been four assaults on deputies by inmates at the Spokane County Jail.
Spokane County officials say one solution would have been to build a new jail, but a bond measure expected to go to voters this year has been put on hold.
At Airway Heights there have been 15 assaults on staff by inmates since 2008. Just two, however, were considered severe enough to support criminal charges.
"I'm not minimizing that by any means," Klemme said. "Any (assault) would be unacceptable to us."
The implementation of a formal system to account for all staff and prisoners was required statewide, including at Airway Heights, after Biendl's slaying. Additional changes are likely to come as the Department of Corrections completes its review of the results of the National Institute of Corrections report, she said.
Management at Airway Heights is also currently assessing general security, but Klemme said staff safety has always been a priority.
"We've always approached safety issues proactively," she said. "It's kind of a work in progress."
She said they routinely provide training in emergency response and encourage supervisors to have discussions with their staff about "what-ifs."
While the changes so far are good, it's not enough, Kelly said.
Pepper spray is a prime example, he said, noting that it's already on site at Airway Heights but locked in an armory 150 yards away from where any incident could occur.
"One of the things we were supposed to get was our OC pepper spray," he said. "That I don't think we should be waiting on."
"Had Jayme Biendl had that extra tool on her belt, maybe the outcome would have been the same, I don't know, but maybe not," he said. "Maybe she would have been able to utilize that, but we'll never know."
Klemme said that while prison officials are reviewing how and when to use pepper spray, making changes to that system is more complicated than just handing the spray out to employees.
"It will take some policy decisions," she said. Kelly said understaffing is another safety issue that has existed since he began working at Airway Heights 18 years ago.
"We've asked for more staffing but we're told there's no money," he said. "But yet, then we see people getting promoted, new positions being created and our executive management growing and growing and growing."
"We're top heavy. Those managers aren't the ones who walk the tiers with us and deal with inmates on a daily basis, yet they're making six figures," he said.
While changes are likely to be made in the corrections system in response to Biendl's death, how and when they will be implemented is still unknown.
"I think there are things we have done all along that have been proactive, but certainly now with the Jayme Biendl incident, it certainly rises that up again, to be even more proactive," she said.
Kelly remains skeptical. He says correctional employees' concerns have fallen on deaf ears for years now, and he wouldn't be surprised if – even in the wake of Biendl's violent death – they would continue to be ignored.
"It makes me sick to my stomach, but after 18 years, I'm sad to say it's become typical," he said. "The department has never been proactive. It's been reactive. If it's not a manager's suggestion, they don't listen."
Local journalism is essential.
Give directly to The Spokesman-Review's Northwest Passages community forums series -- which helps to offset the costs of several reporter and editor positions at the newspaper -- by using the easy options below. Gifts processed in this system are not tax deductible, but are predominately used to help meet the local financial requirements needed to receive national matching-grant funds.
Subscribe now to get breaking news alerts in your email inbox
Get breaking news delivered to your inbox as it happens.
---