News > Spokane
Green schools getting mixed grades
Thu., May 19, 2011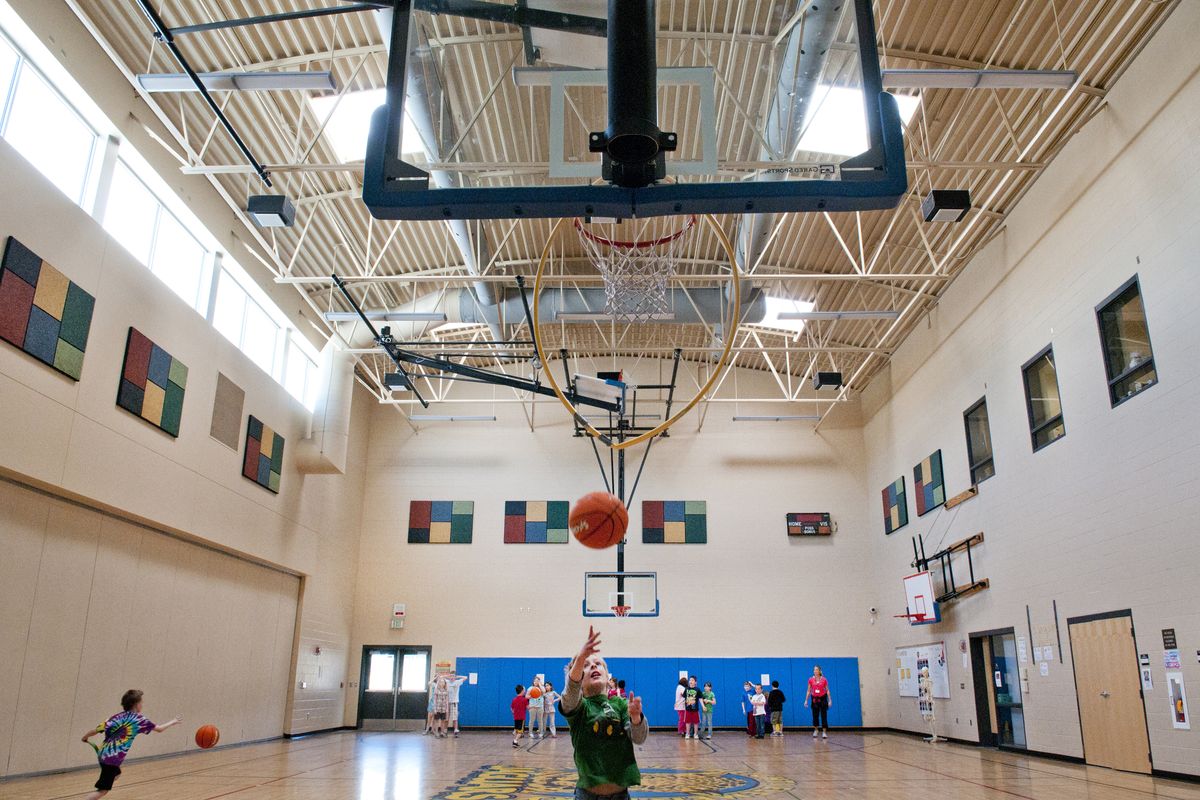 Students run basketball drills in physical education class Wednesday at Lincoln Heights Elementary School. The school is a "green" building, designed to save electricity, water and building materials. (Jesse Tinsley)
Lincoln Heights Elementary School has lights that turn off when rooms are empty, thermostats that automatically set temperatures back at night and carbon dioxide sensors in the gym to circulate air only when it's occupied.
It was constructed to "green" building standards, which cost Spokane Public Schools nearly $460,000 extra for the South Hill facility.
But the energy savings aren't what the district thought they would be, a discovery that other owners of green buildings are making all over the state, a new report from the Joint Legislative Audit and Review Committee says. Seven of nine public buildings built to green standards and studied by committee staff fell short of the energy goals they were designed to meet.
District officials say they're happy with the building. The higher-than-expected energy consumption may result from something other than the green design. The new school is popular and has more requests for use after school and on weekends than the 53-year-old building it replaced. Last year, it was open for 3,700 after-school hours.
"Folks want to use it," said Wayne Sealock, the district's resource conservation specialist who monitors energy at 55 school sites.
That's one factor researchers cited for possible reasons buildings don't live up to projections. Some buildings also have design changes or equipment that wasn't installed properly or that occupants don't know how to use; sometimes school staffers plug in extra equipment that sucks up energy.
"Building design is only one factor in energy conservation," researcher Mark Fleming said. In many school districts, older buildings are more energy efficient than the green buildings.
Some question whether the standards are appropriate.
Todd Myers, environmental director of the Washington Policy Center and a longtime critic of green standards, said environmental supporters over-promised the results of green construction when laws were passed in 2005. If legislators really care about costs and energy savings, they'd repeal the requirements, he contends.
"If, however, adopting green building legislation is primarily about adopting a green political image, little will be done because changing the rules will risk the political benefits candidates received by supporting the legislation," Myers said in a prepared statement on the study.
State Rep. Gerry Alexander, R-Olympia, said the purpose of requiring green standards is to spend capital money up front to reap operating savings down the road. "If we're not going to get operating savings, then there's got to be a question of whether or not this is a good investment."
State Rep. Kathy Haigh, D-Shelton, argued, however, that the study is preliminary and the data incomplete. "It's a very good start," she said, but is really just the "baseline" for further studies.
Lincoln Heights Elementary cost an extra $458,826 for all "high performance features" in its design. Spokane Public Schools got a $320,000 grant from the Office of the Superintendent of Public Instruction to cover part of that, plus $77,500 worth of incentives from local utilities. When the grant and incentives are subtracted from the cost, the district will cover the increased costs in 4.6 years, the study says; without that outside help, the savings on energy bills wouldn't cover the extra construction costs for almost 30 years.
Lincoln Heights Elementary was planned before standards for schools were final, so it's actually built to Leadership in Energy and Environmental Design, or LEED, gold standards, said Gregory Brown, the district's capital projects director. The law now requires schools to be built to the slightly less stringent silver standard, and that's what's being used for the district's latest project, Westview Elementary.
The OSPI grants are no longer available, but the amount of money the state contributes to school construction has increased significantly, Brown said.
Some Spokane schools that were built before Lincoln Heights use less energy, Brown and Sealock said. But that's because the district was already using high standards for its buildings.
"We've been doing these things all along," Brown said. "School districts need to build buildings with best practices."
Local journalism is essential.
Give directly to The Spokesman-Review's Northwest Passages community forums series -- which helps to offset the costs of several reporter and editor positions at the newspaper -- by using the easy options below. Gifts processed in this system are not tax deductible, but are predominately used to help meet the local financial requirements needed to receive national matching-grant funds.
Subscribe now to get breaking news alerts in your email inbox
Get breaking news delivered to your inbox as it happens.
---