Spokane police officer convicted of excessive force, lying
Prosecutors to seek six to eight years; defense promises 'to keep fighting'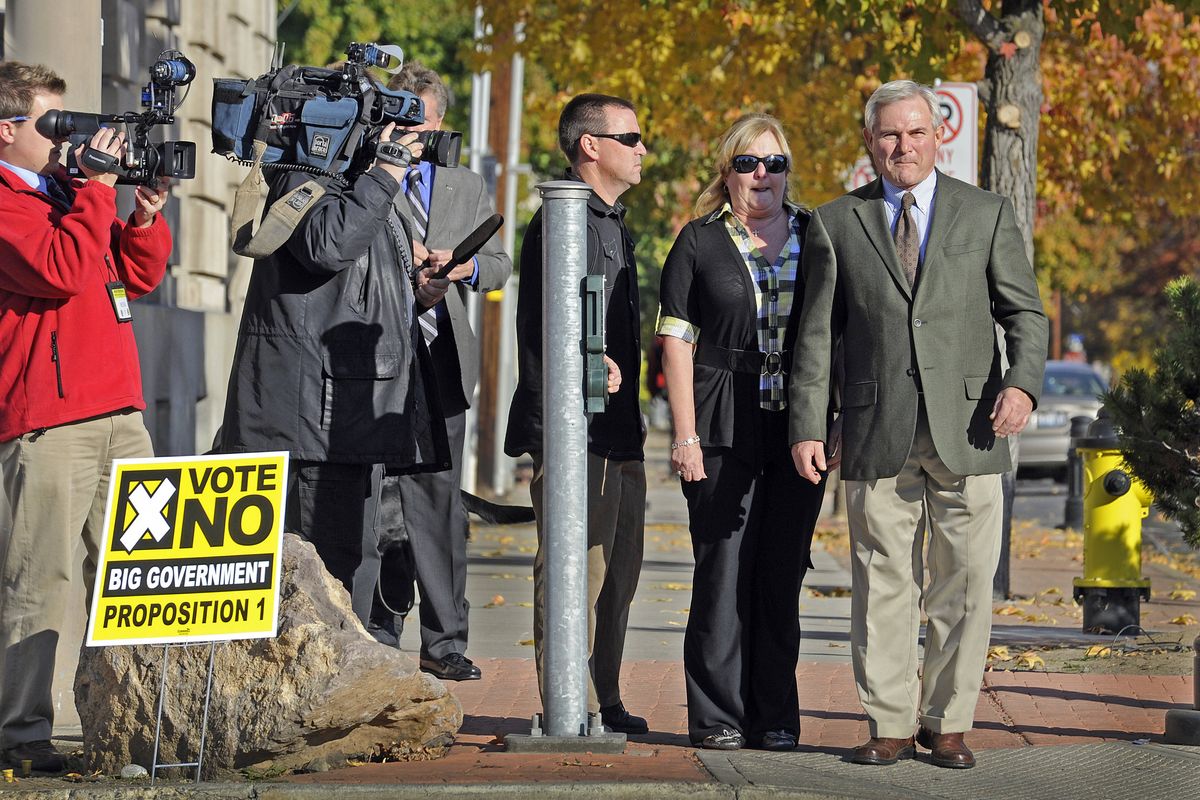 YAKIMA – His jaw quivering at times, Karl F. Thompson Jr. stared straight ahead Wednesday, showing nothing but a stern look as juror after juror confirmed the guilty verdicts they'd reached against him.
In the gallery, a supporter quietly wept.
Thompson, the decorated Spokane police officer whose department continued to rally around him as troubling questions mounted over the fatal 2006 encounter with Otto Zehm, had just been convicted of needlessly beating the unarmed janitor and lying to cover it up.
He marched out of the courtroom, eyes fixed forward, refusing multiple requests for comment. At Spokane City Hall, paperwork terminating his employment as a law enforcement officer already was being prepared. Today, a U.S. magistrate will consider a prosecution request to take him into custody while awaiting sentencing.
"It's not something we take any joy in," Assistant U.S. Attorney Timothy Durkin, the federal prosecutor who oversaw much of the trial preparations, said of the conviction. "But it's a very important case and we still have a lot of work to do."
Thompson's defense attorney, Carl Oreskovich, said the verdicts left his client "shocked and stunned."
"We believe Officer Thompson is an innocent man," Oreskovich said outside the federal courthouse. "We are going to keep fighting for him. This is a devastating day for him and us."
Jurors declined comment as they left the federal courthouse. One said they had decided as a group to decline post-verdict interviews.
The verdicts Wednesday brought to a close one chapter in the divisive community debate over police training and accountability that the Zehm tragedy, and Spokane City Hall's insistence on blaming Zehm for his own demise, had triggered. But with a civil lawsuit against the city for its handling of the case still pending, a federal investigation into at least one other Spokane police officer still under way, and intensifying calls for independent police oversight and accountability, a new chapter begins.
"It's shocking to see a police officer who we trust to protect us being convicted of this crime, regardless of how you see the case," said Spokane attorney Chris Bugbee, who represents two other Spokane police officers who responded to the convenience store that night. "I'm sad for the community but I'm glad it has been resolved one way or the other."
Spokane police Chief Anne Kirkpatrick said Wednesday she's hoping the verdict will enable the community to finally begin healing.
Kirkpatrick planned to attend each of the department's shift roll calls over the next day to discuss the case and its outcome with officers.
"We're going to move forward," she said, "and we'll let the healing process take its natural course."
Spokane Mayor Mary Verner, who previously had said she didn't believe any crimes had been committed, also said Wednesday she's hoping the community will begin to heal.
"This tragedy has torn us apart," Verner said. "As we reach closure I hope that we'll think first and foremost of the people whose lives were changed on that day in 2006 and that we will rally together as a community."
Spokane County Prosecutor Steve Tucker, who declined to review the case because of the federal investigation, could not be reached for comment Wednesday.
Zehm, who would have turned 42 on Monday, was beaten by police, shocked with Tasers and left hog-tied on the floor of a Zip Trip convenience store March 18, 2006, after being mistakenly identified as a theft suspect. He died two days later without regaining consciousness.
Thompson, now 64, was the first officer on the scene and claimed Zehm assaulted him. Store security videos contradicted Thompson's version of the encounter, but Spokane police detectives still cleared him of any criminal wrongdoing and Spokane City Hall continued to back his version of events even as evidence mounted to the contrary.
The FBI later opened its own investigation, leading to grand jury indictments against Thompson in 2009 on charges of excessive force and lying to investigators. Spokane City Hall continued to back Thompson's version of events, even after learning that Assistant Chief Jim Nicks told federal investigators that Thompson had violated department policy in the encounter with Zehm.
Nicks' conclusions, which contradicted what he told reporters at the time of the incident, were ruled inadmissible at Thompson's federal trial. Jurors also had been barred from learning that Zehm was innocent when Thompson confronted him.
The jury, however, deliberated 10 hours over three days following a complex trial that began its fourth week on Monday. They convicted Thompson of depriving Zehm of his civil rights through unreasonable force and of obstructing justice by lying to investigators.
Prosecutors are expected to seek a six- to eight-year prison term for Thompson at sentencing, which likely will be scheduled for January.
Spokane lawyer Breann Beggs said Zehm's mother, Ann Zehm, felt relief Wednesday as the guilty verdicts were announced.
"I spoke with Ann … and she said she needed a day to get her thoughts together of what she really thought, but all along she has not spoken as far as punishment, really just about accountability and change," said Beggs, one of the lawyers representing the family in a civil suit against the city. "This started out, unfortunately, as kind of a regular case because people with mental illness die often in Spokane when they interact with law enforcement, but it's turned into … a symbol for what could be changed and what could be better."
Beggs took issue with Thompson's defense arguments that he was just following departmental policy.
If that is the case, Beggs said, "t's time to change policies on use of force, especially with regard to the mentally ill."
Zehm's cousin, Dale Zehm, said it's important to the family to know that the mistreatment Otto suffered won't be ignored.
"We now hope for a conclusion to the civil case, and hope for real healing in the community and a change in City Hall and how officers are trained and supervised," Dale Zehm said outside the U.S. Courthouse in Spokane, where a live video feed from the Yakima courtroom was broadcast each day.
Union leaders representing Spokane's police officers declined comment.
On social media, though, many of the city's officers expressed their shock, sadness and hopes that an appeal will overturn Wednesday's verdict.
"We believe in you Karl and are devastated! You are well loved and we support you!" Officer Erin Blessing posted on the We Support Karl Thompson Facebook page.
U.S. Attorney Mike Ormsby, whose office handled the prosecution, said the conviction is a critical step in the search for truth about what happened that night but that it's also important to remember the service that law enforcement provides.
"Many may be tempted to read messages into this verdict that I would suggest not be done," said Ormsby, whose legal team openly blamed a departmental coverup for trying to shield Thompson from accountability for his actions. "This case was about a single police officer and what he did on one evening and one situation and the steps that he later took to impede and impact the investigation. This is not an indictment of our entire police department and it should not be an excuse for any of us to ignore the good work that our police officers do every day and every night in our community to protect us."
Jonathan Brunt, Kevin Graman and Jody Lawrence-Turner contributed to this report.
---