Shogan aside draws protest
Council president blasts GOP leader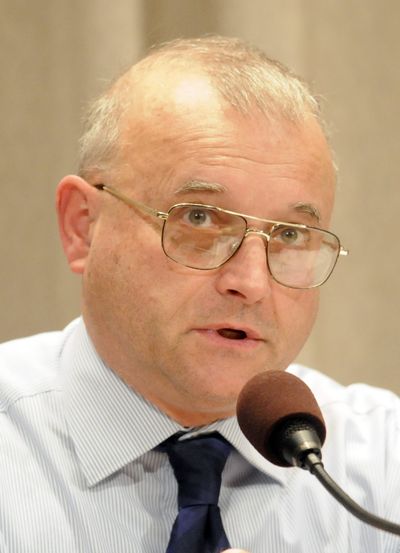 After years of frustration over Spokane City Council President Joe Shogan's temper, a majority of council members for the first time this week engaged in a minor protest of Shogan's behavior during a council meeting.
When he leaves office at year's end, he may be ending his tenure on a sour note.
Shogan has a reputation for sparking heated arguments with other council members and with the public. He used a portion of Monday's televised City Council meeting to call for the resignation of the state Republican Party head over critical comments he made about Mayor Mary Verner during her re-election bid this fall. Four council members walked out on Shogan, and the other two later said he inappropriately used the meeting to talk campaign politics.
Shogan was responding to comments that Peter Graves, executive director of the state GOP, made Nov. 3 to The Spokesman-Review about the party's $25,000 donation late last month to the campaign of Mayor-elect David Condon.
Graves said the party contributed to Condon to "take her (Verner) out before she gets a chance at a free shot at a great congresswoman in the Fifth District." He was referring to Condon's former boss, Republican U.S. Rep. Cathy McMorris Rodgers, and said that some have speculated Verner might one day run for Congress.
Shogan called Graves' comments "reprehensible, repugnant and cowardly."
"I and Mr. David Condon know the meaning of the last definition of taking somebody out 'cause I've been in combat and I know that meaning, and Mr. Condon has been in a combat support hospital, so he knows firsthand what taking somebody out can mean," said Shogan, a Vietnam War veteran.
Josh Amato, spokesman for the state Republican Party, said it would be ridiculous for anyone to believe that Graves' use of the term "take out" was meant to refer to an act of violence.
"Has this guy run for public office, been elected and not understand what the words 'take out' mean in a political sense? It seems like faux outrage," Amato said. "We were obviously talking about removing (her) from office."
Councilman Jon Snyder said he disapproved of the venue Shogan used but shares Shogan's concern.
"Congresswoman Gabrielle Giffords was shot by a deranged individual less than one year ago after she was targeted with similar political language," Snyder wrote on his blog. "Anyone who thinks there is no connection between this sort of rhetoric and actual threats to elected officials is ignoring reality."
Each week, council members have time to discuss happenings in their districts and other council business. After hearing routine presentations Monday night, Shogan announced that he would be giving his weekly "council comment" at that point.
A council member tried unsuccessfully to object.
"Don't even try to object, 'cause you're not going to object," Shogan said. "I'm not going to take any objections. I'm going to say what I'm going to say."
That's when council members Bob Apple, Steve Corker, Nancy McLaughlin and Richard Rush left the dais.
They returned when Shogan was through, and the council continued with its agenda. When other council members made their routine comments at the end of the meeting, Councilwoman Amber Waldref said she "strongly" objected to Shogan's statements.
"Even commenting on any campaigns that are going on can cross the line," Waldref said. "So I feel that your comments were inappropriate, and they didn't add any value to this meeting."
Shogan said he was responding to "language indicating a threat to a public official, including to us."
"My responsibility is for the safety of this council," Shogan said. "I accept your concern, but if I had to do again, I would do it again."
Corker publicly apologized to the crowd for Shogan using the council meeting to make the comments.
Shogan interrupted: "You can apologize for yourself, Mr. Corker. Don't include me in your apology."
After election results were released Tuesday night, Verner told reporters that Graves' comment "reveals what my opponent's campaign was all about."
"The party's explanation that my opponent has been running against a figment of the party's imagination was very telling," she said. "I'm committed to serving this community."
---