News > Spokane
Toymaker creates them one at a time
Adopted son learned craft from his father
Sat., Nov. 26, 2011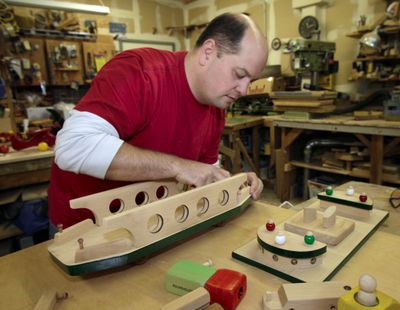 MARYSVILLE, Wash. – Jason Rounds isn't just a toymaker.
He's the son of a toymaker, a second-generation, modern-day Geppetto, at 37 years old, inspired by his father, who was inspired by him.
Rounds' creations are unlike so many mass-market toys sold these days. They are crafted by hand and made of hardwoods such as alder and maple, not plastic.
In his cheerful Marysville workshop, happy green centipedes sport tiny straw hats and little wooden legs that move energetically when their strings are pulled. Ducks on wheels wear handmade blue bonnets. Black Scotties with red wheels boast plaid collars.
Rounds' Web-based, word-of-mouth business is bustling. He's busy right now, like an elf, with orders for the holidays.
"Every Christmas morning, you just think about the kids, from newborn to 90, who are opening the gifts that you made," Rounds said.
His pieces will go to toddlers, who need tough, nontoxic toys, as well as adults, who collect his intricately designed, more expensive wooden trains. Prices start at $4 and go to up to $330, but most toys are in the $15 to $35 range.
Rounds' unusual calling started when he was weeks old.
He was in his crib when his father noticed he was captivated by the shapes dangling from his mobile.
Inspired, his father, Greg Rounds, an industrial arts teacher, went into his workshop. He made four large wooden toys based on the basic shapes in the mobile – an airplane, a dog, a duck and a car.
He made them larger and more alive than the mobile, with spherical, spinning wheels and brilliant paint colors.
Soon after, the new father started making toys for friends. Then his wife, Meg, started selling them at Tupperware-style parties.
Yearning to work for himself and see more of his newborn son, he quit his teaching job and gradually established a thriving business, known today as Roundhouse Designs.
Jason Rounds – who was adopted when he was 3 days old – liked being the son of a wooden-toy maker.
"It was totally cool. My friends always wanted to come over," Jason Rounds said. "In high school, this was my job. I didn't get paid, but it was my way to help the family."
He started out gluing toy pieces together and gradually did more. He was even allowed to help design the company's biggest toy, a boat modeled after the Washington state ferries.
Rounds was deeply honored that his father would entrust him with his life's work.
"I never realized until I got older," Rounds said. "He was training me."
Rounds, who pursued college and a career in teaching, continued to help out in his father's shop, even as an adult.
When he was working full time as an elementary school classroom teacher, he stopped to help most days after work. He helped make toys during his summers off and sold the toys at art shows, too.
When his father died of cancer at age 57 in 2003, Rounds' heart broke.
"He was my best friend in my life," Rounds said.
Only after his father was gone did Rounds find out from his mother that his father had wanted him to continue the business.
He hadn't realized, until then, that he truly had become his father's apprentice.
Though grief-stricken, he decided to keep making his father's toys on his own.
"I wasn't willing to give it up. It would have been too painful not to be in here again," Rounds said of the workshop. "I couldn't face the possibility of not having these toys around."
Rounds, who lost his teaching job when his Camano Island elementary school cut positions last June, recently decided to turn his father's craft into a full-time career.
In his workshop, looking at the airplane, dog, duck and car toys – original designs that date back almost to his birth – Rounds is humbled yet proud.
"This was always my dad," he said. "It's mine now. It's a lot of pressure."
Roundhouse Designs has the potential to become a third-generation operation.
Jason and Stacy Rounds' sons, Preston, 10, and Evan, 8, join their father in the shop and at shows, where toys influenced by their design ideas are for sale, too.
That includes Harry Potter-style magic wands made of cherry and birch, an idea Preston, who carries his grandfather's middle name, offered up.
Rounds dearly misses teaching, but he's excited to explore what it means to be a full-time wooden-toy maker.
As he readies toys for the holidays, he is smiling, thinking of his father's legacy and the joy he put into each toy he made.
"It was his life," Rounds said. "He always called it a lifestyle. It's not a job. It's a lifestyle.
"He did it for the love of what he was doing."
Local journalism is essential.
Give directly to The Spokesman-Review's Northwest Passages community forums series -- which helps to offset the costs of several reporter and editor positions at the newspaper -- by using the easy options below. Gifts processed in this system are not tax deductible, but are predominately used to help meet the local financial requirements needed to receive national matching-grant funds.
Subscribe now to get breaking news alerts in your email inbox
Get breaking news delivered to your inbox as it happens.
---