News > Spokane
Idaho Guard members ready to head home
Back from Baghdad, Idaho National Guard unit prepares for civilian life
Fri., Sept. 9, 2011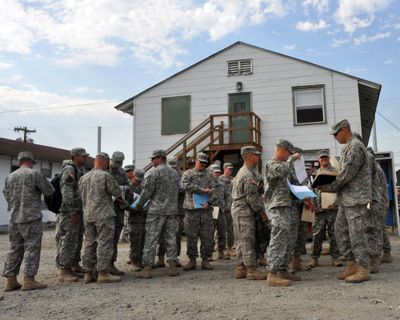 JOINT BASE LEWIS McCHORD – After nine months in Iraq, members of Idaho National Guard's 116th Cavalry Brigade are oh-so-close to home. Just a state away for most of them.
Some 2,700 members of the brigade will be "out-processed" at this combined Army-Air Force installation south of Tacoma by the end of the month, completing a checklist of examinations and explanations designed to help them return to civilian life after a tour of duty in Baghdad and Balad.
It's a speed bump in the process, said Spec. Micah Maxwell, of Coeur d'Alene. "I'm not home yet," he said, but home is close enough he can taste it.
Most have a long list of things they're hoping to do once home. Seeing family and loved ones is at the top for most, because family has been asked to hold off on reunions until they get back to Idaho. Getting a solid night's sleep may be a close second for many.
"A good eight hours," Spec. Joel Eggert, of Moscow, said Thursday during a break from the sessions that include medical and dental screenings, legal briefings and discussions of their post-service benefits.
By the time he gets around to driving Idaho roads, he may have to readjust to sharing the road with people who actually obey traffic signals. "I never saw anybody stop at a stoplight," said the 24-year-old, who worked on a personal security detail for Bravo Company of the Brigade Support Battalion.
Iraqi driving habits are "unbelievable," agreed Spec. Dan Marquardt, of Priest River, Idaho, who recalled a woman who pulled out in front of a 52,000-pound Mine Resistant Ambush Protected vehicle. The impact turned her sedan into a convertible, although not a drivable one. The U.S. military replaced the car, he said.
Marquardt and Spec. Matthew Hodge, of Pullman, joined the Guard about two years ago, expecting they'd be called up for duty in Iraq. "I joined to pay my respects to my father, who passed away (in June 2009). He was a Vietnam vet," Marquardt, 21, said.
They're glad they went – they believe they matured during their tour and picked up some leadership skills – but want a chance to use their GI benefits to go to school; Marquardt to learn automotive collision repair, and Hodge to become an emergency room nurse.
Hodge, 19, decorates his bunk with a Washington State University blanket and hopes he can get into his hometown university. He's hoping to catch the Cougar football game this weekend "if I get home in time."
Out-processing takes one to two weeks, depending on what the soldiers need. Maj. Dan Johnson, who has been helping the Idaho guardsmen navigate the system since the first ones arrived in August, said the Army is taking more time, and checking for more potential problems, than in 2005 when the 116th arrived from its first Iraq deployment. Then, soldiers were so anxious to get home they "waved off" tests, didn't record injuries and had trouble applying for Veterans Affairs benefits later.
From post-traumatic stress disorder to signs of traumatic brain injury to exposure to toxic chemicals or tuberculosis, the soldiers get screened. X-rays and MRIs. Podiatry and urology.
"They're going through everything with a fine-toothed comb," Johnson said.
VA representatives are here, too, as cooperation between the Defense and Veterans departments have improved over a decade of war. Mobile Vet Centers – large, specially equipped buses – are parked near the barracks where the guardsmen stay, and doctors and volunteers make sure soldiers know what services are available when they return to homes in Coeur d'Alene, Boise or Pocatello.
"Back home, you kind of need to reset," said Dan Ashley of the Boise Vet Center. "Everybody comes home with some readjustment issues."
Local journalism is essential.
Give directly to The Spokesman-Review's Northwest Passages community forums series -- which helps to offset the costs of several reporter and editor positions at the newspaper -- by using the easy options below. Gifts processed in this system are not tax deductible, but are predominately used to help meet the local financial requirements needed to receive national matching-grant funds.
Subscribe now to get breaking news alerts in your email inbox
Get breaking news delivered to your inbox as it happens.
---