News > Washington Voices
Sky diving record set at lupus benefit
Thu., Sept. 15, 2011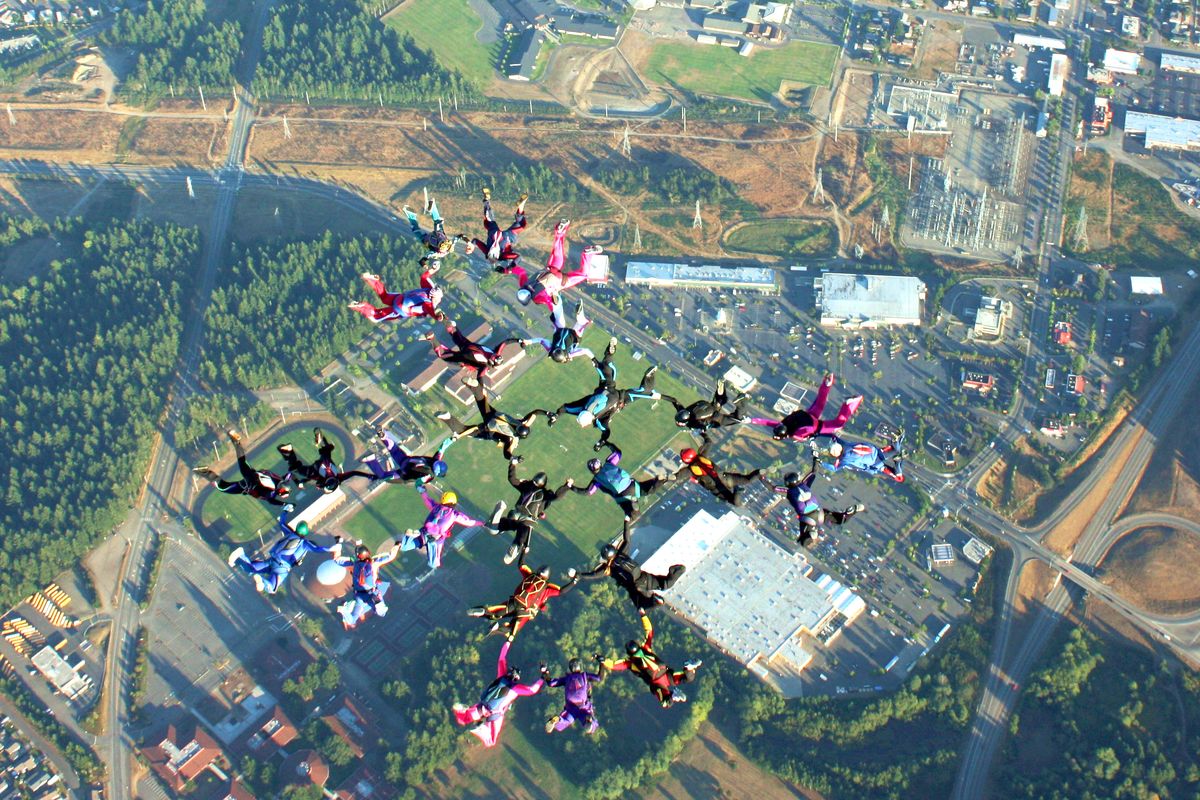 Sky divers are seen in a formation over Western Washington.
Living with a chronic auto-immune disease like lupus can feel like free falling through a medical minefield. Pain, frustration and fear are natural reactions while holding onto hope for more effective treatment and an eventual cure. Hope is one reason Spokane's Cindy Stroup leaped from an airplane over Shelton, Wash., on Aug. 20 to join hands and feet with 25 other female sky divers in a record-setting formation.
The event, called Leap for Lupus, aimed to raise awareness about lupus and money for research while setting a Northwest Women's record in sport sky diving. Over the past six years the Leap for Lupus foundation has raised more than $70,000 for the Division of Rheumatology at the University of Washington. About 1.5 million Americans are living with lupus – most are women.
As an expert sky diver with 750 successful jumps over the past six years, Stroup knows the rush of falling through the sky.
"Sky diving is tough to wrap your brain around. It's not like a roller coaster ride. When the door opens you have this excitement. It's an empowering feeling. You break off, open your parachute. You get to fly around. It's nothing like you will ever experience," she said.
Stroup began sky diving six years ago when her then-boyfriend, Ed Stroup, wanted to take a class. "I said, 'Heck if you can do it, so can I,' " she said. The couple later married and continued to dive out of airplanes. West Plains Skydiving is their home drop zone, and their circle of friends includes many sky divers.
"We go every weekend. It's a big part of our lives and what we do," said Stroup. "It is like a family. We sky dive together, and we do stuff outside of sky diving. We go rock climbing together. We have a lot of camaraderie."
As a mother of four, Stroup made a point to meet other mom sky divers, and she soon became friends with Leap for Lupus founder Valinda Mitchell.
According to Stroup, sometimes women and mothers are criticized for the perceived risks of sky diving.
"For the most part, it's a very safe sport," she said, explaining that she takes extra precautions as well. Her parachute is larger to minimize hard landings, for example, and if she wasn't paying close attention, an alarm in her helmet would go off at 5,000 feet. She also has a reserve chute that would automatically deploy if she didn't open her chute.
"I try to limit the risks I take when I'm skydiving. I want my kids to see I have this love for life," she said.
Stroup recognized a similar zest for life in Mitchell, who is not only a mom, but a woman living with lupus.
Lupus causes the body's immune system to attack healthy tissue and organs. Because there isn't a definitive diagnostic test for lupus and the symptoms come and go based on flare-ups or periods of remission, the debilitating disease can be difficult to diagnose.
"I see how lupus affects her," said Stroup. "It's a very personal thing for those of us who are friends with her. Lupus affects her energy level and her ability to participate. Sun and heat make it worse. She has to really listen to her body. But her disease does not define who she is. She lives her life to the fullest."
As a registered nurse practitioner at Holy Family Hospital, Stroup has seen the medical side of lupus and other auto-immune diseases. She's seen patients struggle as disease threatens to overshadow their lives.
"I see that a lot: When people have a disease it defines them. Valinda doesn't let her disease process define her."
Indeed, on Aug. 20 Mitchell was one of the 26 women jumpers who leaped from two planes 16,000 feet above the ground and formed a sunlike formation in the sky.
"It was really amazing. I had never been on a formation type jump like that," said Stroup. "When we were told we got the record, I was elated. The fundraising and research is key and hopefully they will be able to find a cure for lupus."
Local journalism is essential.
Give directly to The Spokesman-Review's Northwest Passages community forums series -- which helps to offset the costs of several reporter and editor positions at the newspaper -- by using the easy options below. Gifts processed in this system are not tax deductible, but are predominately used to help meet the local financial requirements needed to receive national matching-grant funds.
Subscribe now to get breaking news alerts in your email inbox
Get breaking news delivered to your inbox as it happens.
---