News > Washington Voices
Spokane's 'Sit and be Fit' creator headed to Big Apple
Thu., Sept. 22, 2011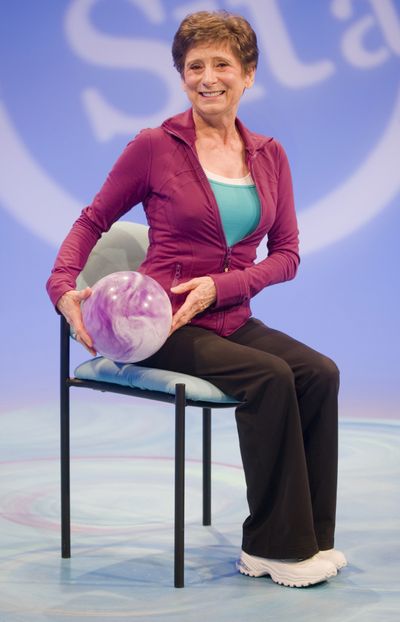 It's fair to say that Mary Ann Wilson, creator and host of the hugely popular "Sit and Be Fit" exercise program, never expected to appear in New York City's famed Central Park. But that's exactly where she'll be on Friday and again on Sept. 30. Partnering with the New York City's Mayor's Office of Media and Entertainment, Wilson, will be the featured guest at two live events in Central Park.
The events are part of Fitness Fridays – a series of group exercise shows that are part of a citywide effort to draw older adults into the park.
The shy, soft-spoken registered nurse fell into fame quite unintentionally. "I'm totally introverted," she said from her South Hill home office.
Yet for 24 years "Sit and Be Fit" has built a steady following and is now broadcast to more than 68 million homes.
The program had its genesis in 1985 when Wilson was asked by Spokane Community College to develop a stretching and toning program for seniors. She crafted a half-hour routine. "I call it functional fitness," she said. "It involves the kind of movements we need for everyday living."
Her classes received an overwhelmingly appreciative response. Wilson recalled, "I thought, I'm teaching so few people. If I could get on television I could help so many more."
She took her tape to Bill Stanley at KSPS. "I hounded that poor man for nine months," she said. "I really think he just got tired of me showing up."
Her persistence paid off when Stanley asked, "Can you do 30 programs in two weeks?"
And the rest is broadcast history. "Sit and Be Fit" recently received four new awards and has amassed 23 national health and media awards. The program is recognized by the National Council on Aging as a "Best Practice" program in health promotion and aging.
Much has changed since "Sit and Be Fit" first aired on PBS. Wilson said the medical establishment now embraces exercise for seniors because of its numerous benefits. "You can manage pain symptoms from chronic illness through exercise," she said. "When seniors maintain activity levels they use less medication and remain independent longer. They are better able to enjoy those golden years."
Wilson knows firsthand about the benefits of remaining active in the face of chronic illness. In 1992, she was diagnosed with chronic fatigue syndrome. One day while lying incapacitated on her couch, "Sit and Be Fit" came on the television. "I heard my own voice say, 'If you can just roll your shoulder a little, you can do this program." She could do only two minutes of the program that day, but she found motivation to continue and gradually regained her strength.
Nowadays, she said, her CFS symptoms are pretty much at bay. When facing memory lapses or exhaustion, she said, "I can't tell whether it's age or chronic fatigue syndrome!"
She has trimmed her schedule a bit but still leads a fitness class at Canterbury Court three times a week. "I absolutely couldn't do what I do if I wasn't out there working with people."
Last year she added a new job title to her resume. "I was the spokesperson for deep vein thrombosis and did quite a bit of traveling," she said. DVT is the formation of a blood clot in the major veins of the legs or pelvis caused by prolonged periods of physical immobility.
The condition received national attention when NBC correspondent David Bloom died from DVT while on assignment in Iraq in 2003.
Wilson appeared on the Today show with Bloom's widow, Melanie, and released a DVD targeting easy exercises that can prevent DVT.
Though Wilson is looking forward to the Central Park events, she admitted public appearances haven't gotten any easier for her over the years. "I'm still shy," she said. "I have to work myself up to it."
And she's still passionate about fitness. Wilson is energized by the positive feedback she receives from former couch potatoes who've eased their way into better health through "Sit and Be Fit."
"When you feel good in your body, you feel good about your environment and everything looks better," said Wilson. "I don't plan on retiring. A lot of times my mind is in fitness mode and I still get so many ideas for different exercises."
Local journalism is essential.
Give directly to The Spokesman-Review's Northwest Passages community forums series -- which helps to offset the costs of several reporter and editor positions at the newspaper -- by using the easy options below. Gifts processed in this system are not tax deductible, but are predominately used to help meet the local financial requirements needed to receive national matching-grant funds.
Subscribe now to get breaking news alerts in your email inbox
Get breaking news delivered to your inbox as it happens.
---