News > Spokane
Spokane protesters ordered to remove tents, placards
Fri., Sept. 30, 2011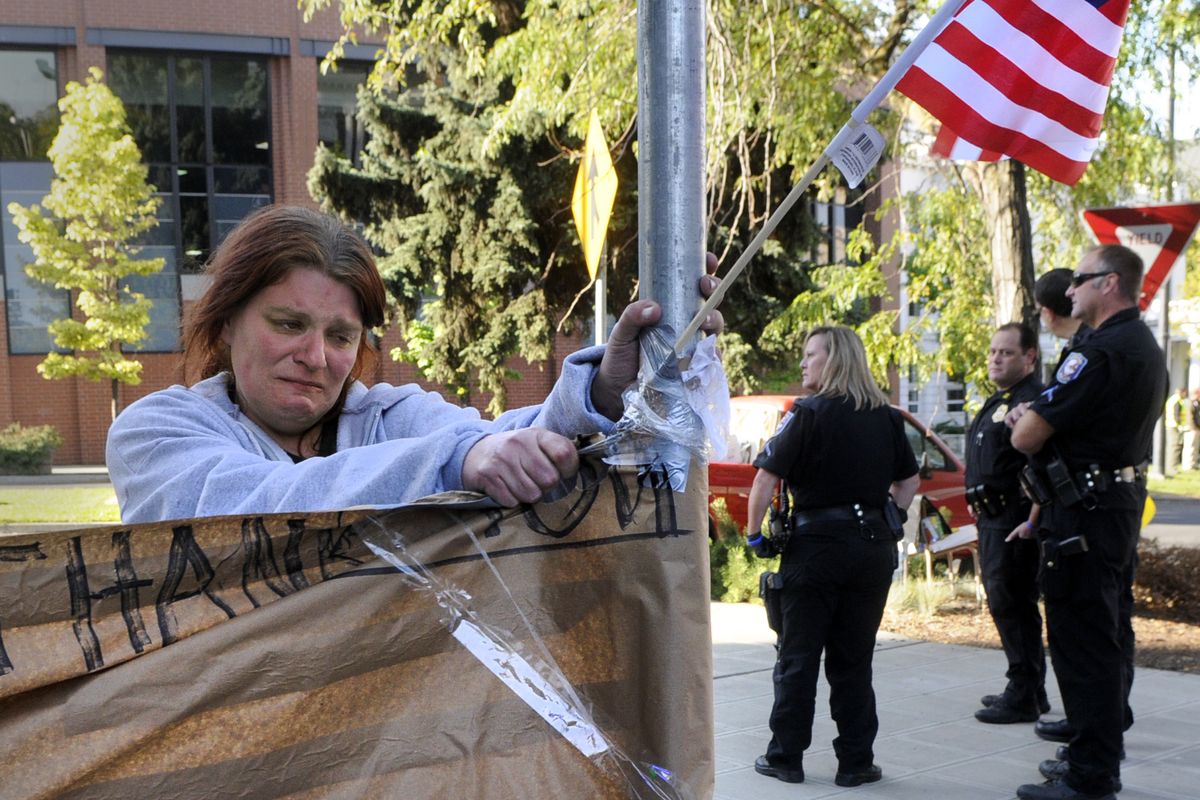 Protester, Jessica McPhail, tearfully tears down signage, ordered by the Spokane Police Department, at the corner of Riverside and Monroe, near the Spokane Club, Sept. 30, 2011, in Spokane, Wash. A group of protesters have occupied the area for the past three days. (Dan Pelle / The Spokesman-Review)
Occupy Spokane, the two-day-old action in solidarity with the two-week-old Occupy Wall Street protest against economic injustice, was visited this morning by police enforcing a city ordinance. About a dozen protesters who have occupied the grassy median at the intersection of Riverside Avenue and Monroe Street in downtown Spokane were told to remove tents and other "permanent" elements of the protest that are in violation of the city's transient shelter ordinance, according to Capt. Frank Scalise, patrol division commander of the Spokane Police Department. Unlike the Wall Street protest, in which participants complained of injuries from police excesses, there was little confrontation between Spokane police and protesters. "The atmosphere is compliant and collegial," Scalise said. "Nobody is being confrontational." Dave Bilsland, a perennial Spokane homeless activist and organizer of Occupy Spokane, said the tents in which some participants have been sleeping for the past two nights were part of the protest against disproportionate corporate control of the nation's politics and wealth. "These are symbolic of where everybody is going to end up if things don't change," Bilsland said. Nevertheless, the tents came down, as well as tables, chairs and placards attached to trees or road signs. Participants cited a range of issues confronting the nation, corporate greed, unemployment, lack of economic opportunity and economic inequality in the United States. "The one thing we all have in common is that We Are the 99% that will no longer tolerate the greed and corruption of the 1%," according to occupywallst.org, the website of the national movement.
Local journalism is essential.
Give directly to The Spokesman-Review's Northwest Passages community forums series -- which helps to offset the costs of several reporter and editor positions at the newspaper -- by using the easy options below. Gifts processed in this system are not tax deductible, but are predominately used to help meet the local financial requirements needed to receive national matching-grant funds.
Subscribe now to get breaking news alerts in your email inbox
Get breaking news delivered to your inbox as it happens.
---