News > Spokane
Scuba instructor jailed on $1 million bond in murder case
UPDATED: Wed., Aug. 8, 2012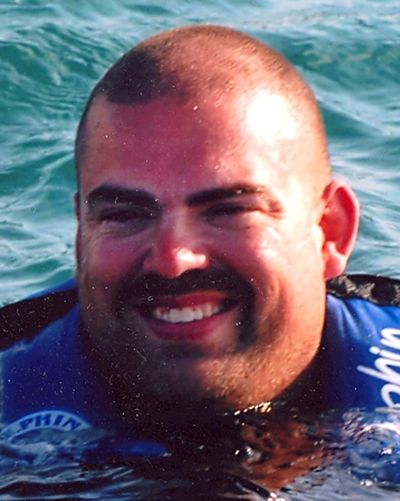 A former scuba diving instructor arrested for murder dated the victim for years and was described by her friends as violent and controlling, according to information released Wednesday. Daniel R. Arteaga, 40, remains in the Spokane County Jail on $1 million bond after appearing before Superior Court Judge Annette Plese Wednesday on a first-degree murder charge. Artega must surrender his passport should he post bond. Deputy Prosecutor Gayle Ervin described him as an "international traveler" whose trips which include excursions to the Caribbean and Fiji. "He's rather sophisticated in terms of his ability to move outside of the country," Ervin said. Arteaga is accused of killing Kimberly Rae Schmidt, 34, who was found dead of a gunshot wound to her head Jan. 1. Arteaga is prohibited from possessing guns if he's released. He's also prohibited from contacting Schmidt's mother, Toni Schmidt, who found her dead on Jan. 1 and has long considered Arteaga a suspect. Schmidt's obituary asked for donations to be made to an anti-domestic violence group. Toni Schmidt urged Plese to keep Arteaga's bond high and told her security was hired for Schmidt's funeral because people feared Arteaga. Arteaga sued Toni Schmidt July 25 for property damages, alleging she was withholding property from him, including diving gear and firearms, a guitar autographed by country music stars and various food items, like six bags of beef jerky. Arteaga was described in court Wednesday as unemployed and being supported by his wife, with whom he's lived at the Valleyway address for 15 years. Arteaga told detectives he'd been married for about 22 years and that his wife didn't know he'd been having sex with Schmidt for the last 6 1/2 years. Schmidt was killed about two and a half weeks after she and Arteaga were notified of two pending civil lawsuits regarding scuba diving accidents: one that left a man dead and another that allegedly left a woman with brain damage. Schmidt was expected to be a key witness in the lawsuits. But an 18-page affidavit filed Wednesday by Spokane County Detective Michel Drapeau focuses on Schmidt's relationship with Arteaga and with the father of her 13-year-old daughter, Joseph Regalado. Regalado and Schmidt had been secretly dating in the months leading up to her death. Schmidt had recently told Arteaga that. Arteaga also owed her money. DNA evidence also is a factor – detectives say DNA found on a sock next to Schmidt's body that contained a .25 Jennings pistol is likely a mixture of Arteaga and Schmidt's. A transcript of text messages included in the affidavit shows Schmidt and Arteaga were having problems in April 2011 but continued seeing each other. Schmidt told him she'd "had enough of being hurt" and that nothing had changed in five years "except the fact that u can't hurt me." Arteaga told her in July 2011 that he could never be happy without her. "And yes even after death I will wait for you," according to the affidavit. "You are the woman I want (to) spend the rest of my life with." One friend said she and Schmidt drifted apart because she didn't like the way Arteaga controlled their relationship. She told detectives she was with the couple at a restaurant in 2006 when Arteaga dumped ketchup on Schmidt's head "in the middle of the restaurant for no reason." Another friend recalled a diving trip in Fiji in which she heard Schmidt screaming for help while in a cabin with Arteaga. Several men ran to the cabin, but the friend said Schmidt seemed too upset to talk. Schmidt told Regalado about that incident in a text message on Oct. 20. She told Regalado that Arteaga "is a friend only and has been for almost 2 years." She said Arteaga got upset with her in Fiji "and I got hurt." "Spent the rest of the trip with other people and he went home early," according to the affidavit. "Didn't talk for 6 months." Schmidt planned to spend New Year's Eve with Regalado, but she backed out on their plans. She first sent him text messages saying she'd be late, then cancelled. Their daughter was staying at a friend's house that night, and Schmidt was to pick her up about 11 a.m. Arteaga called Toni Schmidt to tell her granddaughter was still at Regalado's. Schmidt was on the phone with Arteaga when she found her daughter dead. She asked him to call 911, then hung up and called 911, too. Detectives first encountered Arteaga Jan. 1 as he stood outside the crime scene tape near his vehicle. He said he and Schmidt broke up in November but he still had a key to the home and stopped by the home weekly to take out the garbage. He helped Schmidt install a washing machine Dec. 31 and stayed with her talking that night. She told him she'd planned to go to a party with Regalado, but they stayed at her home instead. Arteaga told detectives he didn't know what happened to Schmidt and described her as his "world" and "best friend." He said he last saw her asleep in her bed about 4 a.m. Arteaga's wife told detectives she sent him text messages that night asking where he was, but he didn't reply. She said he got home about 4:40 a.m. and she asked him if he was OK, but he again didn't reply. They spent the rest of the day together without sleeping, including going shooting near Fernan Lake in the Coeur d'Alene area.
Local journalism is essential.
Give directly to The Spokesman-Review's Northwest Passages community forums series -- which helps to offset the costs of several reporter and editor positions at the newspaper -- by using the easy options below. Gifts processed in this system are not tax deductible, but are predominately used to help meet the local financial requirements needed to receive national matching-grant funds.
Subscribe to the Coronavirus newsletter
Get the day's latest Coronavirus news delivered to your inbox by subscribing to our newsletter.
---