WSU fails to score touchdown as BYU spoils Leach's debut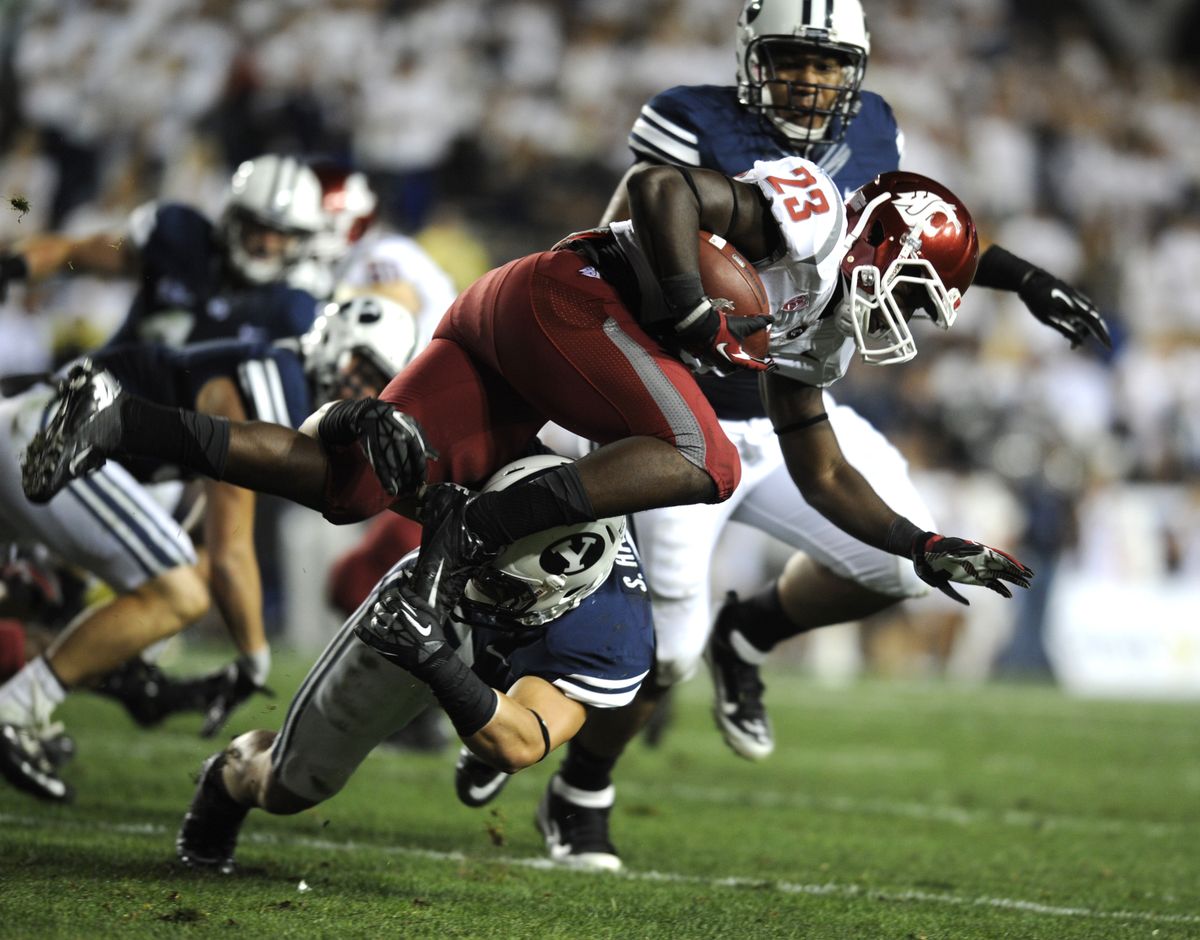 PROVO, Utah – They played with tempo. They played with confidence. They moved the ball up and down the field, in short bursts, long bursts, by pass and by run.
Yes, Brigham Young's offense looked the way Washington State wished its own group could have. And didn't.
The Mike Leach era began in the most disappointing of fashions Thursday night, as BYU dominated in every phase of the game, racing to an 18-point halftime lead and beating the Cougars at what they hoped would be their own game in a 30-6 opening-night laugher at LaVell Edwards Stadium.
Not since 1971 have the Cougars been held without a touchdown in a season opener. They settled for two field goals.
"I don't think coaching-wise we had them prepared to play, for whatever reason," Leach said.
Stellar defense was not necessarily an expectation from either team. But exciting offense was, at least, and BYU was the only team that played any.
It showed on the scoreboard, as the home-team Cougars held WSU out of the end zone, something few thought possible of a Leach offense.
That put the onus on WSU's defense. It did not respond well.
BYU quarterback Riley Nelson completed 25 of 36 passes for 285 yards and two touchdowns, leading a quick, no-huddle attack that kept WSU on its heels and led BYU to an early – and insurmountable – lead.
Nelson's finest play came late in the first half, with BYU facing a second-and-3 at WSU's 25-yard line.
Nelson was pressured by freshman defensive tackle Destiny Vaeao, scrambled out of the pocket and lofted a pass to tight end Kaneakua Friel at about the 10-yard line, just over the reach of cornerback Daniel Simmons.
Friel hauled it in and gathered his bearings before trucking a WSU defender en route to an easy score.
"He's a tough, gritty guy and I thought his leadership was one of the biggest weapons they had," Leach said of Nelson. "I didn't see any particular skills where you said, 'Oh, jeez, that's awesome.' (But) He did a great job herding their offense and circling the wagons at the right time.
BYU led 24-3 at that point, a somewhat manageable deficit for an offense led by Leach. Just not this one, on this night.
WSU actually did put the ball in the end zone, a spectacular catch by Marquess Wilson in the back left corner going for naught because of a holding penalty. That was at the end of the first half, and the Cougars had to settle for a 40-yard Andrew Furney field goal to trail 24-6.
It only got worse.
"Any time we were about to ignite or catch fire," Leach said, "something negative would happen."
A 63-yard kickoff return by freshman Teondray Caldwell hinted at a momentum shift to open the second half, WSU trailing 24-6 with the ball at BYU's 35-yard line.
Then quarterback Jeff Tuel was sacked. Then WSU was called for holding. And after a 16-yard completion to Wilson, Tuel tried to force a throw across the field that was picked off by BYU cornerback Jordan Johnson, who returned the ball 64 yards to WSU's 9-yard line.
BYU settled for a field goal, but Washington State was so deflated by that point that it didn't matter.
Tuel completed 30 of 45 passes for 229 yards and threw two interceptions. The Cougars mustered just 224 yards of total offense, an average of 3.7 yards per play. They rushed for minus-5 yards. BYU totaled 426 offensive yards, with 294 of that coming before halftime.
"Inconsistent at times," Tuel said of his play. "I can definitely play better. I'll just leave it at that."
He played his best ball early in the game. BYU was stopped on its first possession and WSU was driving soon after, but an interception by BYU linebacker Uona Kaveinga deep in his team's territory led to BYU's first touchdown, a 7-yard pass from Nelson to an undefended Skyler Ridley in the back right corner of the end zone after an 80-yard drive. An 18-yard pass from backup and wildcat quarterback Taysom Hill to Friel on Brigham Young's next possession made it 14-0.
Pass protection was an issue, as Tuel was sacked three times, was hurried several others, and offensive linemen were forced to hold a couple of other times.
"We weren't playing as a team, together," senior offensive lineman Wade Jacobson said. "We all knew what to do. We've practiced it 100 times. It just felt like everyone was trying to do their own thing out there."
And, as a result, they didn't do much of anything.
---