News > Spokane
Invalid visa detains Interplayers' artistic director in Canada
McColm working with attorney on credential
Thu., Dec. 13, 2012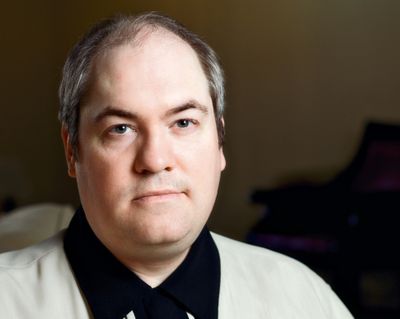 For Interplayers Theatre, the show must go on – even when its artistic director has been detained in Canada.
Reed McColm, a Canadian citizen, traveled to his hometown of Edmonton, Alberta, last month to attend a friend's wedding. But when he tried to return to Spokane, he was barred from entering.
"I was thereafter detained and not allowed to return because my permission to work is invalid," McColm said from his parents' home in British Columbia, where he's staying until he returns to Edmonton. "I thought I was in compliance, but I was wrong. Now I'm trying to fix it."
McColm has studied and worked as a writer and performing artist in the United States for 32 years, including three years spent as the artistic director of Interplayers. Until last week, he believed he had been correctly renewing his visa.
"I'm paying my taxes and I'm following the rules and I'm not getting arrested," McColm said. "Over time, you start to assume all is well."
McColm had an H-1B visa since 1995, he said, which is issued to temporary workers with specific, highly specialized skills such as performing arts. Of the more than 7 million visas issued in fiscal year 2011, about 129,000 fell under that category, according to the U.S. Department of State.
But McColm unwittingly violated the requirements of his visa, he said; he should have obtained a new visa every time he participated in a new play or moved to a different theater. He also discovered the visa was only supposed to be good for six years; he kept renewing his for 17.
"I guess I was deliberately dumb, because I didn't want to know more than I absolutely had to know to stay," McColm said. "Immigration visas are very complicated, and the time of lawyers can be very expensive."
McColm was able to return to Spokane briefly – just enough time to pack his belongings and find a new home for his cats – before returning to Canada. He'll stay there until he's able to acquire a new visa.
"I had to pack up my life in Spokane and leave rather quickly," McColm said. "So I'm feeling somewhat homeless."
With the help of Interplayers, McColm is working with a lawyer to apply for a different type of visa to eventually become a U.S. citizen. The process is not cheap – McColm said he's expecting about $10,000 in legal fees – but in the meantime, he can continue to legally work for Interplayers.
"It happens all the time in the entertainment field," Pamela Brown, executive director of Interplayers, said about the visa process. "I think it's probably just going to add minutes to our cellphone or Internet contracts, but it really won't change anything."
Interplayers is currently in its third week of performances of "It's a Wonderful Life: A Live Radio Play." McColm has been calling, Skyping and emailing multiple times a day to attend meetings at the theater.
"It's kind of business as usual," Brown said. "We just miss his funny stories and his sarcastic remarks."
McColm's absence, perhaps, has left an "awful hole," as Clarence the angel says in "It's a Wonderful Life." But McColm is expecting to return to Spokane in a few months, and he's already planning the new Interplayers season while working on his own writing for production at the theater.
"It's sad not to have the personal interaction, so that's the part we're missing, but it's not really changing how we're doing things," Brown said.
Local journalism is essential.
Give directly to The Spokesman-Review's Northwest Passages community forums series -- which helps to offset the costs of several reporter and editor positions at the newspaper -- by using the easy options below. Gifts processed in this system are not tax deductible, but are predominately used to help meet the local financial requirements needed to receive national matching-grant funds.
Subscribe now to get breaking news alerts in your email inbox
Get breaking news delivered to your inbox as it happens.
---