News > Spokane
Animal control to embark regionally
Spokane City Council likely to accept SCRAPS proposal
Fri., Dec. 14, 2012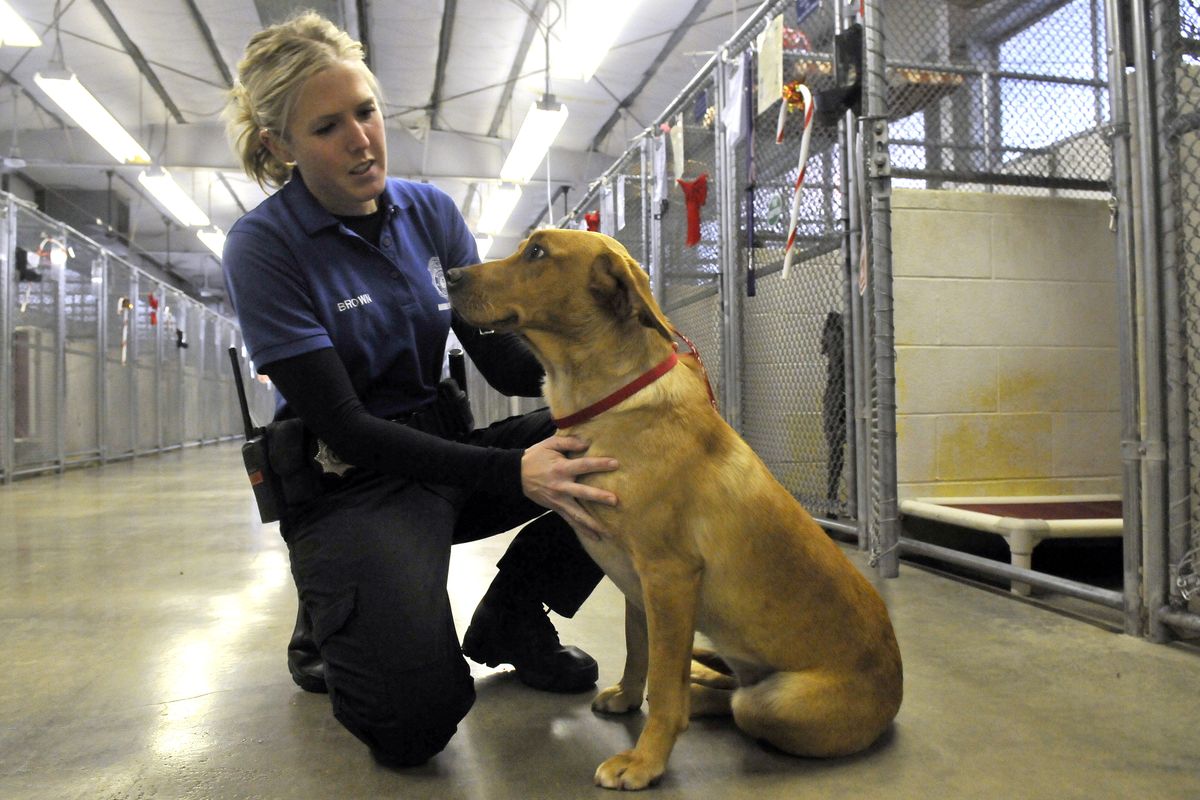 Animal Protection Officer Ashley Brown Proszek looks at a Labrador mix she brought into the Spokane County Regional Animal Protection Service shelter in Spokane Valley on Monday. The animal was found without a collar or microchip identification. (Jesse Tinsley)
Spokane Valley's expected decision to keep partnering with Spokane County to perform its animal control work has made the creation of a single regional animal control agency almost certain starting in 2014.
City of Spokane leaders say they are in negotiations to join Spokane County Regional Animal Protection Service and hope to present a deal to the City Council early next year. The Spokane Valley City Council is expected to accept a 20-year contract with SCRAPS perhaps before the end of the year.
Spokane Mayor David Condon, who supported joining SCRAPS in his 2011 election campaign, said citizens will have better service in a countywide animal control system.
"It fundamentally changes the way we administer animal control," he said. "It means that we have a regional approach."
Spokane has contracted with the nonprofit group SpokAnimal C.A.R.E. since 1984 to perform the city's animal control duties. City officials began searching for a new solution after SpokAnimal informed the city that it no longer wanted to perform the function. Since then, however, the agency switched course and tried to stay in the animal control business.
If negotiations are successful, it would cap more than six years of debate among city leaders about the future of animal control and a fierce competition that has developed between SCRAPS and SpokAnimal.
Gail Mackie, SpokAnimal's executive director, said if Spokane ends its animal control partnership with her group, it would likely force the elimination of about half of SpokAnimal's 45 employees. But she said SpokAnimal would continue sheltering cats and dogs and maintain spay and neutering programs and other initiatives.
"We will still be a viable program," Mackie said. "We have other things on our agenda, and we're not going to roll over and die."
Spokane asked for animal control proposals in the summer and got two. SCRAPS said it would handle the city's animal control needs for 20 years for $561,000 a year, plus inflation each year and a one-time start-up fee of $350,000. SCRAPS would keep all licensing fees.
SpokAnimal said it would continue doing the job for $555,000 a year, plus inflation each year and no start-up fee. Like SCRAPS, it would keep all the city's dog and cat licensing fees. It also offered to lower the rate to about $446,000 a year if Spokane Valley also joined SpokAnimal.
SpokAnimal's lower-cost proposal that included Spokane Valley was enticing to many City Council members. The city's six-person task force created to examine the plans evenly split between SpokAnimal and SCRAPS. But Spokane Valley officials were not swayed by SpokAnimal's overtures.
Spokane City Councilman Steve Salvatori, who leaned toward SpokAnimal's deal if it included Spokane Valley, said with the county's second-largest city sticking with SCRAPS, it makes sense to create one regional system since costs would be nearly identical. He said he's hopeful that the city will significantly lower the start-up fee through negotiations.
"We have the advantage of having it being a regional system, and it will be a state-of-the-art facility," Salvatori said.
The Spokane Humane Society, which served as the city's animal control agency before SpokAnimal and is the oldest animal welfare group in Spokane County, has endorsed the creation of a single animal control agency to serve the entire county.
Nancy Hill, director of SCRAPS, said if Spokane contracts with the county, SCRAPS will increase its staff from 17 full-time and seven part-time workers to about 33 full-time and 15 part-time workers.
She said the county still plans to buy and retrofit the former Harley-Davidson dealership, 6815 E. Trent Ave., as the new shelter facility. It would be ready to open early in 2014, she said.
If the city and county reach an agreement it wouldn't be the first time the city contracted with SCRAPS. The Spokane City Council signed a deal in 2008, but it required the city to pay an extra $2.9 million to expand the county's shelter and buy new equipment. The contract collapsed the next year when city voters rejected a tax to pay the costs. County leaders continued to push for a regional system and asked voters for a shelter tax that voters rejected last year.
The costs of a new shelter in the new plan would be included in the annual fees paid by the city. And the annual cost is almost the same as the city currently pays SpokAnimal.
"We have what we think we need to get the job done, but we don't have anything extra," Hill said.
Local journalism is essential.
Give directly to The Spokesman-Review's Northwest Passages community forums series -- which helps to offset the costs of several reporter and editor positions at the newspaper -- by using the easy options below. Gifts processed in this system are not tax deductible, but are predominately used to help meet the local financial requirements needed to receive national matching-grant funds.
Subscribe now to get breaking news alerts in your email inbox
Get breaking news delivered to your inbox as it happens.
---