News > Spokane
Republican finds himself as head of coalition majority
Sun., Dec. 16, 2012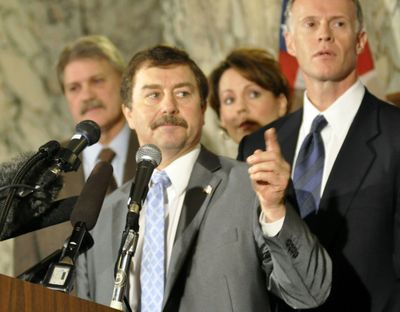 An evening last March in the state Senate was definitely a milestone for Mark Schoesler, and possibly a foreshadowing.
With the help of a few defecting Democrats and a parliamentary maneuver, Schoesler and fellow Republicans wrested control from majority Democrats and passed an alternative, more conservative budget plan.
The Ritzville wheat farmer, first elected to the Legislature in 1992, had spent eight years in the Senate. Five of those were as Republican floor leader, essentially the traffic cop directing his party's response to legislation in a chamber controlled by Democrats. Suddenly, he was in charge.
"Everything had to be perfectly planned. We had to argue every bill, every motion, every order," Schoesler recalled last week.
Next month, when a new legislative session opens, 55-year-old Schoesler will be in the majority as Senate Republican leader. His 23 fellow Republicans are the largest bloc of votes in what's being called an unprecedented coalition majority. Joining them are two of the conservative Democrats who defected during the budget vote earlier this year, giving the coalition the needed 25 votes to control the state Senate.
One of those Democrats, Rodney Tom of Bellevue, will hold the title of majority leader. But Schoesler – a quotably blunt-speaking, cigar-smoking, reliably social and fiscal conservative – will be responsible for keeping the GOP together. On any close vote just one defection could render them a coalition minority.
Schoesler is a Ritzville farmer whose Russian-German family roots run five generations deep in Adams County wheat country. The overpass for Schoessler Road on Interstate 90 isn't a typo; the road is named for the branch of the family that kept the second S before the L.
A self-described short, chubby kid growing up, Schoesler became a wrestler in high school, which brought his weight down and, he said, probably taught him some of his best life lessons of individual responsibility, hard work and discipline. He attended Spokane Community College, where he got a degree in agribusiness and met his future wife, Ginger.
"It was a big deal for me when I was asked to give a commencement speech there – twice," he said.
They started farming on family land in 1981 when an uncle retired, and they took over his father's farm when he retired in 1995. They raised two children and now have one grandchild, with another due next spring. They grow mostly wheat and cattle, with some canola and barley; Ginger takes care of the books and the cattle, and trusted longtime employees handle the farm when he's in Olympia.
But he's never missed a harvest because of legislative duties, he said, and rarely missed time during planting.
Former Republican Leader Mike Hewitt of Walla Walla recalls a conversation with top Democrats who were explaining to Lt. Gov. Brad Owen what they thought should happen next during this year's budget debate. Hewitt had to remind the Democratic leadership that they'd lost control of the chamber: "Mark's running the show."
Hewitt, who stepped down as Republican leader at the end of the last session, said Schoesler rose to the top by being someone his members can trust.
"People understand where he's coming from. He doesn't talk in riddles," Hewitt said.
Spokane Democrat Lisa Brown, the majority leader last year when the Republicans pulled off their parliamentary budget maneuver that put her briefly in the minority, came into the House in 1993 with Schoesler and in recent years sat across the aisle from him on the Senate floor. He understands the need to "move the Senate forward with as much decorum as possible," she said, and he knows how to negotiate an agreement – not a universal skill in the chamber.
"He's definitely always looking for the political angle, and he's not above taking a shot," she said. "But they're not personal or vitriolic."
Until this year, Schoesler's mostly rural district was unique among the state's 49 districts because it had two state universities, Eastern Washington and Washington State.
"That broadened me," he said. "It taught me a lot more about the value of higher education."
That also meant university presidents, administrators and professors regularly lobbied the community college graduate for the programs they wanted, but that's never bothered him.
"It's a sign you can grow up to be anything," he said. "It's a great country."
Local journalism is essential.
Give directly to The Spokesman-Review's Northwest Passages community forums series -- which helps to offset the costs of several reporter and editor positions at the newspaper -- by using the easy options below. Gifts processed in this system are not tax deductible, but are predominately used to help meet the local financial requirements needed to receive national matching-grant funds.
Subscribe now to get breaking news alerts in your email inbox
Get breaking news delivered to your inbox as it happens.
---