News > Washington Voices
College students buttress work with Lakeland clients
Thu., Dec. 27, 2012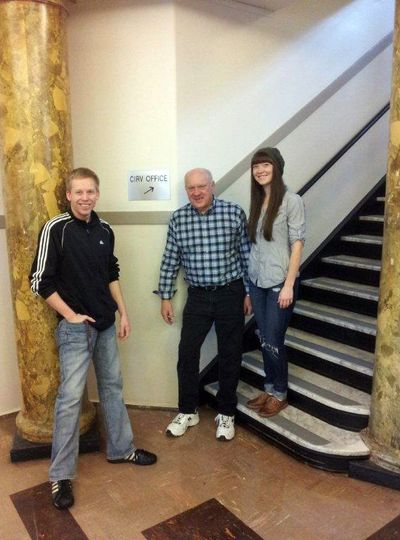 About 40 college students volunteer at Lakeland Village in Medical Lake through a program called College In-Resident Volunteers. The program allows students to volunteer in exchange for housing on Lakeland's campus. The students work with staff to serve Lakeland's 200-plus developmentally disabled client residents.
CIRV program director Leroy Lemaster doesn't know of any other program like it. Lemaster said it started in 1970 and sprang from the need for volunteers and the idea to use vacant campus apartments that were previously used for staff.
"Students are there to enhance and are doing fun things with clients," Lemaster said. "A lot of them end up being special education teachers and psychologists. If they have those types of degrees, we try to get them with our professional staff. Sometimes the students get hired and can work 20 hours a week on top of the 15 volunteer hours. It's a pretty good deal for them."
Lemaster currently has three CIRV vacancies. Full capacity is 41 students, who are housed in 22 single apartments, eight doubles and one house, he said.
It can be a big savings for a college student.
"One student was living in dorms at EWU. This is saving her over $6,000 a year – plus it is a quiet place to live and study," he said.
Student volunteers work in a variety of settings, including ceramics, woodworking, clothing, gardening, Special Olympics or in the Villagio Market Place, where goods are sold.
In the woodworking shop, staffer Ken Cooper explained that a local cabinet business contracts with Lakeland to make corner bridges, which they use in shipping to keep cabinets square and to anchor countertops; in turn, client residents earn wages on a percent-based scale. In the print shop, clients work on fliers, banners, laminating, calendars and various forms for businesses. CIRV students work with clients directly in these hands-on settings, or indirectly in administrative positions.
Tony Bowe is a junior studying secondary education at Eastern Washington University. He works in recreation with client residents who are mostly wheelchair users, taking them for a stroll, doing puzzles or just talking with them.
"It's been a unique opportunity," he said. "The program is only about 15 minutes away from EWU. Financially speaking, it is absolutely fantastic: I work three hours a day and they provide free meals and housing. I save a lot money and really appreciate it."
Bowe likes the laid-back, warm, homey atmosphere.
"I absolutely love working with the clients, they are a complete pleasure. They are so happy," he said.
Washburn University student Lindsey Murray has been in the program for more than four years, working in a variety of areas including recreational activities and pet therapy. Murray is studying radiologic sciences and is the apartment manager for CIRV.
"The clients here can interact like normal people, they have feelings and are very relatable. I think some people don't know that," she said.
Murray has logged nearly 2,000 hours of volunteer work and is hoping that this will stand out on her résumé after she graduates.
Lemaster has been working at Lakeland for 52 years. Lakeland started in 1914 as the State Custodian School. He said in the 1930s, there were about 2,000 people there. Now, there are 210 clients, ages 21 to 80.
"They have the biggest hearts in the world, everyone should meet them," Lemaster said. His compassion runs deep and personal, as his son Jay was born with Down syndrome during his early years of working at Lakeland.
"It made me more committed, I think. It helped me understand what we were going to have to do for Jay. Jay went through the public school system, in special education, and graduated. Now he lives on his own," Lemaster said.
Local journalism is essential.
Give directly to The Spokesman-Review's Northwest Passages community forums series -- which helps to offset the costs of several reporter and editor positions at the newspaper -- by using the easy options below. Gifts processed in this system are not tax deductible, but are predominately used to help meet the local financial requirements needed to receive national matching-grant funds.
Subscribe now to get breaking news alerts in your email inbox
Get breaking news delivered to your inbox as it happens.
---