News > Spokane
SPD officer questioned in court about support for Thompson
Wed., Feb. 1, 2012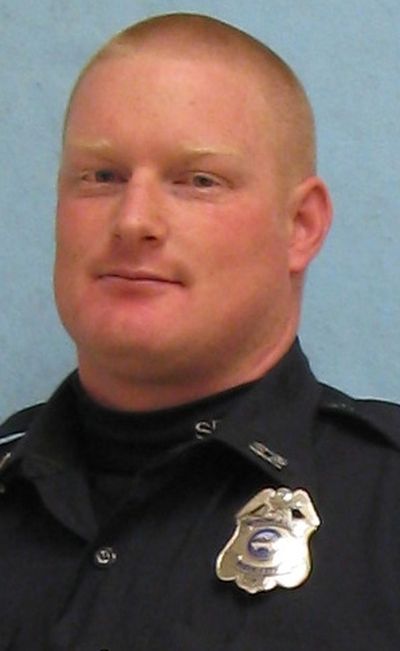 A Spokane police officer who says he feared for his life after being threatened by a felon was asked in court Wednesday about supportive comments he posted on a Facebook page in support of another convicted felon – former Officer Karl Thompson. Defense lawyer Doug Phelps questioned Officer Chris McMurtrey's contention that 38-year-old Rudy Ray Cordova's prior convictions for violent crimes were a cause for concern, noting that Thompson has been convicted of a violent crime, too. Cordova is accused of threatening to kill McMurtrey during an arrest for domestic violence last year. At Phelps' request, McMurtrey on Wednesday read a message he'd posted on the We Support Karl Thompson page on the popular social networking site. In the message, McMurtrey wishes Thompson a happy Veterans Day and thanks him "for his service to this great country." "Too bad it can't return the favor," McMurtrey wrote. "You are inspiration to all of us. It was great to see you today." McMurtrey posted the message on Nov. 11 - nine days after Thompson was convicted of two federal felonies for lying to investigators and violating unarmed Spokane janitor Otto Zehm's civil rights by using excessive force during a 2006 encounter at a convenience store. He said he and other SWAT team members chatted with Thompson when Thompson visited SWAT training that day. Thompson resigned from the police department Nov. 17 before a disciplinary hearing in which he was expected to be fired. The public Facebook page for Thompson supporters recently was replaced with a private group in which only members can see the content. In a hearing with the jury outside the room, Deputy Prosecutor Steve Garvin had objected to jurors being told of McMurtrey's support for Thompson, but Phelps argued it was relevant to the credibility of the officer's claim that he feared Cordova in part because of Cordova's criminal convictions. Judge Maryann Moreno agreed but restricted Phelps from mentioning Zehm's death or getting into other details of Thompson's case. "It is not relevant to this case," she said. In testimony, McMurtrey said he never said he "feared people who have been convicted of criminal convictions." McMurtrey had arrested Cordova on suspicion of domestic violence assault Feb. 26 when Cordova told him, "That's how people died, by taking the wrong people to jail…Don't worry. I'll get out tomorrow and find out where you guys live. I've been to prison," Garvin said in court. McMurtrey wrote in his report that he knew Cordova was a known armed criminal with an officer warning attached to his name in police records. Phelps said the subjective nature of McMurtrey's reported fear made the Facebook posting regarding another conviction violent criminal being his "inspiration" relevant. "My client never tried to hit him, my client never tried to do anything to him. Mere words are what the state is relying on to prove its case," Phelps said. The charge against Cordova, felony harassment - threats to kill, alleges Cordova's statements caused McMurtrey to fear for his life, and that it was reasonable to believe Cordova could carry out the threat. McMurtrey declined comment after the hearing. Jurors are to begin deliberating Thursday morning.
Local journalism is essential.
Give directly to The Spokesman-Review's Northwest Passages community forums series -- which helps to offset the costs of several reporter and editor positions at the newspaper -- by using the easy options below. Gifts processed in this system are not tax deductible, but are predominately used to help meet the local financial requirements needed to receive national matching-grant funds.
Subscribe to the Coronavirus newsletter
Get the day's latest Coronavirus news delivered to your inbox by subscribing to our newsletter.
---
Subscribe and log in to the Spokesman-Review to read and comment on this story