News > Spokane
GPS harnessed for emergencies
Precision mapping intended to prevent responder confusion
Fri., Feb. 3, 2012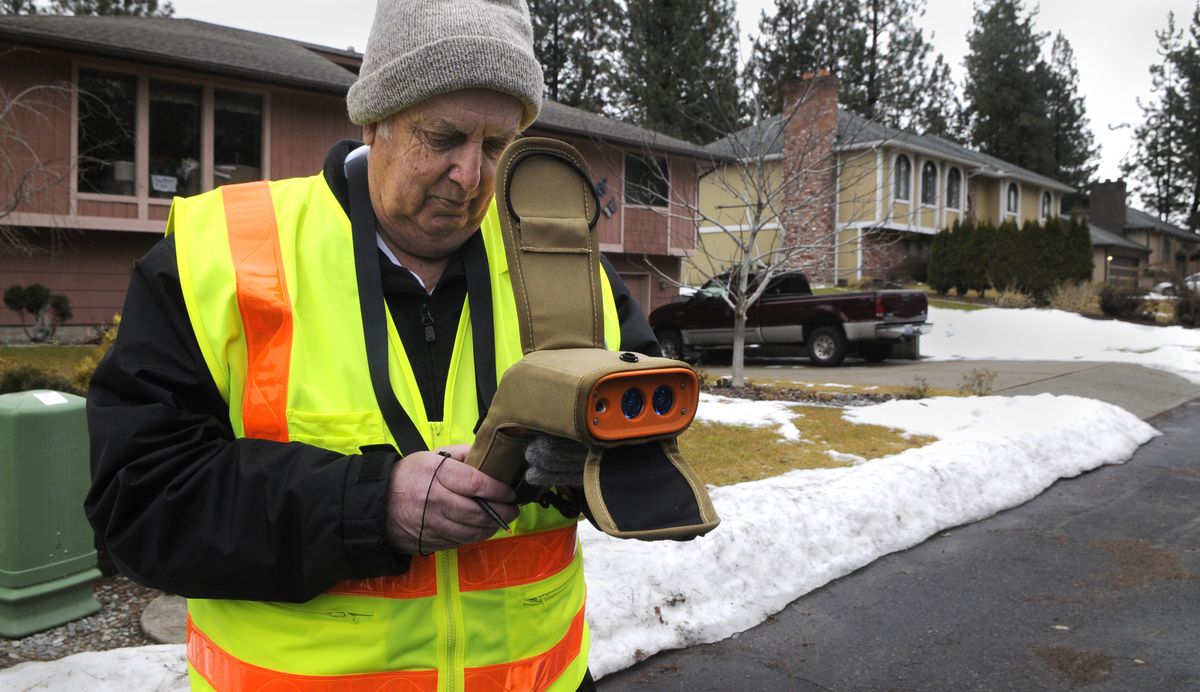 Mike Shannon, of the Spokane County 911 emergency system, uses a laser GPS unit to record the latitude and longitude of homes along College Place near Eaton Avenue in Spokane on Thursday. (Dan Pelle)
Mike Shannon of the Spokane County 911 emergency system was working on a north Spokane street on Thursday, collecting geo-positioning data for the homes there.
His work is part of an ongoing upgrade of the 911 communications system.
A suspicious resident stepped out onto his front porch and jokingly asked, "Do I have to call 911?"
"I am 911," Shannon replied and explained his work.
Dressed in a safety vest with a data collector in hand, Shannon admits he is a curiosity but not a threat. He's one of the good guys.
Another resident drove up a short time later and asked what was going on.
Shannon explained that the goal is to improve location information for 911 dispatchers handling emergency calls that arrive over landline telephones.
To do so, he is collecting the precise latitude, longitude and elevation for each residence.
That way, if someone is unable to talk, the dispatchers will know where to send crews.
The data is accurate to within about a yard.
The address verification will also eliminate confusion and misinformation in the existing system, part of which is based on phone company records, he said.
It will more closely identify apartments within buildings that have multiple units at the same street address. Elevation data will show the floor of the unit.
The new information will become part of an improved Next Generation 911, expected in about three years.
Officials want residents throughout Spokane County to know that if they see Shannon on their streets with his hand-held device, it's OK. He has his safety vest and drives a white Ford Escape with "911 Address Verification Vehicle" labeled on the doors.
Shannon's device uses global positioning (GPS) to establish coordinates that are then downloaded to a digital file and become part of the county's geographic information system.
Local journalism is essential.
Give directly to The Spokesman-Review's Northwest Passages community forums series -- which helps to offset the costs of several reporter and editor positions at the newspaper -- by using the easy options below. Gifts processed in this system are not tax deductible, but are predominately used to help meet the local financial requirements needed to receive national matching-grant funds.
Subscribe now to get breaking news alerts in your email inbox
Get breaking news delivered to your inbox as it happens.
---