Sports
Breske settles in as WSU defensive coordinator
Wed., Feb. 8, 2012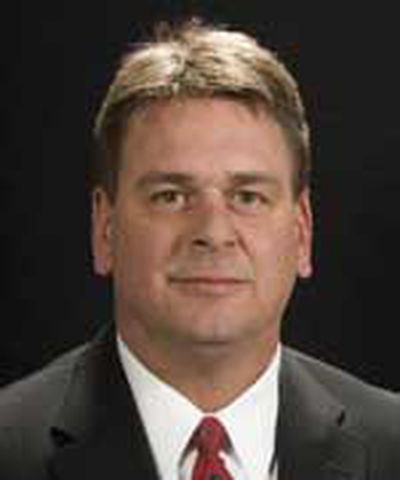 PULLMAN – You'll have to excuse Mike Breske. He has a cough. And a scratchy throat. And a mild case of the sniffles.
Maybe that's because of the cold Northwest weather, though it's unlikely – Breske, after all, is used to it, coming to Washington State from Montana, where he served two stints as the Grizzlies' defensive coordinator.
More likely, Breske caught the bug somewhere in Hawaii, or Los Angeles, or Miami, or Phoenix, or in an airport terminal, or on an airplane, flying to the hometowns of every defensive recruit the Cougars were trying to lock down before last week's national signing day.
"I'm miserable," Breske said in his office last week with a laugh and a couple of hacks.
That's how Breske hopes opposing offenses feel when facing Washington State's defense – miserable, not sneezy.
The Cougars' new defensive coordinator says his philosophy is very similar to the offensive approach of coach Mike Leach.
And similar to Breske himself, a fiery but affable veteran who has coordinated the defenses of five schools – Wayne State, Northern Colorado, Wyoming, North Dakota State and Montana twice – since 1983.
Breske wants WSU to be "an attacking, aggressive defense" – read: plenty of blitzes – that wins at least 70 percent of its third-down plays, forces at least three turnovers per game and performs at 80 percent or better on what he calls "production plays."
"What I mean by that is if I get an opportunity for a tackle, I don't miss it," Breske said. "If I get an opportunity for a fumble recovery, an interception, a pass breakup. Those are all potential production plays. I could be in the game for 60 plays but I'm not going to have 60 opportunities. There's only going to be so many, and I want to be at 80 percent."
They'll attempt to do all that out of a base 3-4 defense (three down linemen and four linebackers), though Breske has shown a tendency to use multiple formations in the past. His defense last season at Montana ranked first in the Big Sky in rushing yards and passing yards allowed, as well as scoring defense.
"We're going to have more stand-up guys, guys on two feet," Breske said. "Find out who our playmakers are."
He thinks they've found a few in this year's recruiting class, specifically addressing the linebackers – he describes Khalil Pettway of Culver City, Calif., as, simply, "a dude," and calls Los Angeles native Jeremiah Allison the most athletic of the group.
As for the secondary – the area in which Breske specializes and will work most closely – his recruiting pitch is fairly straightforward.
"Day in, day out, you're going to go against the best wideouts," he said. "Tuesday, Wednesday, Thursday, you're going against top of the line wideouts. So what you're going to go against on Saturday isn't going to faze you, because we're going to bring in that type of quality at that position and also at the quarterback position."
Breske also places a high value on special teams, and as such says he doesn't mind using defensive starters on kickoff and punt coverage teams.
Defensive player meetings began this week. The meetings provide each player an opportunity to discuss what they feel the "pulse" of the defense is, in Breske's words.
"I've got to listen," Breske said. "So that curve is starting right now. We've got to condense a year into six months. We can't wait till two-a-days. We can't wait till next season. We've got to be ready to go September whatever-it-is for BYU.
"So we've got a lot of work in front of us in a short amount of time, so we have to be very efficient as coaches in terms of what we ask our players to do and not to do."
Local journalism is essential.
Give directly to The Spokesman-Review's Northwest Passages community forums series -- which helps to offset the costs of several reporter and editor positions at the newspaper -- by using the easy options below. Gifts processed in this system are not tax deductible, but are predominately used to help meet the local financial requirements needed to receive national matching-grant funds.
Subscribe to the sports newsletter
Get the day's top sports headlines and breaking news delivered to your inbox by subscribing here.
---